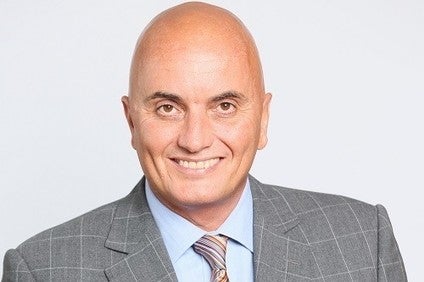 Adams Foods, the UK arm of The Irish Dairy Board, has, undergone something of a transformation.
That is the message of Ian Toal, the CEO of a business that accounts for half of the own-label hard cheese sold in the UK and that markets brands like Pilgrims Choice cheese and Kerrygold butter.
Toal, who joined Adams Foods in 2011 from Swiss bakery giant ARYZTA, insists the company has developed from a "sleeping giant" losing money to a "sustainable, good business" growing in a "very, very hard, competitive environment".
Three years ago, the company was generating sales of GBP300m (US$505.3m). This year, Toal says, it is on-track to hit GBP450-500m of turnover.
just-food meets Toal soon after Adams Foods has secured regulatory clearance for its "strategic" deal with UK co-op First Milk. Adams Foods cuts and packs hard cheese made by First Milk. It also sells and market the cheese, leaving First Milk to focus on cheddars for export markets.
The deal is a significant boost for Adams Foods, taking it closer to Toal's original aim of the company hitting GBP500m in sales by the end of the third year of his tenure.
However, Toal points out Adams Foods has grown organically. "We've grown our own-label share, we've grown our brands," he says. "We've changed lots of things in the last three years. We've relaunched brands that were very tired. Kerrygold and Pilgrims Choice had record years last year. Both were in danger of frankly disappearing in the UK because they were on their way down in distribution and we hadn't invested in them. We've also now created a very solid platform of supply. One of our biggest issues in the own-label market was there wasn't enough British to go round and we were buying cheese off our competition, which is never a good long-term position to be."
Kerrygold, Pilgrims Choice and a third brand – family-focused Mu cheese, which is sold exclusively through Tesco – are, Adams Foods claims, the fastest-growing brands in their categories.
Kerrygold is the number one butter brand in Germany and is making inroads in the UK. It grew faster than its nearest rival in 2013, Adams Foods says, and Toal is pleased with its progress, arguind the company has succeeded in winning new consumers.
"We do have a very loyal customer base and it was that loyal customer base that we relied on too heavily," he admits. "It's only over the last couple of years that we have been supporting it above the line. If you are going to exist on the supermarket shelf today, you have to be willing to invest in your brand."
However, much of the conversation focuses on cheese. Adams Foods is a major player in own-label cheese in the UK – three-quarters of its total business is in private label – with Tesco a significant customer. The meeting takes place the same day Tesco announces another fall in annual profits but Toal waves away the predictions of long-term problems for the UK's largest grocer.
"They're still market leader at the end of the day and still make three-and-a-half billion quid. I believe that the guys will get it right there. Whatever one says about them they are trying very hard to come back, trying very hard to do great things in stores," he says.
The Adams Foods chief says the company supplies "virtually everybody" with own-label cheese. He says the rise of the discounters in the UK has not specifically led Adams Foods to look to do more business with the likes of Aldi and Lidl – "our business spread generally has grown" – but he notes how the First Milk deal has "helped broaden our customer base further again".
What are the priorities for the First Milk brands Adams Foods will market? Asked if Adams Foods could look to trim the First Milk portfolio, Toal is coy – but he acknowledges the importance of "differentiation" in a crowded category.
"It's early days. Will we be taking more cheese from First Milk? Yes, so that's great for their farmers. But we'll be fully evaluating all the brands to make sure we've got the right offer for our consumers," he says. "Differentiation is very important. There'll be more value in time in doing ranges for customers that are named creameries for example, where they can market on-pack that this has come from, say, Haverfordwest. Consumers want to know more about the traceability of what they eat, where has it come from."
However, turning to the UK branded cheddar fixture, Toal is adamant there will be a shake-out. "I believe, rightly or wrongly, there will come a time retailers will want three or four brands in the cheddar arena," he asserts. "You can't think of any other category where there is the proliferation of very similar products."
Pilgrims Choice is the number two brand in UK cheddar, behind Dairy Crest's Cathedral City, but, Adams Foods says, the "fastest-growing everyday brand in value".
Nevertheless, the fixture has seen a new entrant (or more strictly re-entrant) in the form of Arla Foods' Anchor cheddar, which has returned to UK shelves after a four-year absence.
Toal says Arla has a "great track-record with brands" but is left wondering whether Anchor cheddar will add to the category. "Does it bring anything different to the market, or is it more of the same? It's not a criticism, it's an observation," he says. "With Pilgrims Choice, we've worked very hard on bringing innovation. We try to make sure we do everything we can to make sure the consumer's got a compelling reason to pick it up. My only comment would be [Anchor cheddar] just seems a little bit more of the same to what is already out there."
So how is Pilgrims Choice different? "I think it's just the nicest cheese," Toal laughs. "But if you look at the range, it's the innovation as well. And we will only put the best cheese into our brands because we can. We don't have to take all the cheese that comes from a creamery and sell it as that because you do get varying qualities. We grade everything that comes into this building."
From consolidation to acquisitions. Toal says Adams Foods is "doggedly determined" to hit its GBP500m sales target and reveals the company will try to "pretty much" get there through organic growth.
However, looking further ahead, he reveals he does have an eye on ways to expand the business through acquisition, even if this year will largely be a year when Adams Foods focuses on bedding down the First Milk deal.
"This year is a year when we need to consolidate and max out the brands that we got in terms of [First Milk brand] Lake District but also to make sure we end up in our position with the contracts that we've got. It is a period of stability but I wouldn't rule out an acquisition of something in the speciality or different dairy product arena," he says. "It's more likely to be outside of hard cheese. It's more likely to be a speciality cheese business or a speciality dairy business generally."
The end of 2014 will mark three years since Toal took the job as Adams Foods CEO. The next three years will, he says, see the company "refine our strategy further" but with growing long-term sales and profitability as the "number one agenda item".
"We lost money in 2011 so yes we are improving our profitability. Is it ever profitable enough? Nobody's ever quite as good as you want to be. But certainly we are making money now," he says.
Toals described the Adams Foods he joined as a "sleeping giant". What is it now? "We are sustainable, we are a good business. Our customers are telling us in one way we are doing a good job: we're retaining business, winning business, we're growing," he says. "We must be doing something right to have grown by the scale we have grown in the last three years. We've not completed the journey but we have come such a long way."
just-food subscribers can hear an audio excerpt from the interview with Ian Toal here, in which he discusses the importance of innovation.