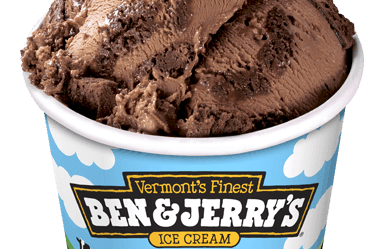 Ben & Jerry's is supporting the campaign to introduce GMO labelling in the US. Unlike the majority of conventional US food manufacturers, the Unilever-owned ice cream maker is also throwing its weight behind the introduction of such legislation on a state-by-state basis. Katy Askew spoke to Ben & Jerry's social mission activism manager Chris Miller to find out more.
The debate over GMO labelling has galvanised the US. In one corner, consumer advocates and pressure groups are vociferously insisting people have the right to know what goes into their food. In the other corner, food majors represented by industry bodies such as the Grocery Manufacturers Association have staunchly opposed the introduction of labelling on a state-by-state basis, insisting it would be costly and confusing.
Vermont, the home of the Ben & Jerry's ice cream brand, became the first state to introduce "no strings" legislation requiring the labelling of GMO products last month with the signing of Act 120.
The food sector, which spent more than US$70m defeating proposed bills in Washington State and California alone last year, is now preparing to mount a legal challenge to Vermont's mandate. The GMA said it was a "costly and misguided measure" which would "do nothing to to advance the health and safety of consumers".
However, Vermont-grown ice cream brand Ben & Jerry's would beg to differ, social mission activism manager Chris Miller tells just-food.
Unilever-owned Ben & Jerry's is in the process of transitioning all its products to a GMO-free footing. The group has "fully transitioned" almost half of its sales volumes and will complete the move by the end of the year, when the company will flag this information on pack, Miller says.
"The base mix of the ice cream does not have genetically modified ingredients. What we are talking about here is chasing down much smaller amounts of the ingredients in the chips and swirls…. 50 flavours, 110 to 120 ingredients across the whole portfolio. There is some work in tracking that down," he reveals. "None of that work will require us to pass that cost onto the consumer [and] I can tell you we aren't taking an appreciable hit on margin."
The company has decided to employ a "one up, one down supplier assurance model" rather than third party verification. While Miller concedes there is "room for these things to be manipulated by bad actors in the supply chain" he suggests that regular supplier audits combined with Ben & Jerry's commitment to developing long-term relationships with its suppliers reduces this risk. "It is a trust and from time to time verify relationship," he observes. "We feel good about the system. It is a similar system as is used in Europe."
The fact Ben & Jerry's is already transitioning to a GMO-free footing might suggest the company would be a beneficiary for any GMO-labelling requirements introduced. Miller insists that is not the motivation for Ben & Jerry's move to throw its lot in with the pro GMO-labelling camp.
"We have a long history of fighting for transparency in the food system," he insists. "Ben & Jerry's back in the mid '90s led the fight for the right to label our products as not being treated with rBGH [a genetically engineered artificial hormone injected into dairy cows to increase milk production]… We led the fight for the right to be transparent… Monsanto and others were trying to defeat our right to communicate that to consumers."
In addition, Ben & Jerry's is concerned about the impact the widespread use of GMOs could have on food production systems.
"We worry about the current iteration of GMO tech that is focused on being pest resistant… It further industrialises our food system. We typically think smaller agriculture is best."
Miller plays down the concerns raised by industry bodies representing conventional food manufacturers in the US. "The opposition says it is confusing, doesn't make sense, will increase the price of food… What we were able to do as a large national company that is not organic is [show Vermont legislators] this can be done and it lessens consumer confusion not increases it."
He stresses the labelling of GMOs would not constitute a "warning" to consumers and is not a reflection of the safety of products containing genetically engineered products.
"It is really hard to understand why a company wouldn't want to tell you what is in the food they are selling. At Ben & Jerry's we are pretty proud of our ice cream. Many companies talk about the tech as a vital way to feed the world – if you are proud of the tech why would you not want to tell people about it? Nobody is suggesting that by placing five words on the back of the pack it is some sort of warning label. The same companies that are opposing labelling here in the US comply with international labelling regulations."
Miller believes a state-by-state approach will prove the most effective route to seeing meaningful national legislation enacted. He adds "nobody expects" a federal proposal – a somewhat watered-down proposal based on voluntary labelling – currently making its way through Congress to be enacted.
"We would prefer a national standard… Having said that Washington DC has had a tough time dealing with any issues and it is not at all clear to us that there is much chance national legislation would pass Congress. We believe that the quickest route to a national standard is by winning in the states. We think once we win labelling in five, six states that will put pressure on Congress and FDA."
As such, Ben & Jerry's is backing state efforts to set the agenda on GMO-labelling requirements, Miller continues. "We really jumped into the fight to win mandatory GMO labelling at national and state level about a year ago when we campaigned pretty heavily on mandatory labelling in Washington State… We spent part of the winter and spring working here in Vermont for the right to know campaign."
Now that Vermont's recently-inked GMO-labelling law is facing a legal challenge, Ben & Jerry's is also working with the state as it prepares to mount a defence. In particular, coming up against the well-funded lobbyist machine of the US food sector, the company hopes to aide the state's fund raising attempts in the form of its "crowd sourced" litigation fund.
Miller explains: "Ben & Jerry's is supporting Vermont's defence against the food industry's legal challenge. The company has temporarily renamed its chocolate fudge brownie ice cream "food fight fudge brownie" in reference to the state's defence fund, the Vermont food fight fund. Ben & Jerry's will donate one dollar of every scoop of food fight fudge brownie sold at its two company-owned shops in Vermont during the month of July.
"The truth is, it will be in the thousands of dollars. It is a relatively modest contribution. The other thing we will be doing is raising awareness nationally and in Vermont that at the state has set up this fund…. encouraging people to give small dollar contributions. This will be a crowd-sourced legal defence."
Miller believes if there is enough consumer awareness around the use of GMOs – and enough demand for GMO-free products – this could contribute to an increase in production of non-GMO grains in the US, where 90% of soy produced is currently genetically engineered.
"There is a hope that as consumers win right to know companies will convert back to non-GMO," he suggests. "Ultimately consumer demand drives markets. Probably the fastest growing segment of the natural sector is non-GMO food. The growth in that part of natural products industry is far outpacing the overall growth. Clearly there is a consumer interest here. The other thing in my mind is many of the consumer goods companies are caught in the middle here. If companies like ourselves – and the folks over at [General Mills-owned] Cheerios who made a change – I think potentially that is going to drive a change at the farm level."
While the US is severely under-served for GMO-free crops, Miller believes if companies detail specific plans to convert products to a non-GMO footing the market would respond.
"Unilever have made a pledge to move to RSPO palm oil by 2020. The systems are not in place to be able to source that tomorrow but they are sending a huge message to the market that they expect those systems to be in place in the next five years. If companies made those kind of pledges the market would react."