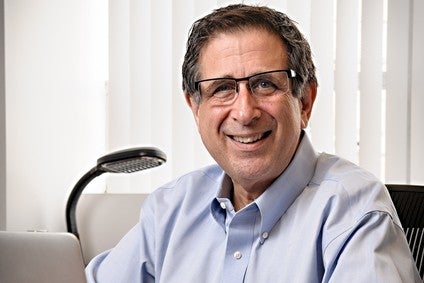 Privately-owned US free-from snacks group Enjoy Life Foods has joined the likes of Cadbury and Oreo in Mondelez International's portfolio. Joel Warady, Enjoy Life's chief sales and marketing officer, has been at the business since it was set up in 2001. He speaks to Dean Best about why Enjoy Life was looking for a "partner", what Mondelez's ownership means for the business and the fledgling firm's growth ambitions.
Despite yesterday (16 February) being Presidents Day in the US – a public holiday for the country – there was one major corporate announcement in the food industry: Mondelez International's move to acquire Enjoy Life Foods, a maker of free-from biscuits, chocolate and savoury snacks.
The deal speaks to perhaps the major strategic consideration for executives at many of the largest packaged food players in the sector: how can we tap into growing consumer interest in areas such as natural, organic and free-from?
Mondelez's global footprint means, unlike some of its peers, it is seeing its top line grow on annual basis. But, as its results for 2014 showed last week, the Cadbury and Oreo maker is struggling to grow sales in developed markets. While attempting to boost revenue on an organic basis through price increases and NPD, Mondelez is also looking at acquisition opportunities – and has plumped for Enjoy Life, a business set up in 2001, based just a few miles down the road in Illinois and enjoying rapid sales growth.
Announcing the deal, struck for an undisclosed sum, Mondelez's chief growth officer, Mark Clouse, described Enjoy Life as "a great strategic fit for us", expanding the Chips Ahoy cookies maker's portfolio into "faster growing, on-trend, better-for-you areas".
Enjoy Life was similarly upbeat. Speaking to just-food, Joel Warady, the company's chief sales and marketing officer, said the company was looking forward to the prospect of a "tremendous partnership" with Mondelez.
Enjoy Life does not officially announce its sales but points to a report from Inc, a US magazine focused on growing companies, that reported the firm's 2014 net sales at US$40m.
Warady declines to provide figures on earnings but said last year was Enjoy Life's "most profitable". He does say Enjoy Life has seen its sales grow 40% a year for the past three years. "We've had phenomenal growth. We've been around for 13 years but it's really been in the last four years we've seen our distribution and our velocity grow as more consumers changed the way they are eating," he says. "People are more focused on what they are putting in their bodies. They are looking for convenient, easy-to-use products that are better-for-you. We like to say that the category caught up with our brand because we've been doing it for 13 years. For the first nine years, we were yelling and not everyone was listening. People are listening now."
Enjoy Life sells over 40 products across biscuits, chocolate, snack bars, and savoury snacks, free from the eight most common allergens – wheat, dairy, peanuts, tree nuts, egg, soy, fish and shellfish. The business's namesake brand is, Warady claims, the "number three brand" in gluten-free, behind Boulder Brands' Udi's and Glutino, and the number one in allergen-free products.
So why sell up? Warady insists Enjoy Life needed more resources to match its ambitions and decided a year ago to talk to "potential partners".
He says: "We had so many ideas and we were strapped as we were operating from cash flow. In addition, we get enquiries from countries – distributors and retailers – around the world who are interested in our products. We just weren't set up from a bandwidth standpoint to be able to handle it all. We decided there was a real opportunity to accelerate our growth and our accelerate innovation if we found the right partner."
Enjoy Life had received some interest from suitors "six, seven years ago", Warady reveals, but the company believed the time wasn't right. "We weren't large enough and we didn't have enough products," he reflects.
In the last year, Mondelez was one of a number of companies – both trade and private-equity – that had expressed interest in the open-to-discussions Enjoy Life. Warady says the company, led by co-founder and CEO Scott Mandell, believed Mondelez's "values and vision of better-for-you and well-being really fit what we wanted to do".
One could be surprised at that comment, given Mondelez's portfolio of sweet snacks, but Warady says he and Mandell – who are both staying on to run Enjoy Life as a "wholly-owned subsidiary" – are comfortable with the brand joining the likes of Cadbury and Oreo and the US giant's roster.
However, a factor – just one factor but a factor nonetheless – in the growth of brands like Enjoy Life in the US is the fact they are privately-owned upstarts, not owned by what some call Big Food.
Warady acknowledges there could be a backlash from some consumers at Enjoy Life now being owned by one of the corporate giants of the industry but insists the business will enjoy operational independence and insists Mondelez "wants to learn" from its new acquisition.
"Our consumers are very smart consumers so they will be concerned," he says. "One of things I think is important is the fact that Scott and I are remaining on board and will continue to lead the business. That will help. We've had long conversations with Mondelez. They want to learn from us and understand. That doesn't mean they are going to change their posture on things like GMOs. They've not been overly supportive of GMO labelling laws, where as we are very vocal about it.
"What we hope over time is we'll continue to share with them the things we think are really important. What's been very enlightening over the period of time we've been talking to them is that they're willing to listen. We met with some companies that weren't willing to listen. Mondelez is very open to hearing what we have to say. They know we understand the natural foods market and that's one of the reasons they have acquired us."
In its announcement, Mondelez said it would provide "back-office support and access to its global resources" but went out of the way to state it would run Enjoy Life Foods "as a separate, wholly owned subsidiary to continue to nurture its entrepreneurial spirit".
Warady points to Mondelez's ownership of UK-based chocolate business Green & Black's, which it attained through the acquisition of Cadbury in 2010.
"One of the things we looked at was how Mondelez treated Green & Black's. It's a chocolate brand available in natural stores in the States. We wanted to make sure they didn't change the way Green & Black's was operating and we were very comfortable," Warady says. "One of the things Mondelez asked us was: 'Who do you think did it right?' We think the Danone/Stonyfield model is a great example. [US organic dairy business] Stonyfield has kept all of its values and kept operating the business as a stand-alone and I don't think most consumers care it is owned by Danone. We've also looked at examples that didn't work. When you look at what happened with Kellogg and Kashi, Kellogg tried to bring the brand into Kellogg and the brand faltered, although they've now moved it back out. We looked at those examples of how not to do it."
Warady underlines Enjoy Life will retain its free-from facility at Schiller Park in Illinois, where it manufactures 70% of its products, with the rest made by co-packers. He says the proportion of Enjoy Life's output that is co-packed could change with the company looking to expand its own manufacturing.
Enjoy Life will not move production into Mondelez's facilities and will retain control over its purchasing, although Warady adds: "That being said, we will be able to piggyback on ingredient contracts that might be out in place. We'll also be able to have Mondelez expertise come in and help us become more efficient, both on the op side as well as the sales and marketing side. We are able to tap the resources of Mondelez without being within the Mondelez family."
Looking ahead, Enjoy Life believes with the backing of Mondelez it can see its sales growth accelerate further.
"The 40% we've enjoyed over the last three years, we do see that growing even faster," he says. "We believe with additional marketing support, we're going to be able to increase brand awareness, which will result in higher velocity sales. We also believe we're going to continue to grow our distribution. There are areas in which we have very little distribution right now. A great example is in club stores. We have very little, if any, distribution. We see that as a real opportunity, as well as foodservice."
Enjoy Life generates the bulk of its turnover in the US, with 13% of its sales coming from Canada and some coming from early export endeavours in markets like Mexico, South Africa and the UK.
However, international markets will now become more of a priority for Enjoy Life. "That was one of the inviting parts of working with Mondelez. They have such a great global footprint. We see a huge opportunity to be able to manage all of the enquiries we receive from international opportunities," Warady says.
He reveals Enjoy Life is in talks with Tesco to turn some test listings in the UK last year into permanent deals but says it is too early to pinpoint the new markets the company could enter in 2015 and 2016.
"We looked at where we're seeing growth in free-from around the world. Australia and New Zealand have a very large market down there. When you look at the UK, Italy and Germany, these are all markets where you've seen a lot of growth in free-from over the last years. It would be natural for us to look at those markets."