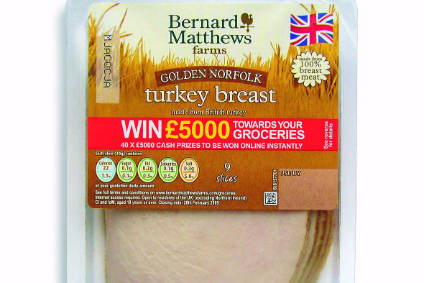 Turnaround specialist Rutland Partners has taken a stake in the UK's largest turkey brand, Bernard Matthews. Rutland managing partner Paul Cartwright is undaunted by the challenges that the company faces and – with a fresh injection of funds – Rutland believes it can help put Bernard Matthews "back on the map". Katy Askew spoke to Cartwright to find out more about what attracted the generalist investor to the struggling poultry processor.
Bernard Matthews is a company that has been grappling with a number of challenges. The company is the biggest brand in what remains a soft category in the UK, where demand for turkey remains highly seasonal.
In spite of the group's efforts to boost demand through value-added innovation – and its work to shed the unhealthy image associated with processed turkey products – sales have come under sustained pressure.
In the 12 months ended 1 July 2012, sales were GBP341.4m (US$533.8m). In the previous reporting period, the 18 months to 3 July 2011, the company booked sales of GBP470.8m. And Bernard Matthews has issued a cautious outlook on 2013, voicing concerns over rising feed costs and poor consumer sentiment.
With weak sales hitting the bottom line, Bernard Matthews has looked to take costs out of the business and earlier this year the firm revealed it was in talks to potentially make around 55 job cuts at its Great Witchingham cooked meats site in Norfolk. The move is being made in a bid to make the business "as efficient as possible" and ensure a "sustainable" future for the whole workforce.
At the same time as it attempted to lower its cost base, the Norfolk-based turkey giant also revealed that it was seeking external investment. The group said it wanted to bring cash into the company that would then be used to boost growth.
This week it emerged that Bernard Matthews has secured this investment from turnaround specialists Rutland Partners.
While Rutland has declined to disclose the size of the transaction, reports have suggested the firm has taken a majority holding alongside the remaining family interests.
Speaking to just-food today (4 September), managing partner Paul Cartwright suggested the capital Rutland is supplying will join the group's "very good people", large asset base, farm-to-fork production and strong brand recognition to drive growth at the UK turkey processor.
Cartwright emphasised the important role that the return of Bernard Matthews executive David Joll, who had served as CEO until 2006 only to return to head up the business last May, will play in improving the firm's fortunes.
"We have invested in Bernard Matthews because it is a really good company that has somewhat lost its way in recent years. In bringing David back as executive chairman… and our capital going in, we expect to put Bernard Matthews back on the map… It is a brand that still has a place in the market today."
According to Cartwright, along side its cash Rutland also brings a deal of experience in turning around under performing businesses to the table. While the investor will not take any executive roles, Rutland will hold two seats on the Bernard Matthews board.
"We are a fund that invests in businesses that have had some challenges and need turning around. We do get quite actively involved, but we don't take executive roles. We are not running the business. We will take two board seats and be involved alongside David in driving the business forward."
Rutland's investment portfolio spans a number of sectors, from Pizza Hut UK to construction, healthcare, consumer products and financial services. While the group is not experienced in turning around food processing companies, Cartwright maintains that its experience in boosting the fortunes of groups in other industries includes relevant learnings for Bernard Matthews.
"We are a generalist investor. What is consistent amongst our investments is that they are businesses that need to go through a process of change, have had some challenges and we are putting our capital in to support the change, growth and drive forward of the business.
"We have skills around those things that span many industries and many factors which are going to be helpful to Bernard Matthews. No we don't come with specialist food processing skills, but we come with a lot of experience of operational and strategic change and value driving in businesses," he says.
While Cartwright was coy on just how much Rutland is investing in the business, he did reveal that cash would be used to strengthen Bernard Matthews from an operational standpoint.
"The money is going into the business and obviously some of the things we will be investing in include the agricultural estate and the operational base of the business."