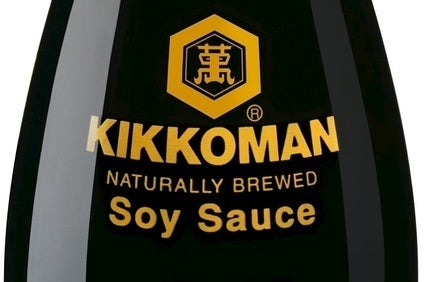 Like many Japanese food majors, soy sauce and seasonings group Kikkoman Corp. is battling an ageing domestic population. However, through innovation, Kikkoman is looking to meet changing consumer demand at home, while looking to expand further overseas. Julian Ryall met Kikkoman president and CEO Noriaki Horikiri to discuss the company's plans.
Changing demographic patterns in the domestic market are driving innovation at Kikkoman Corp., while growing overseas demand means Japan's largest producer of soy sauce and seasonings is actively looking to raise its international profile, according to Noriaki Horikiri, the company's president and CEO.
In an exclusive interview with just-food, Horikiri declared himself satisfied with Kikkoman's annual results in the financial year to 31 March, which showed overall group sales stood at 111.4% of the previous year's figures. This was despite currency fluctuations affecting those figures – when factored into the final numbers, they showed a not insignificant 105.1% increase on the previous year. What was particularly important for Horikiri was that for the first time ever, Kikkoman's overseas sales were larger than domestic sales.
"We are seeing good growth in our overseas operations and the basic reason is that, as is widely known, Japan has a rapidly aging population and a declining number of children," Horikiri tells just-food.
Japan's population is projected to fall by 20m between 2010 and 2040 to 107m people.
"That essentially means that our domestic market will not get any larger and I believe this situation will continue well into the future," he explains."As a result, our current aim is to try to continue our sales growth as much as possible and to increase our profitability at home."
Kikkoman's decision to expand overseas at a relatively early stage in the company's history has been beneficial, Horikiri says, giving it a firm foothold in foreign markets, developing knowledge and understanding of different tastes around the world.
The corporation's first production facility in North America was established in Wisconsin and has been shipping soy sauce from 1972. Building on impressive American demand, a second plant opened outside Sacramento, California, in 1998.
Kikkoman has also opened plants to meet demand in other parts of the world, with factories in the Netherlands, Singapore and Taiwan, and two in mainland China.
"We went overseas at a very early stage, giving us the advantage we have in the overseas market at present. This was good because it would have been more difficult to grow the overseas business later and get quick results," Horikiri observes.
The news at home is not entirely negative, however, as the company has opened two new domestic production plants in the last couple of years. The facility in Saitama prefecture, north-west of Tokyo, opened last year and manufactures the popular Uchi-no-Gohan Japanese-style seasoning mixes; while the Ibaraki plant, north-east of Tokyo, also opened last year, has enabled Kikkoman to increase its output of soy milk products, a category in which it commands more than 50% of the domestic market.
Horikiri says further domestic expansion will probably involve enlarging existing facilities, but added that should overseas growth warrant the investment, the company would construct new plants overseas.
Changing consumer habits have required Kikkoman to develop innovations that both appeal to potential new consumers and keep existing ones happy.
"There is a relatively new push to have more women in the workforce here in Japan, but we see that as a new opportunity for us," Mr Horikiri says.
This is because working Japanese women have not shed their home cooking responsibilities, he points out. "Our aim is to make their lives easier in the kitchen and lessen the burden on them of preparing food."
The Uchi-no-Gohan series meets that need, based on the concept it requires less than ten minutes to prepare a healthy and tasty dish. The product line broke new ground when it was introduced in 2002, but has since been mimicked by virtually all of Kikkoman's competitors, although the original still controls around half of domestic sales in category.
And fast food options may become more popular in Japan: "Women in the US spend around half the time cooking in comparison to Japanese housewives, so we believe there will be a demand for this sort of product in Japan and that it will continue to grow in the future," Horikiri predicts.
"This demonstrates that when we see changes in the market, we are ready to create products that meet those changes," he added. "In Japan, a great deal of effort is going into products that are convenient for old people to consume or use."
Another domestic trend that Kikkoman's experts have noticed in recent years is a switch in consumer preferences for strong flavours in their foodstuffs to milder tastes, as well as a growing interest in healthy foods.
Horikiri says he believes there is "no particular secret" to making top-quality soy sauce, the product for which the company is most famous. It uses a soy sauce brewing method that has been followed for more than 300 years. The company was founded in 1917, combining eight old family businesses, some dating back to the seventeenth century. Its established knowledge and commitment to using the best ingredients available remains important.
"A lot of food companies are expanding their operations and trying to intrude on our market share around the world, but Japanese soy sauce is a unique product that we specialise in, so we have no real rivals in that area," Horikiri says.
But for other products, entering foreign markets that have existing and established domestic brands is tougher, he concedes, mentioning entrenched seasoning companies in Thailand, Vietnam and China.
Regardless, for soy sauce and other products, Kikkoman's strength lies in maintaining quality, he stresses. In this way, Horikiri hopes the company's business in Europe and North America will continue to grow, wanting "to encourage our existing customers to use our products more frequently at the same time as winning new customers."
In Asia, the company intends to step up its growth through "fine-tuned marketing" appropriate to different food cultures across the region.
There are also plans to open up undeveloped markets in South America, India and Africa. While the challenge will be tough as none of the regions have an established culture of using soy sauce in their respective cuisines, Kikkoman will try to create demand.
At home, the ambition is more modest, he added: sustaining present sales levels through creating new and innovative products that meet the needs of a changing population that is increasingly elderly and health-conscious.