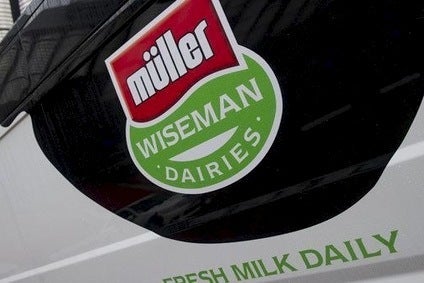 Sales volumes are rising in the UK liquid milk category but value has been squeezed as retailers zone in on price. Four pints of milk for GBP1 has become the norm in a category dominated by own label. In an effort to build value in the UK liquid milk sector, Muller Wiseman Dairies plans to develop its own milk brand. Katy Askew spoke to Rebecca Oliver-Mooney, Muller Wiseman's category and marketing controller, on the sidelines of the Canadean dairy innovation summit to find out more.
According to figures from industry association Dairy UK, liquid milk volumes rose by 2.8% in the country during 2014. Some of that improved performance was, Dairy UK notes, the result of "natural population growth" but the trade body claims shoppers are also buying milk more often, a trend it says started last March.
Consumers buying more of something more often should be positive news for processors selling into any category. However, in UK milk the picture is a more mixed. Dairy UK notes sales totaled GBP3.2bn in the 12 months to 5 January 2015, down 2.1% year-on-year. The drop is the consequence of lower selling prices, which were down 4.7% due to a reduction in the price of pasteurised milk which offset an increase in the price of filtered milk in the year.
Declining prices reflect the price-focused retail environment in the UK, where the "big five" multiple retailers – Tesco, Sainsbury's, Asda, Morrisons and The Co-operative Group – are focusing on a strategy of every day low prices for staples such as bread, bananas and milk to fend off growing competition from discounters Aldi and Lidl.
Rebecca Oliver-Mooney, Muller Wiseman category and marketing controller, warns UK liquid milk sales have become a "race to the bottom". Being able to buy four pints for around GBP1 has become a common feature in UK supermarkets and, Oliver-Mooney says, it has wiped GBP1.4bn off the value of the sector.
"It's a really, really terrible fixture to buy into. It is cold, it is busy, it is commoditised. There is little innovation… We need to do something different," she said last week at the Canadean dairy innovation summit in Dublin.
Highlighting the issues facing the sector, Oliver-Mooney stresses new products accounted for just 0.1% of milk sales in the UK last year. The category is also tied to the success of related products, such as cereal, which have themselves been in decline. With only 16% of milk consumption the result of drinking milk – as opposed to using it in a cereal or hot beverage – "milk is not the hero", she explains.
Muller Wiseman Dairies, the UK unit of German dairy giant Muller, plans to change this situation. The group hopes to get more people to buy more milk in the UK. Significantly, the company also intends to get people to "spend more" on milk.
To achieve this will require a seismic shift in the way people view and buy milk. How can this be accomplished?
"We've got to add value," Oliver-Mooney argues. "There is no quick win. It is about being in it for the long-term… I firmly believe the way to drive the category forward is through innovation led by brands."
Brands are thin on the ground in the own-label controlled milk category. While Muller Wiseman does offer milk under its Black and White brand in Scotland, its own branded offering is notably light. However, that is a situation that the company is currently working to address.
"The UK has one milk brand: Arla [Foods'] Cravendale filtered milk. We believe there is space for more brands in the category," Oliver-Mooney tells just-food. "We are currently going through a brand evaluation process. We are looking to launch a milk brand, possibly next year. But it is important to get it right first. What I don't want to do is go to market with something that isn't consumer ready. It takes time."
"We are looking at building value [in liquid milk]. That will be through innovation and branding. For us the question is which brand? We have the Black and White brand, which has a lot of loyalty in Scotland. We have a very strong brand in yoghurt… Could Muller move into milk? Is it a stretch too far?"
Muller Wiseman also hopes to buy a significant branded force in the flavoured milk sector. The company is awaiting regulatory approval for its proposed GBP80m takeover of Dairy Crest's dairies business. The unit delivers around 1.3bn litres of milk per annum to customers and Oliver-Mooney points to the fact Muller Wiseman would also be picking up Dairy Crest's flavoured milk brand Frijj.
"If the Dairy Crest deal is approved we will get a very strong brand in Frijj. There is some room to play around with Frijj without alienating their loyal customers. The [traditional] flavours – strawberry, chocolate, banana – their volumes are in decline. More experiential flavours is where the growth is."
In terms of white milk, the Dairy Crest deal would step up Muller Wiseman's capacity. Higher volumes will likely enable the group to leverage its scale through cost savings and supply negotiations with retail and industrial partners.
The company nevertheless remains focused on growing a "milk brand that brings value to the category", Oliver-Mooney says. "I'm not so naive as to think we wouldn't work with retailers on their own brands but we also want to build category value through innovation and branding."
Given the rapid growth of the discounters and the strong focus this has placed on pricing, Oliver-Mooney concedes the current atmosphere is not the easiest one in which to build brands. "Brands have to think very strategically about where they compete. Some brands chose not to work with the discounters to protect their brand value. If you are a premium brand targeted at 60-plus consumers who shop exclusively at Waitrose, you don't need to be in Lidl as well."