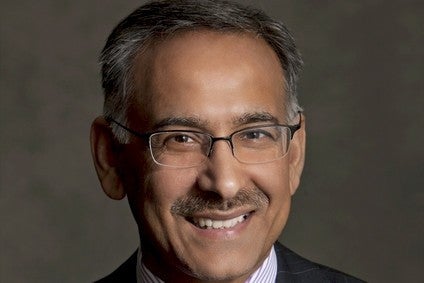 Dr Mehmood Khan, chief scientific officer at PepsiCo, discusses research and development with Olly Wehring, the editor of just-food sister site just-drinks. Khan discusses the changing role of research and development in recent years, and where R&D sits in the company's armoury for growth.
Mehmood Khan clearly loves his job. Not once during our 45-minute, trans-Atlantic 'phone call does it sound like his enthusiasm is on the wane. Indeed, he's talking even faster at the end than he was at the beginning.
It's easy to see why he's enjoying himself so much: Nearly seven years into the role of chief scientific officer, Dr Khan has witnessed a sea-change in the level of importance companies like PepsiCo have given to the science side of R&D.
"Until about seven years ago," he says, "PepsiCo had R&D units within the individual business units – there was no PepsiCo global R&D function. While there was a lot of support for the individual units, there was not a lot of leverage across the enterprise. Also, all the work was around 'D' not 'R': We did a lot of refresh activity such as new flavours. The business had been growing, but this model was not sustaining growth."
The appointment of Dr Khan – "I'm the only physician running R&D in the food & beverage industry" – gave PepsiCo's R&D efforts a more centralised slant. It appears to be paying off. "Last year nine of the top 50 most successful (in revenue and volume) new food and beverage products that were introduced to the US retail arena came from PepsiCo R&D," says Khan. "In the first quarter of fiscal 2014, 8% of global net revenue came from products launched in the last 36 months. Not only are these new products growing the portfolio, but they are sticking and making a significant impact on top-line revenue."
Another change has been in the relationship between the R&D and marketing divisions within consumer packaged goods companies.
"R&D used to be seen somewhat as a 'go-do' division, not just at PepsiCo but at other CPG companies too," notes Khan. "Somebody in marketing would come up with a concept and R&D was told to go and make it. Frankly, this resulted in a lot of 'me-too' products that were small tweak innovations. They're still important to keep the brand refreshed, but there were no new platforms being launched.
"Now, we're a 'go-to' division: Our partners are coming to us with business problems to solve. That means the culture is now different. We've enriched the organisation with a lot of new talent and skills. Of course, all this takes resources – we have significantly stepped up the investment in R&D. This year's R&D budget globally has been increased by 25% versus 2011. And, that's at a time when the overall global economy has been challenged."
Of course, R&D isn't the only way for companies to grow: M&A is also part of the mix, but it's usually a more expensive route.
Is in-house R&D markedly cheaper than buying fledgling start-ups? "The role of a big player is to bring scale, depth-of-knowledge and expertise and phenomenal brands," Khan explains. "Our goal is to discover new products, processes, ingredients and ways of growing.
"I use the term 'idea' regardless of where it came from and whose idea it was. A good R&D division will learn to recognise good ideas that are out there. I've made a career out of never having to come up with a good idea myself…out of recognising other people's good ideas, be they people within our company, at academic institutes or in a small start-up. The synergy of their idea and our expertise and experience combined can create some real opportunities."
Khan believes that there are four types of external partnership – three, if you don't include outright acquisition. "Beyond acquisitions, such as Naked Juice (in 2007), we also look at collaborations, where we invest in start-ups," he says.
"In the last four years, we've signed over 50 contracts with start-ups, small technology companies and academic institutes for very specific know-how. This is global, too – we used to be much more focused on the US, but now our growth is outside the US as much as it is from the US.
"Then, there are joint-ventures, looking for a partner to bring significant know-how, for example the Sabra hummus brand in the US, launched four years ago. Today it's the number one hummus brand (in the US).
"Our fourth model is to go to our customer and create a partnership. Take a look at Doritos Locos Tacos. We went to Taco Bell with the idea to take the Doritos seasoning and combine it with a hard taco shell. It's been phenomenal: We launched it 24 months ago and it's already made $1bn in retail sales."
Looking more specifically at its beverage presence, PepsiCo's approach to at-home carbonation is a good example of its preference for partnerships. As SodaStream enjoys a new lease of life, and The Coca-Cola Co has hunkered down with Keurig Green Mountain, PepsiCo has teamed up with Malta-based Bevyz, whose Fresh Machine launched in the US in May.
"It's a very interesting and potentially important arena," Khan says. "There is no one winning technology, most of it is in the open-architecture space. I can assure you that we are looking at and, where appropriate, engaging in a number of different platforms. It's way too early to pin down on any one of those yet. There's nothing that we're excluded from at this point. We'll look at it very carefully. Let's wait and see how it evolves."