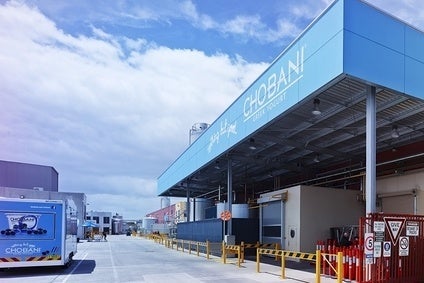 The rise of Chobani, the US-based Greek yoghurt producer, has been one of the most notable stories of the US packaged food market, leading the boom in its category. The company has spread its wings internationally (albeit not with complete success) and is looking to grow further, which could be vital with the US Greek yoghurt category showing signs of slowing. In the second part of a two-part interview, Dean Best spoke to Peter Meek, the MD of Chobani's Australian arm, about the company's moves in south-east Asia.
It has been six months since Chobani, the US-based yoghurt group, entered its first market in south-east Asia, selling into Singapore, and, since then, the company has added Malaysia to its roster.
While it is early days for the company, Chobani is optimistic about its prospects.
"In a lot of south-east Asian countries, the growth for yoghurt is quite strong. There is a lot of interest in products that are high in protein and, overlay that on a category that's growing in quite a few markets, and we see a lot of scope for growth," Peter Meek, the head of Chobani's business in Australia, tells just-food.
Chobani is using its Australian arm as its base for exports into south-east Asia. The company entered Australia in 2011 with the acquisition of local dairy firm Bead Foods and has grown the existing business and enjoyed success with its Chobani brand.
However, Meek says Chobani's management already had an eye on Asia wwhen it made its move for Bead Foods.
"It was one of the reasons why Hamdi [Ulukaya, founder and CEO of Chobani] bought the business in Australia," Meek says. "Australia has a very green image and its proximity to south-east Asia with a safe, reliable dairy industry has always been part of the strategy. If you look at south-east Asia, there's 30m consumers across that region who earn more than 95% of Australians. There's definitely a population of people that can afford the products. For us it's a really important part of our growth strategy."
Meek notes Chobani yoghurts are sold in Singapore and Malaysia at a "premium" due to the cost of shipping from its plant in the Australian state of Victoria.
The yoghurt categories in both markets are growing, although, according to data from Euromonitor, drinking yoghurt dominates.
Total yoghurt sales in Malaysia are higher, unsurprising given it has the largest population of the two markets. Euromonitor forecasts total yoghurt sales – which also includes spoonable yoghurt – in Malaysia will hit GBP103.5m in 2014 – with GBP92.7m of sales made through drinking yoghurt.
In Singapore, drinking yoghurt sales are forecast to reach GBP59m this year, with the total category estimated to hit sales GBP69.6m. However, the data indicates that per capita consumption is highest among Singapore's roughly five and a half million people.
Euromonitor has forecast continued growth in both markets but the rate of growth, it says, will slow compared to the growth seen between 2009 and 2014.
Of the two, Malaysia is set to grow fastest. Euromonitor says the yoghurt sector in Malaysia will grow at a compound annual growth rate of 7.4% between 2014 and 2019 – with the spoonable yoghurt segment rising by 8.8%. In Singapore, Euromonitor forecasts the total category will grow at a CAGR of 5.5%. It predicts spoonable yoghurt sales will rise at a CAGR of 4.4%.
Meek says the pace at which the two markets have developed has been different, noting the range of yoghurt products available in Singapore. However, he is confident about Chobani's position.
"In Singapore, there's lot of imported brands and quite a lot of local brands, which means the consumers there are probably a bit more developed in terms of choices because they've been exposed to more brands," he explains. "Malaysia is not quite so developed but we're very fortunate with the distributor that we've got that they carry a lot of high-end products."
Despite the competition, when Chobani was drawing up its target markets in the region, Singapore was at or near the top of the list, Meek says, describing Singapore as "almost the shop window for Asia".
He says: "A lot of new foods establish themselves, when they roll into Asia, in Singapore. It's not the biggest population but it is one of the best in terms of exposure. It was always part of the plan that that was gonna be one of the first, if not the first. Malaysia came along quite quickly because we'd been really fortunate to find a great distributor there. It was a little bit more opportunistic. We wanted other distributors in the region to see that Chobani is in Singapore and consequently the phone hasn't stopped ringing in terms of people looking for opportunities to distribute Chobani."
In both markets, Chobani has turned to sampling (much as it has in Australia) to entice and win over consumers. "Because of how we make our yoghurt, the texture's different so our main marketing tool is sampling. That's proving to be working again," he says. "Sampling is always going to be a cornerstone for us particularly when lots of the local competition are using skimmed milk powder. Their products are often quite watery."
Tailoring product lines and marketing to local consumer habits will be key. Among local consumers, yoghurt tends to be eaten later in the day, rather than at breakfast, Meek explains. "Yoghurt currently is a lot more second half of the day [and for] dessert," he says."There is good growth in terms of culinary use as well. Plain pots of Chobani are doing better than we were expecting."
Meek does expect Chobani to have entered another market in south-east Asia by the end of the year. "We'll definitely be in at least one more market by the end of the year and hopefully a little bit more," he says, although he declines to identify which country could be next.
"There's a few in the race to be honest. If I gave you an answer, it might be the wrong one," he laughed. "We are working with quite a few and we are pretty certain that at least one and possibly more will be signed up and distributing Chobani by the end of the year."
Away from south-east Asia, China is of course held up as the key Asian market for international food manufacturers to enter. However, it appears the next Asian entry for Chobani is more likely to be in south-east Asia. Meek says the company is "definitely looking at China" but adds: "It certainly won't be anything we will be announcing this year but what we know is as we build presence in these other markets eventually that will be a market that we enter."
Looking further forward, could Chobani look at setting up a local manufacturing base in Asia? Meek is non-committal. "We're open to all options. Our role in the short term is to establish the beach-head and get people used to what yoghurt can be. And how we service the market long term, I'm sure we'll be looking at other models."
International expansion, particularly in emerging markets, will be crucial to Chobani's medium- to long-term growth. Last month, analysts at Sanford Bernstein, citing data from Nielsen, said the US Greek yoghurt sector had "slowed significantly", adding: "It looks like the Greek boom is over."
Chobani still has a strong position in the US, of course. And it is still early days in south-east Asia. But expanding outside the States will be a key plank in its growth plans.