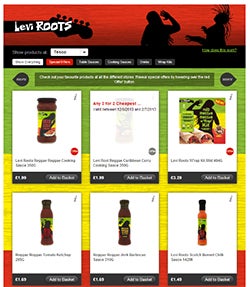 There is little doubt FMCG brands have been slow at embracing the potential presented online.
Figures from industry analysts IGD out last October estimated online food and grocery sales will almost double to GBP11bn (US$16.9m) by 2017.
However, while the channel will grow, there is an opportunity for food brands to build loyalty online (Unilever has estimated consumers are up to "15% more brand loyal" when shopping online) and stand out in an increasingly competitive market, not least when many consumers would only see brands online when shopping collating their weekly basket.
Nevertheless, be it the challenge of measuring the return on investment, a belief in the benefits of traditional marketing that allows consumers to, say, taste or touch a product or perhaps scepticism at the talk of the potential of operating in a "multichannel" way, brands have been cautious about allocating resources to building a significant presence online or on mobile.
Often, brands have left it to their retail customers, which, particularly in markets like the UK, have built sizeable online businesses that are growing quickly. However, that of course throws up additional problems for brand-owners, including how to get your product the right kind of attention before an online shopper.
UK tech start-up Shopwyre hopes to change the way brands see the potential online, be it on desktop, tablet or mobile. The company says its technology enables brands to "turn any marketing touchpoint/brand content into a multi-retailer point of sale". In other words, Shopwyre's provides technology that, say, gives consumers looking at a brand's Facebook page or official website the opportunity to – there and then – add a brand's product into an online shopping basket, ready for when they put together their weekly shop.
"With one click and without going to the retailer website, shoppers can add products to their personal shopping basket at their preferred online retailer from anywhere," Shopwyre says.
Shopwyre's clients include UK food brand Levi Roots. However, speaking to just-food in London, co-founder Katie Harvey is reluctant to discuss the identity of Shopwyre's other food clients, citing confidentiality agreements. Frustrating but, nonetheless, she insists the company's technology can improve the way FMCG brands deal with online users.
"What you've got between retailers and brands is a power balance that retailers predominantly own. What it means is brands can't have a direct relationship with consumers. One of our main objectives is to give brands the opportunity to talk to consumers directly," Harvey explains. "To empower brands to build a meaningful relationship with shoppers directly at the point of sale, control how their products are sold online."
Of course, to reach of the likes of Tesco means brand-owners could not really fully control how their brands are sold online, although Harvey is not arguing that either. Reflecting on the competition for attention on a grocer's website, she says it is difficult for brands to be prominent, not least in the UK where private label accounts for 40-50% of sales.
"In retailers now, if you put 'coffee' into asda.com, you get 203 competing product results, really hard for a brand to stand out. Take Patak's poppadums, you've got Tesco pushing its own-label poppadums [and] you've got advertising from competitor brands. [Grocers] are making so much money off own label," she says.
Harvey is keen to emphasise Shopwyre wants to "promote collaboration" between brand-owners and retailers and says its technology benefits grocers.
"It's about increasing retailers' points of sale both online and offline. We don't take any business away from them as people still have to go on their websites to complete their shop. They can sit back and do nothing and watch sales multiply."
The Shopwyre interface on brand websites or social media pages also, Harvey says, shows "live pricing" and promotions that enables a consumer to make an informed choice. "The cost of a tub of Benecol changes at Asda for 10p, we know about it. The point about us is we are, a, multi-retailer, so retailer-agnostic, which is obviously in the brand's interest."
However, Shopwyre has competition. Rival Slingshot was set up in 2010 and has arguably secured greater awareness throughout the industry. Slingshot's website claims allows consumers to "add any item to an existing shopping basket from anywhere". It similarly gives consumers the chance to add a product from a website or social media page.
Harvey, however, says Shopwyre can offer brand-owners a broader service. She says: "They are in the same space; they have a slingshot button and can slingshot to basket. But we are increasingly getting some of the people they are working with, saying 'You have a much fuller e-commerce solution.'"
At present, the "conservative" outlook some brands have of multichannel means Shopwyre's current projects are only online. However, Harvey says the company was "set up for mobile" and has an ambition to see its logo used on product packaging, as well as print, TV and outdoor advertising.
"On our website, there's a fridge, an outdoor ad, a TV and a magazine," she says. Has Shopwyre had discussions with brand owners about using QR codes on packaging? " There's discussions definitely. Discussions with brands usually start – with a digital person who gets it and see where everything is going – with 'we want everything'. By the time you filter down, it is 'Actually we are going to start with one brand on a small website.'"
She adds: "The reason we've gone down the online route is because that's where the brands have taken us. We are predominantly a mobile offering; that's our vision. We've got some really exciting partnerships coming up, with some companies that allow us to bring something in the mobile space that doesn't exist right now."
Mobile shopping is taking off. Asda said recently 20% of orders across its business are via a mobile device. "The pace of mobile is upon us," CEO Andy Clarke said. "For a businessman, if you're not in mobile, you're missing a huge opportunity."
In Harvey's experience, FMCG brands have been slow to embrace the technology. "Brands are a little bit more conservative and have not gone into mobile. We are trying to drive that."
In the meantime, the privately-owned Shopwyre is trying to encourage brands to harness technology to better connect with consumers who, as well as consuming news and information and catching up with friends, are shopping online, a channel where sales are booming but one where brands have found it hard to gain traction.