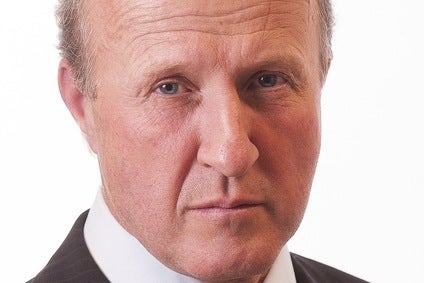 While speculation over the future ownership of United Biscuits intensifies, the UK snack maker is making strides beyond its domestic market, with a significant proportion of its growth coming from developing economies – Africa, the Middle East, India and China in particular. Jeff van der Eems, chief executive of UB's international business, speaks to Andrew Don about the company's international ambitions.
Building its business outside the UK has become a core strategic focus for United Biscuits, the owner of brands including McVitie's and Jacob's.
The company operates in a variety of markets, from Australia to Iraq, China and Kenya, now exporting to more than 100 countries.
Speaking to just-food, Jeff van der Eems, the CEO of UB's international arm, says the group's recent investments overseas "have nearly quintupled the size of the business".
Sales from United Biscuits International, or UBI, were about 5% of group turnover in 2006 to about 15% last year, and they continue to grow strongly.
"UBI's sales are on track to make up 20% of group revenues this year," – a few years earlier than planned, van der Eems reveals. Consequently, the company has upped that target to 30%.
Only eight years ago UB had no production outside of Europe. Today the company's portfolio includes factories in India, the Middle East and two in China.
Van der Eems, who became the head of UBI last year after seven years as group COO, describes how the company built manufacturing facilities from scratch in markets such as India, while in others it made acquisitions.
"Last year we bought a majority stake in Saudi Arabia's Rana Confectionery Products, working with local business partners. And earlier this year we bought a stake in A&P Foods, one of Nigeria's leading biscuit makers."
Van der Eems says the company's aim is to develop McVitie's as an international "mega brand", with sustainable market positions, and Digestives as the central product. McVitie's Digestives represents more than half of its international sales and still remains the fastest-growing product in its portfolio, van der Eems reveals.
He points to India, where the company exports 250g and 400g packs of Digestives from the UK, while its local factory also produces smaller, more affordable packs, including lower-cost portion packs of Digestives and HobNobs. "This reflects a strategy we deploy in every market," he says. "Our aim is that the average consumer will be able to afford one of our products with the pay from just 10 minutes' work."
The digestives category was tiny when the group entered the Indian market in 2010. "The biscuit industry in India is worth around GBP2bn and dominated by domestic companies, with many consumers having grown up eating basic glucose biscuits. Part of our strategy is to offer a more aspirational and healthy product for rising incomes. Today, we have grown in a very short period to reach over 30% share of the Indian digestives market."
The company is investing in building "high-quality", local teams in all key markets to ensure decisions are made locally and execution is optimised.
"To ensure consistency and excellence in the way UB operates across the world we also export our manufacturing innovation and expertise," van der Eems says. "Among our objectives is to be the number-one biscuit company in west Africa, and to cement our position as a sizeable player leading the market for digestives in India."
At present, United Biscuits' largest markets outside the UK and long-standing markets in northern Europe like France are west Africa, the Middle East, North America, and Italy.
Worldwide, retail sales of McVitie's have now exceeded an estimated US$1bn and while McVitie's Digestives continue to lead UBI's growth, van der Eems is excited about the potential of savoury biscuits.
"We have established very strong Carr's Cracker businesses in the US, Canada, Scandinavia and Australia but very little beyond these regions," he explains.
"The UK business has made strong and successful efforts to support the Jacob's range of products, for example through the investment in the new masterbrand strategy. This gives me optimism that savoury biscuits could be a strong growth platform for the future."
Another market van der Eems is upbeat about is China, a market UB recently re-entered after more than a decade's absence. China's biscuit market has seen rapid growth in recent years. However, as the category in China matures, the pace of expansion is slowing.
Nevertheless, van der Eems says UB's performance has been encouraging. "We refocused our attentions on China in mid-2012 and are now selling McVitie's in the south of China as well as in Hong Kong and Taiwan."
Van der Eems says he has been pleased with the customer response. "McVitie's brand awareness is rising steadily, our rate of sale is increasing and our distribution is growing."
In Guangzhou, its key test city in China, UB has achieved an equal market share of 38% in the digestives category with the market leader and these efforts are helping grow the sub-sector faster than the overall biscuit market, he says.
"The beauty of UBI's growth model is that we have so many opportunities in front of us by just driving our existing core brands and products," van der Eems says.
just-food spoke to van der Eems before reports emerged Kellogg is preparing a takeover bid for UB, the latest round of speculation over a business owned by private-equity groups Blackstone and PAI Partners since 2006.
Blackstone and PAI are said to have been working on plans to either sell or list UB. Van der Eems said the next steps for UB was a matter for the company's owners. He said UB's management was focused on running the business.
"We are owned by private equity, and as such there is frequent speculation. At some point the owners may want to crystalise some of the upside from the investment they have made. But that is a decision for the owners. Our objective at UBI is on growing the business and developing sustainable positions in our target markets. We have had some success and are totally focused on continuing to drive this forward."
Kellogg's reported interest may fizzle out but UB's international growth is likely to be a key factor in the deliberations of the cereal giant, of any potential suitor or of investors interested in owning shares in the snacks group should it float.