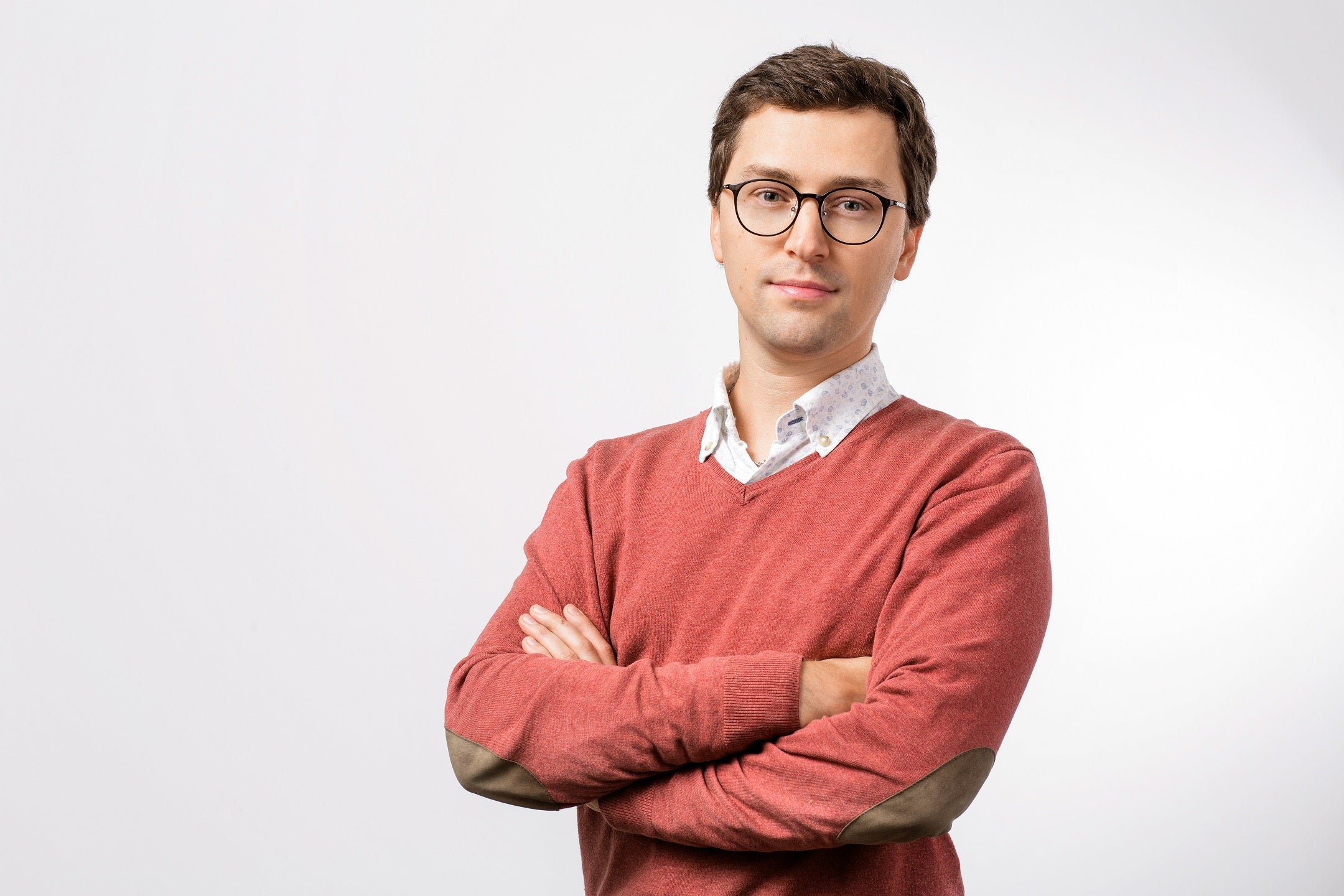 Welldone is a Russia-based start-up selling soy-based alternatives to meat. Set up in 2019, the Moscow business is building its presence in what remains a nascent domestic market – but with listings at retailers including Lenta, Auchan and Globus – and exports to neighbouring Belarus and Kazakhstan.
Earlier this month, Welldone announced it had attracted more funding, with alternative-protein investor Lever VC and venture-capital firm Phystech Ventures, putting a combined US$1.5m into the business.
Co-founder Alexander Kiselev, who started Welldone after four years leading Russia food-and-bev accelerator Mabius Accelerator and two years working at cooking oils and condiments business NMGK Group, says his company wants to use the funds to invest in production capacity and R&D.
In a video interview from his office in the Russian capital, Kiselev says he believes in the potential for plant-based meat alternatives in Russia with consumer interest on the rise. However, he acknowledges it remains early days and there is plenty of work ahead.
Just Food: What's the story behind Welldone?
Alexander Kiselev: Initially, I worked for several years in private equity, then in a major FMCG company in strategy and then I left to set up the first Russia food start-up accelerator. We worked with a number of well-known companies like PepsiCo; we jointly helped them to launch the PepsiCo Lab here in Russia, a start-up initiative relationship they are developing to look for new food start-ups and IT start-ups to help support their developments in technology.
After helping several different companies develop their start-up ecosystem and develop entrepreneurship inside their companies, we raised a small investment fund to invest ourselves, as a start-up accelerator. One of the core areas where we wanted to invest was plant-based meat. We saw this transition happen in developed markets and we were sure the trend would come to Russia.
We started to scout for start-ups in Russia who were developing plant-based meat and found no one. We already had a research and development centre set up and decided to make it ourselves. We had expertise in food extrusion – we were doing this in snacks and with feed for animals – and we are quite experienced having worked in different areas of FMCG. It was a quite unusual start, I would say, out of a small investment fund dedicated to investing in other companies to developing our own product.
Just Food: What have been the biggest lessons you've learned so far? There's nothing like running your own business.
Alexander Kiselev: There are a lot. In our experience as accelerator guys helping them to set up their own businesses, you think you know a lot, that you know where you might fall and you can prepare for this. That's not true. You never know. There are a lot of surprises. For example, when we started the development of the product we were focused on a line of frozen products. When we went to retail and started negotiations, they said 'Wow, great product but we need chilled.' We thought we could just convert the products into chilled but it required a lot of tweaking.
Also, what was hard for us and what was a surprise was, at the start of last year and going on this year, the prices for ingredients grew dramatically. I think this is a combination of Covid, inflation and the US dollar's exchange rate compared to the Russian ruble. All of them came together. We had to keep the costs low, so we've had to find ways to optimise our recipe without making the product worse, to find what we can substitute, what kind of ingredients we can develop and produce ourselves more efficiently than we can buy.
Right now, we are also changing from our current facility to a larger one. This was one of the goals for the [funding] round. It's a big challenge to find a facility that fits well. We wanted to locate a production facility, it fit perfectly, but all of a sudden, some bitcoin guys doing mining came to [the landlord] and they decided to go with them even though we were ready to negotiate on the rent rate. We had the design for the facility already made. We were ready to very fast transition there and all of a sudden — some things don't work out.
Just Food: Is the new facility up and running yet?
Alexander Kiselev: We wanted to start migrating to it in August, or at the latest September, but actually with this change of plans of the landlord, it's postponed. Our CTO is actively looking for new locations where we can move, so no clear date as of now but our goal still is, I think, the end of September, start of October.
Just Food: What gives you confidence in the prospects for the plant-based meat market in Russia?
Alexander Kiselev: We see huge potential for several reasons. The first is that we're still tapping into the vegan and vegetarian consumer. We haven't reached the capacity of just this niche, although it is quite small. Also, we understand there is quite a big percentage of consumers in big cities, Moscow, St Petersburg, who are not vegetarian but are looking for a plant-based diet and they understand that increasing the share of plants in their nutrition is important for health benefits at least.
This is the key driver. We see that consumers are becoming more educated. It will take time. That knowledge of what is plant-based, why it's beneficial, is not comparable to the United States or western Europe but still it's quite big and it's developing really fast here.
Just Food: Why do you think more Russian consumers are interested in these kinds of products?
Alexander Kiselev: The key one is the nutritional and health benefits, which is important. I think this is the key driver in most markets and for most consumers. When a consumer is at a shelf, she's thinking about taste and this benefit to the health of the whole household. This is where we want to perform well – taste and nutritional value.
Just Food: Some plant-based meat companies in other emerging markets have sought to launch products adapted to local eating habits, rather than simply rolling out a burger.
Alexander Kiselev: This is extremely important for us as well. The reason we started with a burger patty was quite simple. We had a benchmark, which was comparable to Beyond Meat, for example, or Impossible Foods. But this was for our initial stage of development. In Russia, there is not the same widely developed burger consumption compared to the States for example. In our product line, we have burger patties, we have mince, which is a universal kind of product and also, we have homestyle patties, which is like a traditional type of patty that people in Russia used to eat with a garnish like mashed potatoes or spaghetti.
We're developing a number of new SKUs to actually better feed the interests of local consumers. I think that in August we'll launch a couple of new SKUs that will be tailored to particular local cuisine and are not relevant for example in the States. With burgers, it was quite easy to talk to retailers and to show them this works in the States and this is what we do. It's much more affordable compared to foreign options. This was the easy way to introduce the product to start and to start developing the category, and then our goal is to localise and adjust local trends.
Just Food: When you speak to retail buyers and market to consumers, what do you emphasise about Welldone's products?
Alexander Kiselev: The pitch is quite simple. Compared to international, we're five times cheaper. In any market, there is a tiny number of consumers who don't care how much food costs but, for the rest, the price sensitivity is there.
With retailers, we talk about the category, we showcase how the category's developing in other markets and our vision of how this will develop in Russia. Strategically, retailers understand the category is important and will be a driver for growth. They understand that the consumption of meat is reaching its ceiling and will not grow. The Russian market right now is at the early stage but most of them understand they need to introduce these types of products next to meat, not just in regular vegan or vegetarian sections, because not so many consumers go there.
For us, the key pitch to our consumers is the product tastes great. It doesn't require them to change their consumption habits. They can introduce plant-based into their diet without changing what they eat. So, our key communication is it tastes great, the nutritional value's there and the price is really affordable.
Just Food: Obviously, flexitarians are the larger prize. Price will be key for them and trying to get your price as close to conventional meat will be critical.
Alexander Kiselev: We're about 25% more expensive than the burger patties of a leading meat producer here in Russia. The spread is not that high but it is still there. Our goal is to narrow it down further and we are working on this in our research and development. We are making a lot of effort have to lower the price of the product without sacrificing flavour and nutritional value. The [increased production] scale will be able to dramatically lower the processing costs. With scale, we can have more buying power with our suppliers and this will contribute to lower retail prices as well.
Just Food: Has the market that has taken shape centred on the major cities?
Alexander Kiselev: Most of our consumers and most of our distribution is set up in Moscow. We're also quite widely available in St Petersburg, especially through e-groceries that provide fast shipping, which has become quite popular. We are also available in most major cities in the European part [of Russia] but, in Moscow, we have several hundred points of sales. For us right now, the key focus is Moscow and St Petersburg as income is higher, so consumers are less price sensitive. Demand is higher because consumers are more affluent, more people look for western trends.
Just Food: If I were to walk into a store in Russia, typically what plant-based meat products would I find?
Alexander Kiselev: It's different for different retailers. Right now, one of our roles is to help retailers to standardise and to leverage the best practices from foreign markets to develop the category as a category, not just to pool several SKUs. Some retailers like Globus are very active. They have a quite big shelf of plant-based meat alternatives in frozen, full of different products from different producers, imported and local.
Just Food: Are you seeing retailers in Russia start to expand their ranges?
Alexander Kiselev: We see this not only in the shelf space but also in the negotiations. It doesn't take a huge amount of time from hearing 'no' to hearing 'yes, let's do it.' It's several months' wait for some retailers or foodservice companies who we had approached and then they changed their mind. They see competitors introducing this, they see this is a global trend. They understand this is the future and they need to leap into this future right now to be relevant.
Just Food: Are you seeing more brands come into the market?
Alexander Kiselev: Yeah, we were the first on the market with plant-based patties and burgers in September and quite fast several other competitors emerged. Some of them are divisions of big food companies. Some of them are start-ups. So, the landscape is very different.
Just Food: What are your annual sales?
Alexander Kiselev: We're not disclosing in roubles but I can disclose in tonnes. We started in September last year, we sold just three tonnes in 2020, so quite tiny. As of now, we've sold about 30 tonnes during this half-year. We're expanding quite fast, along with expanding distribution and developing different channels – e-grocery, in foodservice traditional retail – is supporting our growth right now.
Retail is the key driver for growth because, in Russia, most of the consumers, most of the time, cook at home, so this provides the biggest opportunity. As it looks right now, we would expect initially that foodservice will take about 20% of our sales and the rest will be driven by retail in general.
Just Food: What do you expect your annual growth rate to be over the next two to three years?
Alexander Kiselev: Taking into account the current base is quite low, the numbers will be quite big. Our goal is to at least grow about three times a year. This year we want to reach about 100 tonnes and then to move to 300 tonnes and so on.
Just Food: Russia's Agricultural Bank forecasts in four years Russia's plant-based meat market could be 1.5% of Russia's meat consumption. Is that realistic?
Alexander Kiselev: I think it is because the numbers are not really big. I think they might be bigger for bigger cities like Moscow and St. Petersburg but, over the general population of the country, I think this is quite realistic.
We have a huge way to go in developing distribution. Right now, we're working with large-scale points of sales like hypermarkets but most of the sales in Russia in food are generated through near-home stores, small supermarkets. Tapping into these smaller-scale supermarkets and finding shelf space out there for our products is our key goal because most of the consumers here buy locally because there are a lot of stores nearby for everyone – and e-grocery services push this further.
The key goal is to go from premium retailers and hypermarkets to mass-market retailers, finding shelf and establishing the category out there. There are several drivers for this. It's very important to get as fast as we can to price parity because most of the consumers who buy in these retailers are very price sensitive. Right now, for the mass market, for these smaller retailers, they haven't established the category yet.
Just Food: Is the company present outside Russia and what are its ambitions?
Alexander Kiselev: We export to Belarus and Kazakhstan. It's quite easy to explore there because the border is very transparent. We're also in negotiation over a partnership in the Gulf region with some local producers to develop products for these markets and to develop a business out there.
We are looking for other markets and other opportunities, for example, in eastern Europe. This is more an early-stage effort but, still, we can benefit because there are no strong local players are out there and it is not something where the bigger players like Beyond for example are interested in.
Just Food: When do you think you will need more funding?
Alexander Kiselev: We estimate about one-and-a-half years. That is quite a long runway, quite enough to show a lot of progress, to show bigger results, and to have the funding at even higher valuations than we had initially.