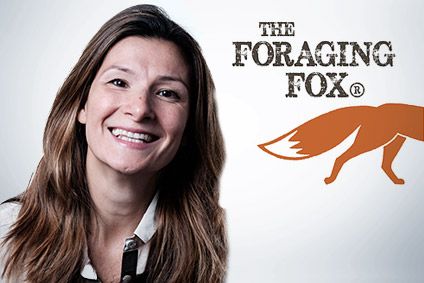 UK condiments maker The Foraging Fox, set up three years ago, has secured notable listings at home and abroad for its beetroot ketchup. Dean Best met co-founder Desiree Parker at The Speciality & Fine Food Fair in London to hear about the investment the fledgling firm has recently secured and its plans for further growth.
just-food: What made you move from law to banking to food?
Desiree Parker: Law was something I wanted to do from a very early age. I was really interested in the philosophy of law. Then I ended up going into practise and realised that it was quite a different thing – with hours that were a very different thing, too – but I did it for a number of years and I did enjoy it. I moved into banking thinking I needed to try something different. I've always been someone that was interested in global economics. The team I managed at Barclays was global. The areas I covered ranged from structuring through to alternative investments.
Frankie [Fox, fellow co-founder of The Foraging Fox] and I used to work with each other 15 years ago. I was on maternity leave after I had my second child when she came by with the three ketchups. I tasted them and I was absolutely blown away. At the time I was still working at Barclays, so it really wasn't something I was even remotely thinking of.
just-food: What were the reasons for starting with beetroot ketchup?
Desiree Parker: One year, she had a glut of beetroot and apples. She was playing around, tinkering around the kitchen. The recipes were tinkered with for about three years. So it wasn't an overnight thing. She was taking them in ramekins, or Tupperware to dinner parties, getting people's feedback.
At Speciality here, four years ago, we had the one product she was hand-making in the kitchen on a small one-metre-by-one-metre table. There was no business, nothing. It was a proof of concept. It was a really strong focus on chocolate that year [at the fair] and no-one had ever come to the market with ketchup that had a different vegetable as the base. Frankly, we were the talk of the show, we had people taking orders and we just thought: "Oh my God, we're going to have to find a manufacturer." The same manufacturer is making both the ketchup and the mayo. It's based in the UK.
just-food: What have been the main stages in the development so far?
Desiree Parker: We've been growing in the UK – we're in Sainsbury's, Waitrose, Ocado and lots of independents. We manage both sides of markets at the moment and that's something we want to carry on doing. That same sort of balancing act is one we look to in other markets as well; it's the same in Germany, in America.
"The most exciting market for us is North America"
The most exciting market for us, in terms of the resonance with what we're putting out there and from the feedback we're getting from consumers and retailers, is North America. There's a very big movement over there to all-natural, non-GMO products. The number of retailers has exploded. We've also had Walmart knocking at our door, which for a company our size is almost unheard of. We've started discussions with them [and] a May 2019 listing for the beetroot ketchup is what they're going for.
Walmart has gone through a process of identifying its premium stores, so even the likes of Walmart, even though they're primarily a discounter, are now recognising the importance of premiumisation in their own stores and that's the basis on which they came forward to us saying "This is the process we've gone through and we recognise that your product has a place in some of our stores."
To be clear we haven't finalised a deal. It's something that's purely a discussion at this point. Our core market is Whole Foods, Thrive, Sprouts, Vitacost, Lucky Vitamin. That's our target market. People who are buying 100% natural, non-GMO products. But what's interesting about being approached by someone like Walmart is them identifying a company like us and saying, "We're opening up shelf-space to products like this."
just-food: What benefits will the new investment in The Foraging Fox bring to the business?
Desiree Parker: In this round, we've got a big strategic investor who came on board. Although he doesn't come from the food sector – he's worked in telecoms most of his life – but he has interests in America in digital media and he also has entered the food market there himself. We've got a meeting this Thursday where we're talking about strategy and direction, so this round wasn't just about money. It was about having someone on-board who was going to actually bring us to that next level and with this person we think we've got a great thing there.
just-food: Is he staying unnamed?
Desiree Parker: At this point, yes.
just-food: What's on the agenda at the meeting?
Desiree Parker: It is going to be all about America and [international trade expo] SIAL. We're exhibiting at SIAL. We have key targets. We're talking about retail and foodservice because the next key thing is moving into foodservice. SIAL for me is going to be quite a big step into foodservice in Europe. So this Thursday with [the investor] is going to be all about SIAL and America. So, we're going to have a strategic review on who we're going for, who he's going to be looking at and how he's going to help kick down some doors.
just-food: The Foraging Fox is targeting annual sales of GBP1m (US$1.1m) in 2019. Should you hit that target, what portion of sales will be in the UK?
Desiree Parker: That will be about 60% at that point. I think we'll actually go well beyond a million next year. At that point, exports will be around 40-50% but it could flip quite quickly. There are a couple of things that we've got going on that I can't specifically talk about right now.
just-food: The US could be one of the key factors in that?
Desiree Parker: There's a lot that's in discussion right now where, whilst we can't say definitively it's happening, I think in four, five months time it could look very, very different.
just-food: What are your biggest markets outside of the UK?
Desiree Parker: Outside of the UK, it's America and then Germany. Meanwhile, we've just been listed – and this is really exciting – by a big distributor in Canada. The last British company they took on was Fever-Tree, so I said: "Yeah, no pressure!" The pipeline of stores we're looking at just with that distributor, just for Canada, is two-and-a-half thousand stores.
Again, it's the same story, a mix between supermarkets – and the supermarket group we're looking at in Canada is Metro Inc – and then we've got a whole load of independents. Our product range plays to both in every single market we're going to. The next ones in the pipeline we're dealing with are Austria, Belgium, Holland, France. I think the mayonnaise is going to be the big one for France.
just-food: And then tacking on top of that you've got the ambitions in foodservice.
Desiree Parker: I want to have a very clear idea of who we're targeting. We will be releasing our foodservice portfolio at SIAL and it's really to get an idea because there's going to a mix of three-and-a-half kilo tubs to sachets and dipping pots. We've really got to think about who we're approaching for those.
just-food: How many people work for the business?
Desiree Parker: We're hiring right now actually. We've now got six people. Small but perfectly formed. By 2020, we'll have doubled the number. At that point, we'll also be looking at a North America presence on the ground. At the moment, we're managing a lot of that from here. It means my days can be very long. I switch off from the UK market and then switch to North America. As we get more embedded in international, I've got no doubt that some of the headcount will also be going out to those territories.
just-food: The landscape seems to be falling into place for challenger brands, with the rise of the internet and digital media lowering the barriers to entry on advertising and with consumers, with a suspicion of Big Food, looking for alternative products.
Desiree Parker: It's definitely the time. Those who can grab it should do that because consumers are leading the charge and they're doing it globally. There's growth in the vegan community, growth in those that want cleaner and better, whilst not compromising on taste. If you're a company that can tick all those boxes then that's what the market is saying they want.
"There's a lot challenger brands can do and big companies are worried about that"
It's a really exciting time for challenger brands. There's a lot we can do and I think the big companies are a little bit worried about that. Some of them are so big that for them to innovate is a very long and protracted process. For a small, young company like ours the ability to innovate, get product out is so much quicker.
just-food: It's intensely competitive though.
Desiree Parker: It's about getting that message out. We're never going to be able to compete with the marketing budget of Heinz. Our marketing budget for the year is like theirs for ten minutes. We have to think creatively about what we do, who we work with, how we work with them, the way we use digital media to get our message across, the groups that we're targeting. And that's really key. We're very clear about who our target market is. It is that Whole Foods market, Thrive, Sprouts, Wegmans. It's those people who are going to non-GMO retailers, 15,000 of them. That's our core market.
There is no doubt though that, even in the bigger retailers, there's more shelf space for these kinds of products. We're very clear about our messaging and who is going to be looking for us. There will always be a market for those people who are just looking for the best-priced product. That's always going to exist. But that's not really our arena.
just-food: Is The Foraging Fox profitable?
Desiree Parker: No, the key focus for us is on revenue growth. Profitability is something we'll look at down the line. The key driver is sales and to keep focusing on that top line. It's about the brand and to embed our brand we've got to get out there and we've got to get into the stores that are on our targets. Our profitability will follow.
just-food: Have you got sales targets? Or is that something to be set with the new investors?
Desiree Parker: We've got a general sort of target. Our target for 2020 is to get just under GBP5m. At this point, we haven't specifically divvied that per territory. But, by that point, I'm expecting to be around 80% exports.