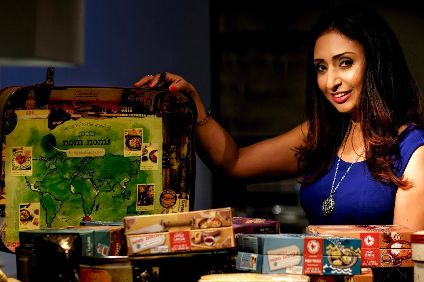 UK-based ethnic-cuisine business Nom Nom World Food has had its ups and downs since forming five years ago. Dean Best caught up with founder and CEO Lisa Sohanpal, now based in Toronto, to discuss her plans for growth, including some notable new contracts in North America – but also hear about the challenges that can beset an SME.
just-food: What made you decide to start the business?
Lisa Sohanpal: The spark came out of a personal need as a very busy working professional and mum. My husband, who's a doctor, and I had three kids in three years and the idea came around from wanting to feed our children healthy, nutritious food, have a diverse palate and not have to make two different types of dinner, one for kids, one for ourselves.
When we started to advocate a concept that had no preservatives, no additives, no added refined sugar, it was pretty much unheard of. A lot of the ready meals were loaded with salt, sugar. preservatives and additives. Private label was dominating. And shelf life was always an issue with chilled food. Being from the medical industry and my husband a doctor meant creating a healthy nutritious concept was the DNA of the brand – and is the DNA of the brand.
just-food: When you started, were you and your husband making the dishes yourselves?
Sohanpal: My mother-in-law was product developer and father-in-law was chief stirrer. We started off as Mini Nom Noms for kids and later introduced Mega Nom Noms for adults. The business was first called Mini Nom Noms. Then, when Selfridges and Ocado said they wanted to launch Mini and Mega together, it just didn't make sense to keep the company called Mini Nom Noms. We changed it to Nom Noms World Food and that way we could expand across the different categories.
just-food: You then sought out a manufacturing partner?
Sohanpal: That was the most challenging. The big boys in manufacturing run the market and make it very difficult for innovative start-ups, especially in ready meals, to emerge and compete from scratch on price and quality. We had to find smaller manufacturers and were obliged to work with their constraints, their demands just to get that concept out there. That was so challenging.
just-food: Have you had the same manufacturer since day one or have you moved through a number?
Sohanpal: We've had to move. With Ocado, we had kept selling out of stock. On one side we were high-fiving each other but, on the other side, the director was telling me off, screaming down the 'phone, saying: 'You shouldn't be running out of stock, you should be prepared.' We just didn't know, being a start-up brand, how much stock to procure. We'd been self-funding as well, so we didn't know how much money we're supposed to keep on the side because our manufacturers want payment in advance. We sold six months' stock in six weeks
We got seduced by a really big manufacturer. They said: 'We'll turn it around three months, we love what you're doing and have capacity. Give us the business and we'll even give you support with marketing.' I had a meeting in Mayfair with the CEO and thought I'd hit the jackpot. And then instead of taking three months, they took 18 months and we had to pull out of Ocado because we couldn't supply them. The manufacturer then had a business restructure. They gave me a call at 4am to say 'Unfortunately, we wouldn't be able to make the food for you for your launch.'
just-food: Then what happened?
Sohanpal: We managed to get back into launching with Ocado. We couldn't let Ocado down for the second time. In a desperate situation we found another ready-meal manufacturer willing to turn it around within four weeks, which they did. We got back in Ocado but the quality of the food we approved for taste testing wasn't the same as what ended up on the shelf. This was February 2017. And then our logistics company, our co-packers, were putting the wrong meals in the wrong boxes. All that blood, sweat and tears to bring this product to market and then the consumer gets it upside down or in the wrong box.
just-food: Did you change manufacturer again?
Sohanpal: We wanted to work with the same manufacturer and improve. However, they were making all of the retailers' own label and obviously got a lot more volume of business from supermarkets. They weren't giving us any time of the day to really spend on improving the recipes. I couldn't continue with a substandard product at the end of the day. It's my reputation as well. We had to change again.
just-food: You're now on your fourth manufacturer. Have they started manufacturing for you yet?
Sohanpal: No, we're at product development stage. I just want to work with a reliable manufacturer where I can bring in the orders and focus on sales and marketing.
just-food: For all that, you have now, in the UK, a listing with The Co-op, while you have just secured business in the US with Walmart and Meijer.
Sohanpal: We've been running out of stuff at The Co-op as well. It's deja vu all over again. However, we did forward plan and have ended up working with another smaller manufacturer at a really high price. That doesn't actually make it a commercially viable solution long-term but, because we want to save our listing in Co-op and not be out of stock, I've had to supply them at a loss.
just-food: When do you expect to start manufacturing with the hopefully permanent manufacturer?
Sohanpal: They're saying now in August.
just-food: Five years since you set up the business, how do you feel now?
Sohanpal: It's been an absolute nightmare with the UK. The market hasn't been as welcoming to innovative new start-ups and helping them flourish. They're more about trying to save their own. We're kind of competing with our manufacturers for the same kinds of product, for the same space. I think if I had to rely on the UK market, I probably would have withdrawn by now. The only thing that kept me going is still the belief that I have an excellent product, we're helping other children as well, we're inspiring the younger generation to eat healthy and nutritious food but also embrace world flavours.
Also, here in North America where the market is pretty much frozen, there's a huge opportunity here for Nom Noms to really revolutionise this chilled fresh space. Walmart are placing us in fresh and frozen. In frozen, we're going to be offering plant-based proteins with our concept. In fresh, it will be different flavours.
just-food: What are the company's annual sales?
Sohanpal: With all these challenges and hiccups, I don't really want to reveal my annual sales right now. For me, it's taken this long to finally get to start properly. We've only been available again in the UK since February 2017 and, even though we're in The Co-op, we've only got two SKUs, it doesn't really reflect the potential of what we can do.
In the US, it's just unbelievable what the potential is for the brand. We're going to have to be ready for accelerated growth and that's what we're gearing up for. 1 September is the launch in Meijer and then in October it will be Walmart. We're not going everywhere nationally with Walmart but focusing on where there is a diverse population that know about these kinds of flavours and wouldn't be hesitant to try it. We offer safe flavours – Italian, Thai, Mexican – because people know more about them. Indian flavours in North America are only now becoming a trend. Then we're going to be in Canada with M&M Food Market. We've got online as well, and possibly a global airline deal coming up. That's enough to keep busy and making sure that we have enough stock. We need investment.
just-food: Are there plans for other markets?
Sohanpal: France is the next one on the list. We've got a French website and packaging already. We're getting food made locally. Once we get those tastes approved then we'll be able to launch it across France.
just-food: Beyond France, what could be the next markets on the horizon?
Sohanpal: I'm not making any cold calls. I'm only entertaining the businesses that are coming to me but even then, for example, in Australia, we've got big retailers and a big airline over there that wants to get Nom Noms and, again, I'm struggling with manufacturers in Australia.
I need to focus now on the gold mine that I'm sitting on right now here in North America where I am living and not get distracted by all these opportunities. Today I'm going to decline another really big deal for the whole of the US and Canada with a big, big company because it's going to take me away from what I'm focused on. I'm now able to make those decisions and decline, whereas before it was at the stage where you want to take on every opportunity that comes your way and then I just find we've been distracted rather than progress. Now I'm very, very focused.
just-food: Do you – or you and your husband – own 100% of the business?
Sohanpal: We've had to take in some angel investment and some family and friends. Together, we own about 70%.
just-food: Do you have a three- to five-year plan in place where you plot out how you would like the business to develop?
Sohanpal: Yeah, we have a good idea, although the forecast changes every time I meet a buyer and I get a deal.
We've done some research in the past with a lot of British brands that have tried to enter the US and have failed and we don't want to be that statistic. We are investing upfront in making sure that we are destined for success in this market and by understanding the demographics, and customer base. We've got an advisory board with some really high-level people from the world's biggest food and beverage companies. I guess everything is now dependent on the investment that we get for getting onto the runway in the US and making it a huge success. I'm looking for investment right now to get us on that runway. In about six months' time, we will raise again to accelerate the growth that's coming our way.
just-food: Are you in talks with any particular people for further investment?
Sohanpal: I'm talking to a few and looking at all the different options. I'd be looking to retain a majority shareholding.
just-food: What types of investors?
Sohanpal: Private equity, early-stage VC funds and some corporate investors as well. A lot of these corporates have venture-capital arms that have been looking for innovative businesses. One thing against us is the UK market is so small compared to the US that any success we have had in the UK is nothing compared to what we could do here. That's one challenge. Another is that we're headquartered in the UK but the majority of the business – at least 90% is going to be – in North America. We've got to consider whether we should move our headquarters over here. It depends on who the investor is.
just-food: Is the business profitable?
Sohanpal: Not right now because everything is going into it – even personal funds. Once we get started in September in the US, it is set to be a highly, highly profitable business here in the US. We can't achieve the same in the UK unfortunately. Our supply chain over there is very expensive. The UK is just a headache – but our roots are there, we know the market and still believe that with the right investment and team we can really accelerate our presence in the UK.
We've got all this buzz in the US, in North America, and I'm thinking it is going to generate more momentum in the UK and more brand awareness in the UK. It should help us – hopefully. We are about to launch with Muscle Food online in the next week or so; that's a different demographic to the family positioning that we've been pushing with The Co-op, which has just taken the Mini meals. If we get more listings, that will generate more buzz and then hopefully we can expand on our distribution in the UK and still have some presence.
just-food: Despite your ambitions and optimism about North America, you are, then, still making some efforts to grow your business in the UK?
Sohanpal: My husband says: 'Let's just ditch the UK, forget about it and focus on here.' Every time I think about it, I get another inquiry and then there's hope. We have got a base there. It's so much easier to just walk away, leave the headache behind and just focus here. Investment talks – it depends how much money we get. If we don't get that much money right now, then we'll have to leave the UK, but if we get enough to maintain our presence there, we'll continue.