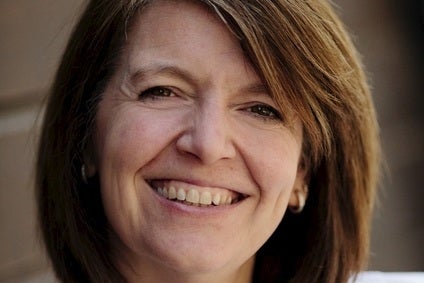 European frozen food maker Iglo Group, the owner of brands like Birds Eye, is working to change the way people think about frozen food in a bid to double its size by 2020. The strategy, which was announced last year, puts innovation and a "new approach" to marketing front and centre. Katy Askew spoke to Birds Eye UK marketing director Margaret Jobling to find out more.
just-food: Why did Iglo decide to update the image of brands like Birds Eye?
Margaret Jobling: Our old positioning was lodged in the freezer with a focus on convenience. It was quite small world thinking. The backdrop was to ask: how do we grow faster and appeal to more people? What are the elements of the brand that we need to think harder around and perhaps reposition? Our positioning now is more about people enjoying meals together than convenience and frozen food.
j-f: What has been key to this effort to reposition Birds Eye?
Jobling: We are trying to get people to reappraise the brand and see it as a modern relevant food choice.
The advertising became around real people, real food, real conversation. We have significantly increased our spend year-on-year. We are spending 30% more than we did last year. This year we will spend GBP16m (US$27.4m) in the UK, our biggest marketing investment to date. We have tripled our digital budget. We know frozen food over-indexes online and we over-index in frozen – so how do we leverage that and be more socially and digitally relevant?
We want to touch more people, more often with our existing core products but also [consider] where we can take them… We talk about versatility. Even on our core icons we are looking at how can we be smarter about getting in the right place for the right occasion.
And then innovation. We are committed to stepping up the quality of innovation. We have added 20 new heads into our category team. We put a lot of financial and brain power into how we come up with a bigger, more exciting pipeline.
j-f: Does an increased investment in marketing and innovation mean you are taking a short-term hit on margin?
Jobling: We are not looking at a short-term margin hit. We are looking at how do we grow faster to then reinvest in the brand. We are looking at how to get smarter, how to premiumise. Of the products we launch, how do we make sure they are creating value?
Price is an interesting discussion. For me, price is what value consumers are willing to pay. If people value what you give them the price will be right.
One of the massive challenges in FMCG is [the sector] has done a phenomenal job of training people to buy on promotion. A lot of the big grocers are struggling because inflation has slowed and we have created a price-driven mindset. Our challenge is to create intrinsic value. If you just focus on absolute price you are constantly going to be salami-slicing quality, which hurts you in the long-term.
j-f: Has your innovation focused on premiumisation to hit those higher price points?
Jobling: It depends how you define premiumisation. If an adult buys food for themselves they are more likely to pay a higher price point than if they buy food for their kids. We can play in the adult space while keeping our family heritage strong [by] looking at occasions that command a price point.
Brands will struggle in the long-term if they can't differentiate their offer versus private label. If they can't defend and justify why they are priced at a premium. You have to be seen as being better, useful, more valuable than other choices.
j-f: Which occasions are you moving the Birds Eye brand into?
Jobling: Our heartbeat occasion is teatime. Because we live in very time-pressured office environments, people have the perception that everybody gets home at seven o'clock and eats on-the-go. A lot of families think it is important to be home at four or five and eat with the family.
Increasingly, we have focused on adults eating together. They are looking for something more sophisticated and flavourful. Products for children tend to be, not bland in a negative way, but [with] my kids anything that looks or tastes slightly different they'll spend 40 minutes pushing it around the plate. In the adult space you need to be more culinary, recipe orientated, sophisticated. These products tend to be more premium in the price points you can command.
We are also looking at what other occasions we can enter. When you see some of the innovation coming up, we are really challenging ourselves to say 'Where else could we go? Why couldn't we do some of the bigger meal occasions?'
We are doing a huge amount of brand stretch work. You have to make sure it is validated but all of the occasions you can think of will be in the mix. What you will see in the next couple of years is some different and more radical thinking about where Birds Eye can go. We need to do that in the context of changing brand perceptions and behaviour.
j-f: As you try to reach a more sophisticated adult audience do you find yourself fighting negative preconceptions around frozen food? Is the work Birds Eye has undertaken elevating the category?
Jobling: That is the intention. As market leader we try to make consumers reappraise the category. Ninety-eight percent of the British population buy frozen food. Within the category there are heroes and villains. Peas are a real hero because 70% of consumers think frozen peas are better than fresh.
Part of the category challenge is people don't browse the fixture. People tend to shop frozen last and by the time you get there you have lost the will to live and run out of money. People shop essentials: chips, peas, fish fingers. So how do we get NPD to stick? We are trying to drive people to try new products. We are spending a lot of time with the retailers talking about how we could make it look modern, different, get consumers to shop and browse. We [also] had a massive sampling rig that went to retailers' car parks.
The category perception is a challenge but also an opportunity. There are some fantastic benefits: everyone shops it, shopping to a budget, making sure you don't over cook, reducing food waste, portionability, spontaneity. Implicitly the category is future-facing. But we have to work hard to change perceptions.
j-f: You mentioned portionability. Does frozen food offer an opportunity to tackle issues around health and wellness?
Jobling: We have very clear nutritional policies. What we want is great tasting food that is good for you. A lot of consumers think they have to trade off – and you don't. It is about smart choices. Good, balanced, nutritious meals. If you look at the core of our business – fish, chicken, vegetables – they all start from a healthier place. We know we do a big job – particularly for people on a tight budget – of helping families eat better quality food.
j-f: The horsemeat scandal had a massive impact on how people view the quality of frozen meals. What initiatives do you have in place to ensure the security and sustainability of the supply chain?
Jobling: We have stringent policies around sourcing. We have full traceability on our entire fish portfolio. We can take everything back to boat. We work with key industry influencers to make sure we have the right suppliers, working to the right legislation.
Horsemeat was a very unfortunate problem for the industry – but ultimately it was fraud and that will always be really hard to counter. We have seen more DNA testing, improved traceability, supplier audits. Horsemeat undermined consumer trust and that is where brands need to be fully transparent, almost over-indexing on the measures that we have put in place.
We are developing our sustainability programme, which we will be relaunching later in the year. Within it there are very clear metrics, procedures, external checks, to ensure what we sell is what we should be selling.
j-f: Your core channel is the supermarket – but the growth areas in the UK at the moment are online and convenience. Have you adjusted your offering for these channels?
Jobling: We have doubled the team that work online and said it needs to become a bigger focus area for us. We have increased our spend by 100% year-on-year. We are trying to understand how to drive conversion, what is the right taxonomy, what are the right connections you can make for people online? Should we be offering meal deals?
We have a very clear format lens: a by-format channel strategy on the right pack offering in the right store size. You have to have the right product in the right distribution to meet the need of the shopper. It isn't easy. We need to get smarter at understanding how to pair channel, with product, with price point.