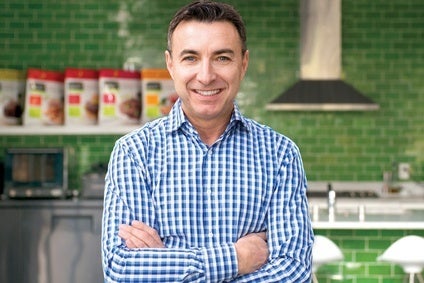 Canada's Garden Protein International – the company behind the meat-free brand Gardein – has enjoyed rapid growth and is hoping for more of the same under the ownership of US giant Pinnacle Foods, which bought the business last year. Yves Potvin, the founder and president of the Vancouver-based firm, has stayed on with Pinnacle and he spoke to Dean Best about expansion, competition and the outlook for the meat alternatives category.
just-food: Why did you decide to sell up and join Pinnacle Foods?
Yves Potvin: One of our partners was a private-equity group, which has a window of five to seven years to bring their investment back. And one of the things a company like us that has had tremendous growth always needs is more capital. We were looking at our options. We were a little bit too small to go public.
When we got approached by Pinnacle, there was a lot of synergy. We said we could wait two, three years but we needed to expand our capacity. We're expanding our capacity in Vancouver and we're looking to – in the next year-and-a-half – open a facility in the US.
We could be a billion-dollar business. If you look at the protein market, the cost of animal protein is constantly going up – by 54% in America over the last five years. With over 10bn people on the planet over the next 30 years, it makes a lot of sense to incorporate more and more plant-based protein. In order to achieve this vision, I needed more capital.
Pinnacle is letting us do what we are good at doing. They are helping us where we need some help but we are also helping them create their vision for the future as far as health and wellness. We are helping them as we are a more entrepreneurial company; sometimes in a bigger company you lose that a little bit.
They see I've been an innovator in this category so they're looking to tap into how we develop innovation, our speed-to-market. We are now the number two brand [in the US] after [Kellogg-owned] Morningstar. In the last 24 weeks, we have surpassed [Kraft Foods Group's] Boca and Quorn. Five years ago, we had just started the brand in the States.
j-f: What have been the factors in this recent growth? Is it the takeover by Pinnacle?
Potvin: It's too early to see that effect. You're probably going to see that in the next four or five months. We've introduced a fair amount of new products. The category has in the past has been stuck between the bun, eighty per cent of the offering has been patties, burgers. We have offerings in chickenless, beefless and now we have fishless items. We are launching crabless, porkless and handheld items. We are in appetisers in the centre of the plate. The Buyers like we bring innovation to the marketplace. In the US, meat alternatives are growing rapidly by having a multitude of people – almost 36% of Americans now are eating meat alternatives and 46% of millennials. It's a category in expansion, diversity and innovation is the key and that's why we're seeing growth in our product line.
j-f: Your comments echo what Quorn Foods CEO Kevin Brennan told us last month. Quorn has quite extensive NPD plans for 2015. How can you steal a march on what Quorn can offer?
Potvin: Quorn is very strong in the UK and internationally, not so much in the States. They do what they do and we do what we do. We can only go from what we see from the data and the response we have. We've got 13,000 new points of distribution from Kroger in the last six months. We look at all the different banners that have increased their space and we can forecast the growth for the next year or two years, not only by distribution but by usage. I'm not sure what Quorn told you about their growth potential but I can only talk about what is our growth potential.
j-f: Has Gardein been able to capitalise on the deep pockets of Pinnacle through investment in promotions, being able to be more price competitive?
Potvin: [The takeover] is only recent. We're focusing more on increasing capacity, looking at synergies. Marketing programmes will probably start in 2016. A lot of brands in this area are becoming discount brands and on promotion quite often. We don't want to be a discount brand. We do offer some discounts from time to time but we think we are well priced. Eventually we are going to see some synergy. There are a tremendous amount of consumers of Gardein who are buying Birds Eye products. Birds Eye has a 50% household penetration in America. We have a 3-5% penetration.
j-f: Therefore are you insisting Gardein's distribution gains in recent months have been on the back of innovation, rather than reducing prices?
Potvin: Yes. The increased distribution to Kroger we've been looking at for two, three years. It doesn't happen overnight. Every year we go back to the retailers with new offerings and we are getting new facings. A couple of years ago I made a major presentation to a chain. We showed them that every [meat alternative] brand in America is losing ground and 50% of the category growth is due to Gardein. It's easy for the retailer to increase our shelf space as we are the engine that's growing the category.
j-f: When Pinnacle announced the acquisition in November, it said Gardein was set to publish sales of C$65m in 2014. What are your growth targets?
Potvin: We've had an average of 25, 30% growth per year year-over-year and 2015 is the same.
j-f: You could double the size of the business perhaps by the end of the decade?
Potvin: Definitely. That's our goal.
j-f: What is the sales split by channel?
Potvin: Though Whole Foods and Sprouts are an important channel for us, we have very wide distribution. A lot of smaller companies are only in natural food. We are selling Gardein products in 22,000 supermarkets. We also have very wide distribution in foodservice, in over 100 college and universities, over 5,000 restaurants. We have a very good club business. We're very well spread. That's why we see so much growth potential.
j-f: Of your consumers, what percentage of consumers are completely vegetarian? And in terms of consumer demographic, what's driving growth? Is it new consumers? Or existing consumers buying more?
Potvin: All of the above. 90% of our consumers are flexitarian. In America, there's only 2 or 3% who are vegan and possibly only 6 or 7% vegetarian. It seems 18- to 34-year-olds are big consumers. The second generation of Spanish or African Americans seems to be the minority going for the meat alternative business.
Pretty much everybody right now wants to have a healthier lifestyle and, as soon as you start exercising, you start analysing the food you put in your body. A tablespoon of mayo is 250 calories or an hour of jogging. It's lot easier to start looking at the food intake you have. Our products are fairly low in calorie, easily digestible and come from a variety of protein. We use soy, wheat, pea protein, quinoa and amaranth. Diversity is the key over here.
j-f: What is the sales split between the US and Canada?
Potvin: Canada is 10% of the American population and our sales are pretty much the same.
j-f: When will the new plant on the East Coast be open? Will it be a new factory or will you buy an existing plant?
Potvin: The engineers are looking at different sites right now. Our immediate goal is to increase our capacity by 50% in Vancouver and we hope to achieve that within in the next three, four months. After that, we're looking at the end of 2016 possibly for the other facility. But those are all discussions we are having. Is it better to have a stand-alone plant or is it better to build it onto one of [Pinnacle's] vegetables facilities?
j-f: Does Gardein and Pinnacle have any ambitions outside the US and Canada?
Potvin: We are more opportunistic. The US is the number one market in the world, with 330m people and Pinnacle is pretty much a US brand. It's something we are looking in the future as part of our long-term plan but there's a lot of growth in our backyard. At this stage, I think we are looking at North America.
j-f: What are the main reasons for your caution about international expansion?
Potvin: In the UK, Quorn has done a great job of developing the market there. We have a lot of requests to sell in the UK. Because a lot of time Quorn uses egg in their product, some vegans ask for us to come to the UK. We do sell I think in Germany. You start to look at other markets. Australia is a small market, with a 20m population. Internationally, I think Asia could be a very interesting market. But you have to be careful not to dilute your manpower and you have to focus if you want to grow and we feel the North America market has untapped potential.