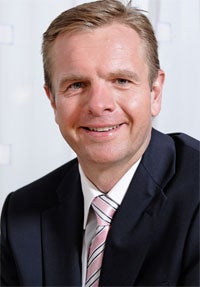 Swiss dairy giant Emmi is embarking on two key strategies to develop its business. One is significant international expansion. The second is a global marketing programme that emphasises the "Swissness" of its products. Dean Best met Emmi's head of marketing Robin Barraclough at the SIAL food-industry expo to discuss this twin strategy.
just-food: Emmi's international sales account for 25% of its annual turnover. The company is planning to boost this proportion to 50%. What timetable is there for this expansion and in which markets will Emmi look to strengthen its presence?
Barraclough: The time-frame obviously depends on how the economy develops. Anything over the next five to six years. We'd be very much looking at expanding the markets that we are already developing quite successfully – Germany, Italy, Austria, the UK. The US is also a very exciting market for us, where we've also made some acquisitions on the cheese front in recent times. In terms of our cheese business, we develop that globally.
just-food: Often when companies want to speed up expansion internationally, they are facing a mature home market. Is that a driver for Emmi's ambition to be bigger overseas?
Barraclough: Oh very much so. We have a huge market share in Switzerland and long may it continue. We've got quite a saturated market in Switzerland. It's a very premiumised market already. It's a market we think we can still develop but trying to achieve our growth ambitions will have to come through international expansion.
just-food: Emmi has made three overseas acquisitions in the last 12 months. To achieve that jump in international sales is likely to demand more M&A activity.
Barraclough: My job predominantly is to try and build the Emmi brand from a marketing perspective. Specifically, we've chosen to develop the Emmi brand. Previously what we did was develop sub brands and just have it endorsed by Emmi. What we're now trying to do is leverage Swiss origin, our quality, all things Swiss and build a bit more of an umbrella brand, a bit more of a power brand, rather than have individual brands for individual products. We're now trying to have fewer brands, bigger brands with more support. A considerable part of our growth strategy is about developing a handful of brands across certain geographies and getting growth through that. And that requires investment. We're constantly looking at opportunities be it through partnerships or acquisitions. But by no means are acquisitions our sole weapon.
just-food: Arla Foods launched similar moves two years ago and set out plans to consolidate its portfolio into three "strong, global brands". Is this a common trend across the dairy category?
Barraclough: The dairy market is becoming increasingly international. It's becoming increasingly branded. Compared with other sectors, it was very local and had quite a lot of local brands. Now, it's becoming a lot more cosmopolitan. With that come costs and nobody can afford to have individual brands in individual countries. All big corporations decide to build fewer, bigger, better brands. You've got the likes of Danone, Lactalis, Bongrain and they are all developing the same brands across certain geographies. You can't just go ahead any more and have individual pockets. I think that is a trend. Not everybody chooses to do so through umbrella endorsement but I think everybody is aware of the fact that brands are built through investment. Those funds are limited so the number of brands is limited as well.
just-food: Has the challenging economic landscape and the need to reduce costs to protect margins been a driver behind Emmi's consolidation of its brands?
Barraclough: I'm not sure that the economic situation has intensified that. It's certainly not a driver for us. It's a general trend in brands entering the dairy category that previously weren't quite as strong. It's always the same: big companies, big brands, with investment come into categories and change the nature of competition.
just-food: How would you describe the Swissness element of Emmi's new marketing strategy to the average consumer?
Emmi's head of marketing Robin Barraclough
Barraclough: It's all about authenticity, natural ingredients, trust. Switzerland has got this great benefit that it has almost got organic connotations with the way cattle is kept, of having small farms out on green pastures and not being as industrialised. It's all about naturalness, authenticity, knowing where products comes from and being able to trust the origins. We see that as being core to Switzerland and being fundamental to our products. That's where we come from, that's how we produce our products, that's where we source our milk from so why shouldnt we capitalise on that? That's why we're focusing more on our origins.
just-food: Are you concerned that those "organic connotations" could mean consumers assume Swiss dairy products are more expensive than the competition?
Barraclough: Switzerland has the connotation of being more premium. There's no denying that. There's also the connotation of high quality, as long as the value for money is right – and we believe the value for money is right – then we are by definition not going to appeal to everybody. We are going to be appealing to more discerning people who will care about the quality of the ingredients, certain taste aspects and want to know where things come from. So we appeal to those people and we are not worried about that image.
just-food: The UK cheese sector has become ever more competitive with retailers demanding more margins. Is that a trend you have seen on the Continent, too, and how would that fit with the company's strategy to push a premium brand?
Barraclough: Every market will claim to be the most competitive. Every salesman in his market will say how tough it is. At the moment, it is tough for us. We are sitting on a business based in Switzerland with a very strong currency and the euro, the pound and the dollar has collapsed. That makes our life tough in every market. If you look at France and Germany, it's very very tough. Switzerland is becoming tough as well because you are starting to see German retailers coming into the market as well. All the markets are tough. I wouldnt say the UK is different to any others.
The way we will have to respond to that is through differentiation, quality, better value for money, through packaging, taste and through ingredients – for example, through the freshness of our coffee. We are the only ones that actually use freshly prepared coffee in our product, everybody else uses concentrate. We have to drive those quality attributes ever harder, make sure our packaging looks different. That's part of the rebranding that we've done. We're trying to get more coherence across the portfolio, get a little bit more stand-out on shelf – that's where the red-and-white comes in, connotations of Switzerland. But that is as ever. If you are in a premium category, you have to deliver premium quality.
just-food: You need a long-term commitment to your markets and categories to be able to follow that strategy through and ride out any swings in currency, for instance, or changes in economic conditions.
Barraclough: Yes. We have to stay true to the quailty of our products. We're becoming more brand-focused. The biggest asset is not a product, it's the brand. So if you start to dilute your quality, you are diluting your biggest asset. Product quality in theory can fluctuate but if your brand image deteriorates then you are in trouble. That's one of the changes in the dairy segment. Brands are becoming ever-more important. In the past, it used to be all about product innovation and just having a new idea and sticking it on a shelf. Now it's about sustainability both in the organic sense and in the economic sense. It's got to be sustainable. That's what behind our relaunch.