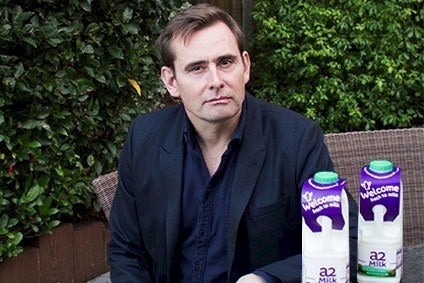 New Zealand-based A2 Milk Co. is looking to revitalise its business in the UK. It entered the market in 2011 through a venture with Robert Wiseman Dairies. However, the sale of A2's partner to German dairy giant Muller a year later held back its ambitions. Scott Wotherspoon, appointed CEO of A2's now fully-owned UK arm this year, talks to Dean Best about the company's plans.
just-food: You moved to A2 Milk Co. from UK baby food firm Plum. Had A2 approached you and what attracted you to the business?
Wotherspoon: I was headhunted for A2. I was looking to leave at the time, so the timing was good. Plum was at a crucial stage but it was time for me to go and do something else. I was brought in by Darwin Private Equity to sell Plum on, which we did to Plum Organics, I liked the Plum US guys so I stayed with them. When Campbell bought the business, I wanted to run the business internationally and it wasn't their plan to go international so for me it was right to be looking. I really think there is something in the A2 product. I had never heard of it. Eighty per cent of people in the UK don't know there's protein in milk. To be in a business that's got intellectual property around a genuine point of difference within a commodity is a great place to be.
just-food: You came into the business just after the changes in the relationship with Muller. How has that gone?
Wotherspoon: When the team was set up in the UK, it was with Robert Wiseman Dairies and Robert was involved directly, then Muller bought Wiseman and not surprisingly the top priority wasn't sorting out A2. They are processing for us, we're working with farms they have contracts with so they're still involved and they show a keen interest in the business but it made more sense for us to be a stand-alone business. We continue to work with them. [Muller] has been really good in helping us deliver in record time the new packaging we have just put on the market this week with Sainsbury's.
just-food: Why has A2 felt it necessary to reposition the business in the UK?
Wotherspoon: We were in the mainstream milk aisle and a lot of people simply were picking up the wrong milk. They didn't know they were buying A2, they might get home and realise it's something different and didn't really know what it's about. The number one job for me in the UK was sorting out what this product is and who it is for. We're very clear now: it's real fresh milk for people who don't get on with milk. That immediately leads to the question of how this milk helps. You then go into the details of A2 [protein] versus A1. We were trying to explain that without telling people what the benefit was. We're going to the speciality shelf and we'll be on that shelf with a very clear message about who we are and who we're for.
We see a lot of people who get out the habit of drinking milk. There's other people that reduce their milk consumption and just have it in tea. This is a great option for those people. Milk doesn't sit well them. They don't feel good after milk – typically bloating, excess mucus, potentially stomach upsets – very similar symptoms to lactose intolerance but they didn't even know there is an issue with proteins and milk that affects them.
just-food: Outline your competition.
Wotherspoon: We are right next to Lactofree. I see Lactofree as our…. the nearest type of brand to us.
just-food: The nearest competitor in that sense?
Wotherspoon: Well, the way we see it is one in five Brits don't get on with milk. There are 3-5% medically diagnosed as lactose intolerant and Lactofree is a fantastic for them. We're for the 15% who aren't medically diagnosed as lactose intolerant. Many of them think they are lactose intolerant as it is a buzz term and most of them aren't.
just-food: What changes have you made to packaging and what kind of marketing are you going to use?
Wotherspoon: We've moved to a global design, which is a simpler, clearer, fresher and more modern. We communicate more clearly on pack about who we are and who we are for and we are now going to be investing more in digital and online. We did TV in 2012 and a little bit in 2013. We will do some TV but it's mainly going to be online. There are a million searches a month for people with milk and intolerance-related issues and we want to be on the end of those. We're doing a small campaign in January that is about disruption and is about getting ppl to re-think milk, then take them online and give them more information. You can't do it all in 30 seconds. It's not a simple message, you have to explain about proteins and there is a little bit of education that's required. When people hear it's protein, rather than maybe sugar that's the issue, they are willing to give it a try.
just-food: Was the repositioning due to dissatisfaction about your sales performance in the UK? Were sales slowing?
Wotherspoon: Sales are still small. We're still growing but we're not growing at the rate I'd like. We had found ourselves in our place where we'd got a very loyal audience who were buying us but we weren't bringing in as many people as we needed to, partly because the message wasn't clear enough. By repositioning, going on the speciality shelf, moving to one litre at a lower trial price enables you to get greater trial. I'm more comfortable fighting a battle and talking to people about who we are and what we do for them, rather than people having no idea. On the mainstream shelf, people had no idea. They were looking for milk – and yes we are milk – but they are not willing to pay extra for milk who don't drink milk.
just-food: A2 has faced fierce competition in its largest market, Australia, where the company even saw one rival reportedly discredit the science behind the milk. Is that a frustration?
Wotherspoon: Proving something is an ongoing business. They have been challenging us for years and for years our science base has been growing. In the last year, we have published the first human study, which is a pilot study, but is showing a difference between A1 and A2. We have done a number of different studies which are proving the case.
just-food: Has there been any impact on sales in Australia?
Wotherspoon: Sales are doing very well in Australia. What we are seeing in Australia is not only are sales in milk doing very well but we launched into formula 12 months ago and we've seen that be hugely successful. We've done very well as we enter new categories well.
just-food: When will you get to the stage in the UK when you it would become feasible for you to look at extending the brand into other categories?
Wotherspoon: We have many loyal consumers who are screaming at us for cheese, cream and other dairy products. Once you buy A2, once you get it and it's brought you back to dairy, you don't just want milk. We get dissatisfaction from consumers that we don't have these things, which is a nice position to be in. I can see us doing other dairy products pretty soon and it's all just about managing the supply chain and not over-committing at this stage. Entering other categories like infant nutrition is about timing and do we wait until we get traction on the main milk brand. That's the discussion we are having at the moment.
just-food: When you say "pretty soon", should we anticipate an A2-branded product outside of liquid milk in 2015?
Wotherspoon: Yes, yes.
just-food: What new products would be at the front of the queue?
Wotherspoon: The obvious one is cheese. Cream is one we get asked for the whole time, although that's obviously smaller. Ice cream is one that has potential but has different challenges to it.
just-food: What are the company's international ambitions? Will you be personally tasked with looking at other markets in Europe?
Wotherspoon: We have a presence in China. We've announced we are going to the US. The plan is for product to be on shelf next year. The UK, China and the US are the international priorities at the moment. The aim is to get a solid and sustainably-growing business in each of those and then we start to look at other countries. We are actively looking at other markets in Europe, not with a full fresh entry but with other possibilities – for instance UHT produced from here is a possibility across Europe.
just-food: Is the UK business is at that stage of being "sustainably-growing"?
Wotherspoon: If we achieve our plans over the next six months or so then yes. We believe this relaunch will make a big difference. Beyond that, from mid-year, we will be starting to look at small entries into other markets.
just-food: Is the UK business making a profit, contributing to the group's profitability?
Wotherspoon: Not yet, no. The Australian business is investing very heavily in the UK to make this work and continues to invest.
just-food: Has there been any takeover interest in A2? Was that part of the reason why they looked to hire you from Plum?
Wotherspoon: I was brought in to A2 to get the UK business growing, nothing to do with sell-off. But, look, having a distinct Usp in a very large grocery category potentially makes you an attraction at some stage but I don't think anyone in the business is thinking about that. We're thinking about how do we grow this business and make the most of the opportunity.