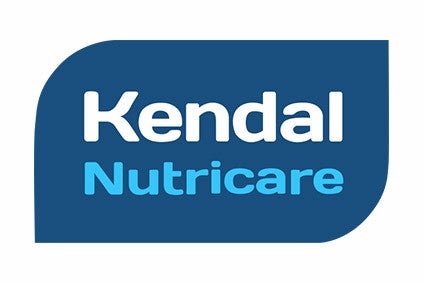 Kendal Nutricare is a UK manufacturer of infant formula that has just celebrated its first birthday. Formed last year after the acquisition of a Heinz plant in north-west England, Kendal Nutricare still packs for the now Kraft Heinz but is set to launch its first branded products. Dean Best spoke to Kendal Nutricare managing director Ross McMahon to find out more.
A year after buying a former Heinz infant formula plant in the UK, the executive behind the acquisition and the subsequent formation of Kendal Nutricare is to try and take on the established brands in the category.
Ross McMahon set up Kendal Nutricare early last year, buying a factory in Kendal in north-west England from the then HJ Heinz. The plant had had its challenges in recent years. In 2013, Heinz cut 45 jobs at the site, blaming the cost of shipping infant milks to China.
McMahon, a former executive at companies including Kerry Group and contract caterer Aramark, had been running his own consultantcy business since 2008, helping manufacturers source ingredients including whey proteins, organic dairy commodities and infant formula.
The deal to acquire the Heinz plant included a two-year contract for the new owner to manufacture for the US giant infant cereals for the UK market and infant formula for China. McMahon and Kendal Nutricare also took on the remaining months of a contract Heinz had already signed to co-pack for the Switzerland-based Hero Group.
McMahon says the relationship with Heinz "has gone from strength to strength" pointing to a new range of weaning foods set to be launched next month, but, broadly, Kendal Nutricare wanted to work with fewer co-packers and develop its own brands.
"We found that to pack for other well-known brands, they were expecting us to do it for little or nothing. I think that's been to the detriment of this company over the years. They have packed for big brands at very uneconomic rates. We decided that even though it will take us longer, it's better to put out premium quality with natural ingredients and go for it with a new brand into the market, even though everyone will say to you the cost of doing so is prohibitive," McMahon tells just-food.
The Kendal Nutricare business now comprises the contract with Heinz but is set to include a move into branded formula and baby food under the Kendamil label this summer. Asked for Kendal Nutricare's current annual sales, McMahon says: "If you were to say to me from here 12 months forward, it could be anywhere from GBP12m to GBP20m the way things are going. Things are moving fairly rapidly." He does have a forecast for Kendal Nutricare's sales to hit GBP31.6m by 2019/2020 and has set a target for revenue from branded products accounting for 60% of sales.
The first Kendamil product to be launched will be a range of whole-milk infant formula and then a line of infant cereals for children aged over four months and over seven months. McMahon says Kendal Nutricare is looking to launch the products "probably in parallel" in China and the UK.
The Kendamil brand will be formally launched in China in July at the Children Baby Maternity Expo in Shanghai. He describes the Kendamil lines set for launch in China as "up there as a premium product. It may not be a super-premium price". Infant formula manufacturers established in China are vying to build a presence in the country's e-commerce channel and in specialist mother-and-baby-stores, which are growing more rapidly than the category within mainstream physical stores. McMahon envisages the mother-and-baby outlets accounting for the "majority" of Kendamil's sales, with e-commerce taking up "about 10%".
"Supermarkets will be the last outlets," McMahon says. "Our distributors will probably not approach physical supermarkets on day one. I think it's a combination of the costs of having personnel, merchandisers in each store, having to supply product on long credit terms, and tier-one cities are certainly a crowded market space."
It will be a challenge for Kendal Nutricare to carve out a foothold in China's ultra-competitive infant formula sector, a market hit by a wave of deep discounts amid the slowdown in the country's economy. However, Danone CEO Emmanuel Faber recently suggested the most intense battles had been among Chinese brands, insisting "international brands are there to stay in China – for a long time". Nevertheless, the likes of Nestle and Danone are investing heavily in China and it will be tough for the smaller Kendal Nutricare.
McMahon insists the way Kendal Nutricare is to enter China sets the company in good stead. "We went in, we believe, with a very strong connection to the government. We went in with a company called Orient International Shanghai Foreign Trade Company Ltd. They are a 100% state-owned trading company. We believe that this is the best route into the market is to work directly with the Chinese government or some of their subsidiaries."
He also argued Kendal Nutricare will be able to capitalise on Beijing's push to consolidate China's infant formula market. "We are probably going to be one of the few beneficiaries of that. A lot of the industry is in turmoil because the established players have been packing tens, you know, 20 up to 50 brands. Those guys, it's going to be a big change to their business model. I think we're one of the few that will benefit from this change."
In the UK, meanwhile, Kendal Nutricare has conducted some trials in the north-west of England, while it will launch a kosher product in London by the end of next month. "We're looking for listings nationally in the UK," McMahon concedes. Kendal Nutricare would "probably" look to list its Kendamil formula "below [Danone-owned] Aptamil's price".
McMahon believes Kendal Nutricare and the Kendamil brand has attributes that can help the business break into its domestic market. Just as in China, he says Kendal Nutricare plans to emphasise in its domestic market the fact its products are made in the UK.
He also asserts the use of whole milk in Kendamil formula has nutritional benefits for babies and will be a point of difference to rival brands in its home market. "Our whole USP is the fact that we're moving the market back towards the goodness of whole milk, as opposed to all the competitors in the market who are using skim milk and vegetable oils. We're going back to a more traditional recipe. We're saying to consumers we're putting the goodness back into baby formula. Research has proven the beneficial effects of whole milk for infants, both providing the energy necessary and essential nutrients. It means that we have to use less vegetable oil in our product."
He acknowledges the company will have to work to convince consumers of the benefits of whole milk in formula but is insistent of the assistance it can give to infants. "The whole milk story requires a bit of explanation to consumers that it's still an infant formula that's been formulated with all the essential vitamins and minerals. Consumers are probably still a bit confused. It will take time to get that message across," he says. "I attended a conference in Vienna a couple of weeks ago and they have proven the beneficial effects of the fats in whole milk. All our competitors talk about getting closer to breast milk. This is the real step.
"What causes most indigestion for children and can lead to constipation is the use of these vegetable oils. The less of those the better. There are essential nutrients in whole milk. Okay, we have a difference between whole milk and breast milk, between human and animal milk, in terms of the whey casein ratio but … a mother's milk has natural fat in it, which is healthy for the child. Children who are breast fed have no problem with their stool or bowel movements. We have proven here through the trials we have done in the north-west of England that the whole milk recipe relieves all that indigestion and constipation or any of those ill-effects you get from the use of vegetable oils."
just-food contacted a number of nutritionists to check McMahon's claim about the link between vegetable oils and indigestion. The sole response came from Dr Helen Crawley, of the UK charity First Steps Nutrition Trust, who seemed to question Kendal Nutricare's claims. "There is no recognised scientific evidence linking vegetable fats to digestive disturbance in infants but of course everyone loves the idea of being able to say their product is more natural and closer to nature. Any infant formula has to be highly modified regardless of whether the base is cows', goats' or soy based protein."
McMahon underlines the Kendamil formula will contain some vegetable oil but says the product will use less than rival lines, while the formula to be sold in China will not use palm oil, a point of difference to competitors. Asked if vegetable oils had been used by the industry to keep costs down, he says: "Absolutely. The only reason I can think of is that, about ten or 15 years ago, the industry decided the cream in the milk was better selling for butter and cheese and was more profitable to be used in that way. And then as they went into the vegetable oils they kept substituting in and then to such an extent that palm oil has become one of the top ingredients but with consumers nowadays palm oil is not a positive. Palm oil is used in all the majors. Our first recipe now into China will have no palm oil in it. It will have other [oils] coconut, rape seed and sunflower."
just-food contacted Nestle and Danone for comment on their use of vegetable oils in their formula lines. Nestle declined to comment, while Danone not responded at the time of writing.
Beyond China and the UK, Kendal Nutricare has its eye on taking its branded lines into other markets, with the Middle East and parts of Africa potential avenues for the business. "We did the Gulfood show in Dubai in February and we're following up with various chain operators in the United Arab Emirates," he says. "We're very close to signing contracts on different markets in north and west Africa. You're looking for growing markets where there is strong population growth, for markets that are either promoting through the pharmacy chains or through traditional means of supermarkets or through mother-and-baby stores."
McMahon does acknowledge the competition Kendal Nutricare is set to face as it embarks on its branded push but believes the company can compete. "The reality is the multinationals are in every part of the globe. There's not a market they're not already in," he says. "We actually have a lot of packaging solutions in house here. We can do metal cans, composite cans, sachets of all sizes in boxes. We have quite a bit of flexibility on the production lines here."
Just 12 months after formally buying the Heinz plant, the ambitions of Kendal Nutricare and McMahon are admirable. The question is whether those ambitions can be fulfilled.