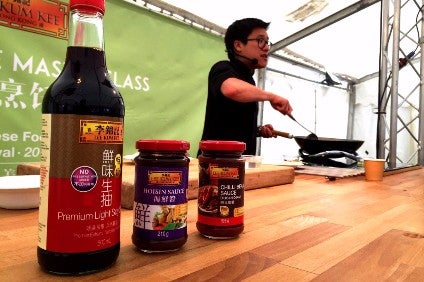 Over more than a century, Lee Kum Kee, the Hong Kong-based supplier of Chinese sauces, had grown into a multinational supplying more than 120 markets. The privately-owned Lee Kum Kee rarely gives interviews but, at the Anuga trade expo in Germany, Dean Best sat down with Maria Chong, the general manager of the business' operations in Europe, to hear about the company's ambitions in the region.
Formed in 1888, Lee Kum Kee International Holdings manufactures a range of Chinese sauces sold into more than 120 countries.
From five production plants – one in Hong Kong, two on mainland China, one in Malaysia and another in Los Angeles – Lee Kum Kee markets products including oyster sauce, soy sauce and chilli sauce in Asia, Australasia, North America and Europe.
Still privately-owned, Lee Kum Kee only occasionally speaks to the media but in October just-food met one of the company's senior executives at the giant industry expo Anuga in the German city of Cologne to discuss the group's plans for Europe.
Maria Chong has worked for Lee Kum Kee for almost two decades, spending the first 12 years in Hong Kong before moving to London in 2010 to become the marketing director for the company's European business. In 2013, Chong took on the role of general manager of Lee Kum Kee (Europe), running the group's growing (but still small as a proportion of the company's overall business) operations in the region.
According to the latest accounts filed at the UK's Companies House, the London-based Lee Kum Kee (Europe) generated turnover of GBP22.8m (US$29.9m) in 2016, up a healthy 20.6% on 2015. Chong says Europe accounts for a "single-digit percentage" of the group's annual sales.
The largest single market for Lee Kum Kee in Europe is the UK, where it generated a turnover of GBP7.5m in 2016, a 24.4% increase on the previous 12 months.
Chong says Lee Kum Kee has "made very good progress" in the UK, where it has listings in the country's four major grocers, as well as in Germany and in the Netherlands. Add that to the company's more fledgling presence in other parts of Europe and Chong says the group has seen "double-digit growth" in the region year-on-year for the past five years.
However, Chong says Lee Kum Kee's senior management back in Hong Kong has set a challenging sales goal for each of the company's geographic divisions.
"As a general rule, the whole group, the company, wants every zone to double the business every five years," she tells just-food in an interview on the Lee Kum Kee stand at the Anuga trade fair. "We have to double the business. It's a tough job."
Lee Kum Kee is looking to grow in Europe through three channels – retail, foodservice and selling to manufacturers. Retail makes up the bulk of Lee Kum Kee's sales in Europe, with sales with foodservice and manufacturers small parts of its business, although Chong points to a recent contract win with Compass and the company's supply of sauces to food manufacturers that produce for UK grocer Marks and Spencer as examples of the deals it can win in its two smaller channels.
The group will look to build its foodservice and industrial contracts in Europe next year but Chong says the number one priority will be trying to further grow its listings with the region's mainstream retailers. "We're everywhere in ethnic stores but I think we need to progress into the mainstream as well," Chong says.
She argues Lee Kum Kee can capitalise on growing interest among European consumers for "authentic" products from China. Chong says the rise of social media – and the underlying trends of global travel – are increasing awareness among consumers of "the real taste from the Orient".
With the "progress" Lee Kum Kee has made in markets like the UK, the Netherlands and Germany, the company is looking to expand its fledgling positions in countries in southern, central and eastern Europe by targeting mainstream retailers, Chong explains.
In southern Europe, mainstream retailers in countries like Spain and Italy are not meeting the demand for products like those marketed by Lee Kum Kee, Chong insists. "Not all the mainstream supermarkets are stocking a proper range of products. There is a lot more we can do to help retailers to grow the category. Our knowledge is not just on Chinese sauces, because Chinese sauces is not consumed by itself, it goes with food, so our knowledge is in Chinese cooking and Chinese food as a whole."
In central and eastern Europe, while acknowledging that challenges exist, Chong cites Poland, Ukraine and Russia as countries where Lee Kum Kee believes it can gain ground.
Asked why Lee Kum Kee is attracted to these markets, Chong says: "There are a few considerations, including a reasonable size of market, readiness for Chinese and Asian food, and the presence of the right distributors. Poland in the last few years has seen a growing acceptance to authentic true brands from the Asia. We have established a point of leverage through local importers. In Ukraine, we have a good partner with whom we feel we are ready to step up with further efforts to widen distribution and, at the same time, do a proper marketing support. Russia is a market with huge potential and the sheer size of the market is attractive. There are difficulties to overcome though, [such as] trade practices and the availability/readiness of regional partners to drive distribution in such a vast territory."
Nevertheless, even if Lee Kum Kee's European business is looking to make inroads across the continent, it still plans to try to grow its operations in its largest markets in the region.
In the UK, there are challenges, both company-specific and at a macro level. Lee Kum Kee recently lost its listings at The Co-op, which Chong said was due to the UK's sixth-largest grocer wanting to "refocus on private label". Meanwhile, as an importer, Lee Kum Kee's business in the UK has felt the pressure of the fall in the value of sterling since the country voted in June last year to leave the EU.
Chong says Lee Kum Kee's UK customers have allowed for some "adjustment" in prices as the company sought to cover increases in costs, although she reveals they are "trying to hold back on certain categories".
"When selling into the mainstream market, it's not easy, because the products that we sell into the mainstream market are actually more costly than those we sell into the ethnic trade. Mainstream [retail customers] are very demanding on the packaging, so just for the packing costs, it's quite a substantial cost for us already," Chong explains.
However, Lee Kum Kee will look to invest in marketing to try to demonstrate to UK consumers why they should buy the company's products instead of those marketed by the likes of Associated British Foods with its Blue Dragon brand and Ajinomoto with Amoy.
"Investing in marketing is important in order to show the consumers what is the value between our brand versus the others. We have tried all the different variants of our competition and we know where our position is," Chong says.
Lee Kum Kee's European business is set to see another year of "double-digit" growth in 2017, Chong forecasts, although the division has yet to turn a profit. The Companies House filing shows Lee Kum Kee (Europe) made a loss of just over GBP593,000 in 2016, although that was down sharply from the GBP1.7m booked in 2015.
Chong says she needs more time for the division to move into the black.
"A guess-estimate is I need another five years," Chong says. "It's a period of investment. There's a lot of work to do, otherwise the brand won't stay [on the shelf]. You do not just put things on a shelf and expect them to sell themselves. It's not chocolate or drinks. It involves cooking and it involves some cultural elements but I'm pretty confident we'll get there, from our interaction with consumers."