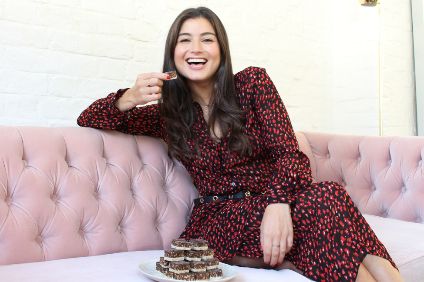 Sweet treats-loving Londoner Olivia Wollenberg was so frustrated with the lack of choice for those like her with food intolerances that she established her own better-for-you snacks business Livia's in 2014. With the help of social media, the company's range of gluten-, dairy-, vegan- and sugar-free snacks has quickly become an established brand with listings in UK 'big four' supermarkets. Wollenberg talks to Andy Coyne about her journey so far and her plans for the future.
just-food: Was your background in the food business?
Olivia Wollenberg: I wasn't really a cook. I was always interested in food and different cuisines. It was really difficult when I was told about my food intolerances as it cut out the most interesting part of my diet. I studied to become a neuroscientist but I started to questioned my career path.
just-food: So how did the idea to create better-for-you snacks come about?
Olivia Wollenberg: It was always sweet treats for me. My parents had to restrict me from all things sugary. But I have a problem with lots of e-numbers and preservatives. There were more and more free-from products out there but they tended to be date and nut bars. I started looking at lots of blogs online and started to make concoctions in my parents' kitchen. Within days I realised it was really easy. It wasn't like I was massively skilled in baking.
just-food: That's still a long way from having a product in the shops.
How well do you really know your competitors?
Access the most comprehensive Company Profiles on the market, powered by GlobalData. Save hours of research. Gain competitive edge.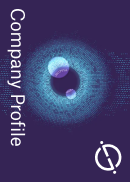 Company Profile – free sample
Thank you!
Your download email will arrive shortly
Not ready to buy yet? Download a free sample
We are confident about the unique quality of our Company Profiles. However, we want you to make the most beneficial decision for your business, so we offer a free sample that you can download by submitting the below form
By GlobalData
Olivia Wollenberg: Yes but from having the idea for the business to listing in [upmarket retailer] Selfridges was just 11 weeks.
just-food: How did you manage that?
Olivia Wollenberg: I thought big from day one. I thought about how the products were going to be packaged and how the branding would work. In that 11 weeks I did a business course. It taught me the fundamentals which gave me the confidence to pitch my idea. I won a Dragons' Den-style pitch and with that money I invested in the packaging and branding. I delivered samples to [fashion magazine] Vogue's head office and they liked it and posted it on social media. Their posting was an endorsement. That was then forwarded to the Selfridges buyer and a meeting was arranged.
just-food: So what were you making and where were you making it?
Olivia Wollenberg: I had 20 months in my parents' kitchen, making crumbles and packing there. I had a massive shrinkwrapping machine and ended up blocking the downstairs toilet. It started at around 25 units a week and ended up with maybe 800 at the end.
just-food: It was social media that helped you get to this stage. Did it continue to drive the business?
Olivia Wollenberg: Yes. I had to find some way of promoting the platform. If it hadn't been for social media who knows if I would have had the success I've had.
just-food: What happened after you got the listing with Selfridges?
Olivia Wollenberg: We started there by making crumbles. Ocado [the online grocer] said they loved the product and we had a meeting but although they loved it the shelf-life wasn't long enough for them. We had to change product. I had two people helping me who I found on Instagram and they stayed with me for two and half years. Up until 2017 we did everything from my parents' house and my flat.
just-food: So what did you come up with in terms of product development?
Olivia Wollenberg: I looked at comments on our blog to see what was popular and vegan millionaire shortbread seemed the most popular. We launched Millionaire Squares exclusively in Selfridges in 2016 and it became the best selling product in their food hall.
just-food: Did you need to scale up the business at this point?
Olivia Wollenberg: Yes. It came down to finding a manufacturer, which was a real challenge. I needed someone who believed in me. Also I went to a branding agency and told them I wanted it to be bright. They said it wasn't a good idea and that better-for-you products tended to use green. But I insisted it should be bright.
just-food: Had you received any investment at this point?
Olivia Wollenberg: So far we have only taken on funding from family and friends, individuals and angels.
just-food: What came next?
Olivia Wollenberg: Once we had got the listings for Millionaire Squares from Ocado and then [UK retailer] Waitrose we were approached by Sainbury's and Tesco. I decided it was time to search for a commercial director, they joined in August 2017 and set up listings at Sainsbury's and Tesco. We got Sainsbury's listings in 2017 and Tesco in 2018. We have gone from 1,000 to more than 4,000 sites in the last 12 months.
just-food: Give us an idea of the scale of the business now.
Olivia Wollenberg: We are 12 people working from offices in Queen's Park [north-west London].
just-food: And you found your manufacturer, presumably?
Olivia Wollenberg: Yes but manufacturing has always been a challenge. It's trying to break down boundaries because of product development. We now have a range of four different products with others planned. Our NPD pipeline is a good one but they are difficult products to produce. We have a 'Willy Wonka wizard' on the team who is constantly coming up with new ideas. Other people are doing more simple products. We have moved manufacturers three times.
just-food: Your new product – Dunx – is, as its name suggests, based on oat cookies and a dip. Does such product design push prices up?
Olivia Wollenberg: No. Our impulse products are GBP1.50 (US$1.85) which is quite competitive. I wanted these to be mainstream products.
just-food: Would you like to do your own manufacturing?
Olivia Wollenberg: I would love to do it. It might be something we could look at further on.
just-food: Better-for you snacks is a competitive area. What's your USP?
Olivia Wollenberg: We are the only brand innovating at the speed we are in the area in which we work.
just-food: I understand sales this year have amounted to GBP5m. What sort of sales growth are you seeing?
Olivia Wollenberg: It's 150% growth in sales year-on-year.
just-food: Do you see the business expanding into other categories?
Olivia Wollenberg: Confectionery will always be our core but there is a lot we can do to stretch out from that, such as frozen.
just-food: Are you convinced the health and wellness trend you are tapping into is here to stay?
Olivia Wollenberg: Yes. It is growing significantly. People are becoming increasingly more conscious of what they are eating and the environment. What we are doing is completely in line with consumer trends. It ticks all the boxes.
just-food: So far you have concentrated on the UK and Ireland. Do you have global ambitions for the brand?
Olivia Wollenberg: The potential is huge. There is still tremendous potential within the UK and we are small team so we have focused on the that. We have purposely stayed away from Europe for obvious reasons [Brexit] but we would be looking to scope out the US and Asia before Europe anyway. The US is my number one aim.
just-food: Would you ever consider selling a stake in the business?
Olivia Wollenberg: A year ago I would have said I want to keep it all in-house but to grow a business you need funding and support. When the time is right it could be a question for us but we would be really conscious about bringing the right people aboard. But if the time is right I'm open to all opportunities.