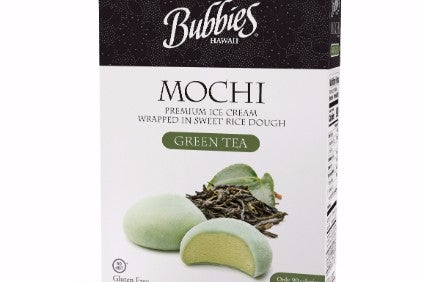 As Bubbies Homemade Ice Cream & Desserts approaches the first anniversary of a change in its ownership, the US maker of mochi ice cream has plans to expand domestically and overseas. Dean Best spoke to Bubbies CEO Rick Schaffer about the company's ambitions.
The US is the world's second-largest ice-cream market. It is, however, a market struggling for growth.
Nevertheless, there are pockets of excitement in the US ice-cream sector and mochi ice cream is one of them.
Mochi ice cream is a hand-held ball of ice cream enrobed in a soft, sweet rice cake and sales in the US are on the rise.
It is a category in which three or four significant players are tussling for custom. One of which is Bubbies Homemade Ice Cream & Desserts, a company set up in Hawaii in 1985 and one which saw a change in ownership at the start of this year.
In January, Bubbies announced founder Keith Robbins had decided to sell the business to Chicago investment firm Kenex Holdings, the owner of another US firm, Imperial Frozen Foods.
In 32 years, Robbins had built Bubbies into a company supplying US retailers including Whole Foods Market, as well as foodservice accounts. The company also had a presence in countries including Mexico, France, Russia and the UAE.
Robbins remains an investor in Bubbies but, according to Rick Schaffer, the former Inventure Foods executive Kenex hired to be the company's new CEO, its founder wanted to retire.
"The ex-owner of the company was a brilliant man, took the business as far as he could with the resources he had available to him [but] knew that he had to build a plant on the US mainland to continue growing the business. He said he just wanted to retire, not get involved and decided to put the company up for sale," Schaffer tells just-food. "Kenex Holdings got involved, acquired the business and we've been going at it since then. We've been actively building a very deep foundation to grow the business. The acquisition is going to be very good for the business. It already is very good for the business."
Schaffer, whose career also includes stints at US firms Grecian Delight Foods and Tribe Mediterranean Foods, as well as his time managing Inventure's frozen fruits business, took a stake in Bubbies as part of the deal between Robbins and Kenex.
While praising the development of Bubbies thus far, Schaffer says the company's namesake brand, although "really well-established" does not have the presence it should. To expand the Bubbies business, Kenex and Schaffer have started on the project to give the company a manufacturing facility on the US mainland.
"Bubbies as a brand is really at the basement level of where it should be and it needs to go from the basement to the penthouse as far as distribution," Schaffer explains. "We've been actively building a very deep foundation to grow the business. Personnel-wise, we've brought on sales, marketing and finance and really deepened the company. We have invested a lot of capital, both remodelling the Hawaiian facility, upgrading it significantly. We have just broken ground on a Phoenix facility. It's more of a remodel; we acquired a building that was already with freezers and we're just converting it to be able to produce frozen product. It should be online in a couple of months."
In the US, which remains Bubbies' largest single market, the company sells into retail and foodservice accounts, with the majority of the company's sales (described, coyly, by Schaffer as "more than US$10m, less than $100m") made through the retail channel.
Bubbies sells packaged retail products through US retailers and also works with some customers on a "mochi bar" where shoppers can serve themselves. Whole Foods Market – which Schaffer describes as "an extremely important customer" – has recently switched its nationwide mochi-bar contract to Bubbies after dividing its business with the company and another US mochi ice-cream supplier, Mikawaya, which is owned by US private-equity firm Century Park Capital Partners.
"Mikawaya, our primary competitor… distributed to the Whole Foods mochi bars in the eastern US and Bubbies distributed to the western US. Whole Foods has put their total business – retail and mochi bar – up for bid to be distributed by one vendor. Bubbies won the bid," Schaffer says. "We are in the process of taking over 100% of Whole Foods' business. The western US/Texas/Florida conversion has already occurred. The rest of the US will take place in stages over the next few months. By April '18, 100% of Whole Foods business will be Bubbies."
However, Bubbies, faced with a growing mochi ice-cream market in the US and, no doubt, plans to diversify its retail customer base further, is looking to gain listings with other major US grocery retailers. The company does want to continue to grow its business with foodservice operators in the US but Schaffer says there is "more opportunity for growth" in the retail channel.
"My vision is that grocery retail will become a much more dominant piece over the business over the next 18 months," Schaffer says. "The trend right now, the frozen grocery category is flat, ice cream sales are flat, novelties are up slightly but the mochi category is literally on fire. It's a small base – it's not like you're dealing with ice cream gallons or half-gallons – but there's really nothing like it out there, there's nothing like it in the way it's sold at retail frozen grocery; there's certainly nothing like it sold out of the bakery department in the mochi-bar concept. The upside is just tremendous.
"The mochi category is growing because consumers are looking for alternative products to what's out there. They seek new and unique items that are premium in nature that create a rich and satisfying eating experience. At the same time, consumers also want to eat in moderation and seek portion control. We've had conversations with most of the major retailers. They're in the middle of their presentation stage right now. Our goal is to see virtually all of the major retailers and establish our distribution for the 2018 ice cream season."
Schaffer describes efforts to expand Bubbies' business with major grocers on the US mainland as "one of two major pieces of focus" for the company. The other, he tells just-food as we sit on Bubbies' stand at the giant Anuga industry expo in Cologne, Germany, is building the company's international business. "It's very important," Schaffer says.
Markets outside the US already account for 30% of Bubbies' sales. Through the presence at Anuga, Schaffer is looking to secure the company's first deal in Germany in 2018 and has his eye on entering the UK next year, too.
"Bubbies is unique in make-up, appearance and nutritional content versus competition," Schaffer insists. "Bubbies is higher in butter fat and lower in overrun, creating a rich and satisfying eating experience. Bubbies is lower in calories, gluten-free, RBST-free, coeliac-certified and does not use ingredients genetically modified through the use of modern biotechnology. The same features that make Bubbies stand out from the crowd in the United States are true in Europe as well – perhaps even more so, as Europe has very stringent product food safety and conformance laws. European consumers have come to expect food products to contain the ingredients and features that Bubbies contains."
Bubbies is set to have follow-up meetings with Germany-based customers that expressed interest at Anuga and Schaffer says the company also caught the eye of UK operators at the show.
"I think we're going to open up certainly the UK. That would be number one on my radar. We've had a lot of distributors coming up to us from the UK, very interested in taking the line on," Schaffer says. "I like to walk before we run and just make sure we can handle what we handle before we go stepping into the next phase of it but I see the UK as a 2018 target."
As Bubbies approaches the first anniversary of its change in ownership, it is clear the company's new owners and senior management have ambitious plans to grow the business further.
"The Bubbies brand is really well-established, people know the name but not as much as they should," Schaffer says. "Hopefully by the time we get done with this they'll know quite a bit about Bubbies."