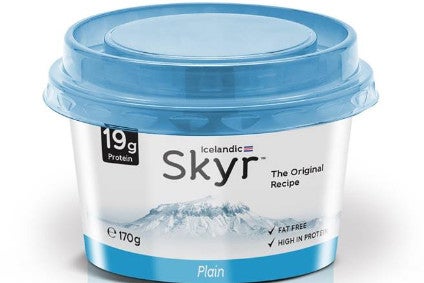 After success in Scandinavia and carving a foothold in Switzerland, MS Iceland Dairies is taking its Skyr yoghurt to the UK – where Arla Foods is already present with its own version of the product. Dean Best spoke to Jón Axel Pétursson, senior vice president for sales and marketing at MS Iceland Dairies, to find out more about the company's plans.
Last year, European dairy giant Arla Foods added to its stable of products on sale in the UK with the launch of its Icelandic-style yoghurt Arla Skyr. Hitting the market last March, the yoghurt had, according to IRI, generated sales of just over GBP8m (US$11.1m) by 30 January, a solid performance, supported by Arla's distribution and marketing muscle. Now, an Icelandic company – and a business with which Arla has history – is looking for a piece of the action in the UK. MS Iceland Dairies has this month launched its own Skyr yoghurt, selling three flavours across 200 Waitrose stores.
The low-fat, high-protein skyr style of yoghurt originated in Norway and was taken to Iceland over a 1,000 years ago, although it has become a product more linked to the island nation. The UK is the fourth market in which the Denmark-based Arla has launched its version of the yoghurt. It also sells the product in Denmark, Germany and the Netherlands. Arla had been offering the yoghurt in Finland but, after a trademark challenge from MS Iceland Dairies, was told to stop selling the product under the name skyr.
MS Iceland Dairies, a company with annual sales of around GBP130m, a fraction of that of its larger co-operative peer, sells its Skyr across Scandinavia, entered Switzerland in 2014 and Ireland last year. The co-operative's move into the UK is MS Iceland Dairies' latest attempt to open an export market and further build on international sales that five years ago accounted for 2% of turnover and now make up 10% of its top line.
Speaking at the formal launch of MS Iceland Dairies' Skyr at the Icelandic Embassy in London, Jón Axel Pétursson, senior vice president for sales and marketing at MS Iceland Dairies, says the business specifically chose Waitrose as the retailer to target. "We knew about Waitrose because Iceland had been selling fish into Waitrose. We had a history, some good business relationships," Pétursson says.
Waitrose, one of the more upmarket grocers in the UK and the country's sixth-largest by market share, is also of a size MS Iceland Dairies can supply. "MS is a relatively small dairy company compared to other companies in Europe," Pétursson points out.
The sales enjoyed by Arla Skyr could be adjudged to be a solid early sign of consumer interest in the UK of this type of yoghurt. Pétursson believes MS Iceland Dairies can capitalise. "We've been looking at the UK for several years but we've been occupied in other markets," he says. "You have seen this demand for good products in Scandinavia and I think the same trend is coming over to the UK and some parts of Europe. It's a good time."
Despite being dwarfed by Arla, Pétursson insists MS Iceland Dairies can succeed in the UK. Arla's marketing tool-kit included TV advertising but unsurprisingly, given its size, MS Iceland Dairies will use different tactics. "Arla is a huge company compared to MS. We have been competing with Arla in Denmark and that has not been a problem. We have a story from Scandinavia and Switzerland and we are quite optimistic. We just talk about our product and ask the consumer to try it. If you look at the history we have in Scandinavia, you get repurchase. We've never been spending any money on TV or big companies. Our campaign in the UK is mainly through social media. The big competitor spent GBP5m last summer. This is something we would never be able to do and we would never do."
Arla's marketing campaign in the UK for Arla Skyr has leant on the links this type of yoghurt has with Iceland, with a TV ad ending with the voiceover: "Arla Skyr. This is Iceland's yoghurt." MS Iceland Dairies' website touts its product as "Icelandic Skyr!" Pétursson suggests MS Iceland Dairies will be emphasising the taste of its yoghurt over its roots or even its nutritional credentials. "It's an old product, with the history around it and everything but it seems that some others are trying to connect to Iceland which is a little bit more confusing for us. You have this great food company Arla. They are originally from Sweden and Sweden is a beautiful country – why don't they connect to their own country? I don't know the answer for that. In the end, it's the taste. The taste has to be good; if something is healthy and you don't like the taste, you're not going to buy it again."
While Arla has been selling 450g pots of its Arla Skyr, MS Iceland Dairies has listed three variants of yoghurt sold at 170g. On a per-gram basis, MS Iceland Dairies' Skyr is more expensive. Looking on mysupermarket.co.uk, a 450g pot of the natural version of Arla Skyr has a standard selling price of GBP1.80 at Tesco, Sainsbury's, Waitrose and Ocado, with all four running offers. At Morrisons, Arla's yoghurt is listed at GBP1.71. On waitrose.com, MS Iceland Dairies' yoghurt is listed at an "introductory offer" of GBP1.25.
"It will be much more expensive than Arla because we are of course exporting it, we have transportation costs. In the markets where we've been competing with them – I mentioned Denmark – we have always been more expensive," Pétursson says.
What of MS Iceland Dairies' plans for the UK beyond Waitrose? Asked if the co-operative had plans to target other retailers next year, Pétursson replies: "Not at the moment, not really. It's great that Waitrose is willing to work with us. We want to do the best we can do with this customer and then see how things will go."
Beyond the UK, MS Iceland Dairies could be set to enter another market in Europe, although Pétursson is cautious. "We are looking at some possibilities in Germany but there is nothing going to happen there I think until the next couple of months," he says. "Our focus is doing what we've been doing well in Finland, Norway and Denmark. And Switzerland is a very exciting market. The first whole year was from the beginning of January 2014 and we are already in 600 Coop stores."
The amount of milk MS Iceland Dairies can source from its 700 farmers does limit the amount it can sell and export – as do import duties on exports into the EU. Pétursson is hopeful talks between the Icelandic government and the EU can lead to the country's duty-free quota to the bloc expanding by 2020.
Domestically, MS Iceland Dairies, which sells a range of dairy products in its home market, is looking to capitalise on growing tourism into Iceland, which Pétursson says is boosting the country's foodservice sector. "Our biggest growth area at home is based on tremendous increase we have in tourism over the last couple of years," he says.
MS Iceland Dairies believes its turnover can grow from the ISK23.5bn (US$182.3m) it generated in 2015 to ISK25bn this year, driven by export sales and by tapping into the growth of Iceland's foodservice market, which at present accounts for a quarter of its domestic sales.
As befits a small dairy co-operative, MS Iceland Dairies' strategy is one of gradual growth. But its foray into UK – and its willingness to enter into competition with Arla in another market – demonstrates ambition and resolve.