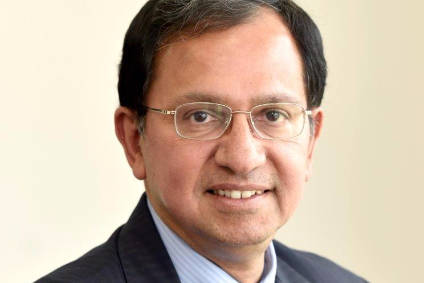 The demand for processed and packaged food is growing among India's young, often aspirational and fast-expanding population. Nestle is targeting double-digit annual growth in the country in the coming years. Suresh Narayanan, the chairman and MD of Nestle's operations in India, speaks to just-food about how the company intends to reach that goal, using innovation and an advanced digital strategy.
Nestle has set itself some challenging growth targets in India. The Swiss food giant wants to deliver double-digit annual sales increases in the coming years.
"Our ambition is clearly double-digit growth," Suresh Narayanan, the chairman and managing director of Nestle's Indian operations, tells just-food.
Narayanan will not detail more specific targets. However, the 56-year-old exudes confidence as he discusses the various strategies he and his senior colleagues are employing to try to benefit from the changing dynamics of the Indian food market.
Innovation will be key, Narayanan suggests, speaking at the headquarters of Nestle's business in India, located in Gurgaon, a commercial district south of the country's capital, New Delhi.
Nestle intends to expand its core product sales while also introducing premium international products into the market. This dual objective – of growing the core and expanding in premium – can be seen in the company's innovation pipeline.
Globalisation is a mighty force in India's retail food market, Narayanan, a 17-year Nestle veteran, observes. Unlike the stance adopted by Indian conglomerates such as Future Group, which are keen to highlight the unique attributes of India's food tastes, Narayanan stresses the growing influence of global flavours on the Indian palate.
Indian consumers, especially millennials, are increasingly exposed to new attitudes, foods and cultures from around the world and the gap between packaged and processed food tastes in Indian and western markets has been shrinking, Narayanan suggests. "Indian consumers are also seeking not just good value and very India-centric products but also international tastes and flavours," he says.
Premium chocolate is a key example, Narayanan continues, and Nestle will launch an upmarket chocolate brand, Alpino, in the market this month. The launch of Alpino, a mainstay of Nestle's international portfolio with an image that draws on the company's Swiss roots, targets demand for premium international products.
According to Narayanan, premium chocolates are one of the fastest growing segments of the chocolate and confectionery market in India: "It is a fairly large market and with the entry of new players like Mars, Ferrero and Mondelez [it is] also getting much more aggressive," he says.
But even in a category dominated by international players, premium chocolates also reflect local consumption patterns and social mores. A large opportunity is presented for confectionery companies to tap demand for gifting during India's plentiful festivals and public celebrations, Narayanan suggests.
"We have marquee brands like KitKat, Munch and Milky Bar, which play an important role in our portfolio. But now with [the] Alpino launch, which is both in bonbons and in tablets, we are getting into the space of premium indulgence and premium gifting."
Nestle is also tapping into the increasing "adventurousness and curiosity" of Indian consumers, as it works to grow core brands such as Maggi noodles. For instance, in August, the group rolled out innovation behind its established Maggi noodles line with the introduction of Maggi HotHeads noodles. The new varieties include flavours such as peri peri, barbeque pepper, green chilli and chilli chicken, which "appeal to the sensorial dimension of consumers," Narayanan claims.
Another opportunity identified by Nestle is the growing demand for health and fitness-targeted products, for which it has launched two lines in 2016.
Narayanan points to the April launch of Nestle A+ Grekyo, a Greek yogurt with high protein and calcium, low fat and real fruit pieces priced at Indian Rupees INR30 (US$0.45) for 100-gram pack. Later in August, Nestle A+ Pro-Grow, a ready-to-drink product was launched with 20% higher milk protein specifically targeting growing children.
According to Narayanan, building competence in the ready-to-drink market has forced the company to increase the scale and frequency of its distribution systems, which could help it move all kinds of food products around India.
India's developing market for eating out is also a major opportunity for Nestle, Narayanan observes. "Millennials often spent half their disposable income on products, including food, that are consumed outside the home, and almost 70% of all consumers eat out-of-home at least once a week," he notes.
In response, Nestle has relaunched its Nestle Professional outlets, where all the variants of its Maggi cup-noodles, yoghurts, chocolates, confectionery, coffee, Nestea and ready-to-drink items are served. "It can serve as a ready on-the-go snack outlet. A place where working or travelling people can come and have snacks and drinks on site."
Narayanan predicts these shifts in consumption indicate that the dynamics of the Indian food market are evolving from a largely a commodity-based industry to one dominated by the manufacture and sale of processed and packaged food.
The primary force behind this change is India's rapid urbanisation and the increasing role of women in the workforce, Narayanan continues. This demographic change has reduced the amount of time men and women have for home cooking. Nestle is responding by offering a "much more enriching platter for the consumer".
Narayanan believes thetrend will not only create opportunities for large companies such as Nestle, but also smaller companies. "They are able to launch niche products [like ready mixes and instant batters] and do an excellent job of marrying the benefit of technology with local tastes."
Meanwhile, reflecting all this change and energising companies' ability to respond to it, is the increasing use of digital media in India, where there is now close to 350m internet users, mostly on mobile devices.
Digital is having a major impact on shopping habits in India, Narayanan says.
The Indian e-commerce market is already consolidating, generating annual sales of between $15bn and $20bn. "Key players are either strengthening themselves or getting increased funding in order to make their [e-commerce] model more robust," Narayanan observes.
Nevertheless, with India's 1.25bn people, this is still a young market, he continues. "The amount of food or processed food related brands on e-commerce are still relatively small."
Nestle is keen to make sure it becomes an established player in the space and the company has had an encouraging response from its e-commerce ventures. When Nestle relaunched its Maggi lines in November 2015 in the wake of the lead-contamination row that had led the company to recall the brand from sale, sales grew healthily on business-to-consumer platform snapdeal.com. "Sixty thousand [Maggi] boxes were sold off in less than five minutes," Narayanan says.
Nestle has experimented with debuting new products online. In August, when Maggi HotHeads was launched, initial sales were exclusively via third party online retail platforms. Other Nestle brands have been launched via e-commerce, such as Nestle A+ Grekyo. "It is important to talk to the young generation also through digital, rather than just through press or television," Narayanan says.
While traditional media is still a dominant force for Nestle, the digital-versus-traditional media balance is now shifting towards digital, says Narayanan: "We are increasingly becoming a digital organisation."
Additionally, information from e-commerce channels has become a useful tool to plan marketing strategies for Nestle. "As a result of mixing the data on viewership [and the actual customers] that we have on our digital campaigns, we are able to localise geographies where we should be progressing with either the launch of new products or accelerating the pace of consumption of some of our [existing] products."
Recalling his early professional days in the late 1990s, Narayanan says food industry marketing campaigns targeted the whole country as one unit. "We didn't have the tools [to figure out] that India is so exciting in its diversity that 100 km from Gurgaon is very different from Gurgaon, which is very different from Delhi," he reminisces.
Today, using digitally collected data, Nestle is able to target media campaigns at specific markets and consumers who are more likely to buy its products. "We are getting in more of a geography and channel perspective into our distribution activities. With the pace of new launches that we are doing this is becoming part of the strategy as well."