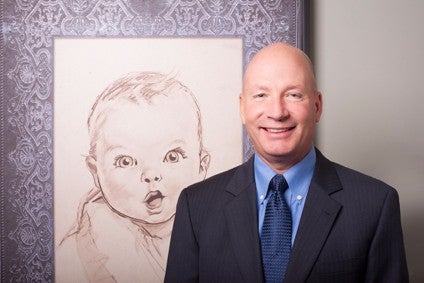 Gerber, one of the most-established names in the baby food sector, is marking its 90th anniversary. In some markets, a company can trade on that longevity; in others, it can turn some consumers off. Bill Partyka, Gerber's president and CEO, talks to Dean Best about how the Nestle-owned company is emphasising its heritage in China but seeking to adapt to changing consumer tastes in the US.
Gerber Products Co., the US-based infant formula and baby food business, is 90 this year but it is not resting on its laurels.
In many ways, the Nestle-owned business cannot afford to do so. The reasons consumers in the US – Gerber's home (and still its largest) market – have for choosing food and for how they shop are changing. In some of Gerber's main markets overseas, including China and Latin America, the business is enjoying growth but it is having to adapt to evolving consumer habits and intensifying competition.
Bill Partyka, the president and CEO of Gerber, has been in the role for just over a year. He joined Nestle at the end of 2012 in the wake of the Swiss food giant's acquisition of the infant formula business of pharmaceuticals group Pfizer.
Partyka took the reins at Gerber in June 2016, a year that ultimately proved challenging for the overall Nestle Nutrition business in the US, of which Gerber is the largest unit. The world's largest food maker does not provide country-specific sales data but, announcing its 2016 results in February, it did admit the growth of Nestle Nutrition in the US had been "slow". The US birth rate is stagnant, providing challenging trading conditions for those in infant formula and baby food but Nestle recognised it had work to do to improve the performance of its business in that market.
In an attempt to breathe fresh life into Nestle Nutrition's sales in the US, the company started to "renovate" the Gerber brand, including changes to packaging and recipes. Partyka says the changes have been necessary and admits Gerber cannot simply rely on its long-standing position in the market.
Serving the new US consumers
"Relying on 90 years of heritage isn't good enough with today's millennial and tomorrow's Generation Z consumer," Partyka says. "They want to make sure that what you're delivering is relevant to that consumer. There has been a lot of focus on cleaning up our portfolio. We have the largest non-GMO portfolio in the category. We have the most widely distributed organic portfolio in the category. These topics tend to be very on-trend with today's consumer. The millennial is transformative, I think, in some cases. Some industries see that as a nuisance. We actually see it as a great opportunity. This is tomorrow's consumer, and they want to be heard by big or small companies. If they're not being heard, they're going to find another solution in the marketplace. I like it personally when I see the consumer shift like this because it really takes the business to the next level. In some cases, big business may have been living off their laurels."
Talking to Partyka, it is clear, perhaps unsurprisingly, the US baby food category is another to have seen smaller companies entering the market and eating into the share of established players.
"This is a very attractive market because it's a very emotional decision for a parent to get into the category. So, there are a lot of new competitors. It just forces us, as the market leader, to continue to elevate our game because the market will increasingly become competitive. Actually, competition, to me, is a good thing," Partyka insists.
But how is a brand like Gerber, with its position as one of the biggest brands in the US baby food market, to react?
Gerber is trying to tap into rising consumer interest in products deemed to be simpler and less processed, a macro trend shaping product development right across the US food industry. "We have just updated 110 of our products," Partyka says. "The predicate for all product development for us, be it innovation or renovation, is total transparency. You see that on our label, you'll see that in the way we're delivering packaging into the future: make sure the consumer understands the high-quality nutrition that we're providing.
"The second thing is to improve the way we engage the consumer. We've got a 24/7 on-demand real-time consumer engagement tool where a parent can text our hotline and they can ask any question around child development, nutrition, breastfeeding support, lactation counselling, sleep support. That's really important because of the size we have in the business and the relationship we have with the consumer."
Nestle reported its half-year financial results on Thursday (27 July). Discussing the numbers and the performance of various units with analysts, Nestle's global CEO, Mark Schneider, said the "underperforming" Gerber had seen signs of improvement during the first half. Global CFO, Francois-Xavier Roger, admitted the company's Nestle Nutrition business in the US had been "soft" in the first half of 2017 but said that performance had been "helped by the stabilisation of the Gerber brand", which has come even ahead of its "comprehensive relaunch".
Without disclosing specific forecasts, Partyka believes Gerber's sales in the US will rise in 2017 year-on-year, even with the bulk of the activity around the local relaunch of the brand not coming until the second half of the year and into 2018. "Not only will our sales grow, but we're seeing our market shares grow," he says. "Most of that relaunch activity begins in 2018; we kick it off late '17 this year. We're changing the way we look, including the iconic baby head; the way we talk, what we say; the way we engage with consumers. It is a total transformation of the Gerber business."
China as an engine for Gerber's growth
For all the work Nestle is putting in to try to rejuvenate its Gerber business in the US, the country's flat birth date means it will need markets like China to be an engine for growth. Gerber has a nationwide presence in the country, built in part by the local popularity of shopping online.
To underline how important Nestle and Gerber see e-commerce in China, Partyka was among the presenters at a conference held by Chinese retail giant Alibaba in Detroit in June. The Gateway '17 event was put together to try to encourage more US small to mid-sized manufacturers to invest in building a business in China and especially through Alibaba's network.
Partyka describes the event as "fantastic" and said it was a "great opportunity to show the potential" of China to fledgling or prospective US exporters. Gerber, Partyka claims, is "the number one baby food player" in China, helped, no doubt, by its position as part of the Nestle portfolio. However, Partyka insists Gerber looks to act differently than simply a subsidiary of the world's largest food maker.
"Our approach in China, even though we're large, is to actually act small. In our company, being part of Nestle, to create an organisation that is entrepreneurial within the world's largest consumer foods company is always quite the challenge, but we've been pretty successful," he says.
Emphasising longevity and e-commerce
In China, Gerber emphasises its longevity to consumers. It also underlines its links to US farmers, which Partyka says resonates with Chinese shoppers, vigilant in the wake of local food-safety scandals. "The roots of our business are in the American farmer. A hundred and ten family farmers deliver roughly 75% of our raw material. Most of those families, we've had a multi-generational relationship with."
Away from the brand proposition, another key plank to Gerber's operations in China is developing its business in the e-commerce channel to broaden its presence from tier-one cities, largely based in the south and east of the country. In China's baby-food sector, e-commerce, alongside specialist mother-and-baby stores, that are the growing sales channels.
The majority of Gerber's sales in China are now made through e-commerce in some form, Partyka says, including from transactions processed online and picked up in-store.
"China, from a digital ecosystem, is well ahead of any other country that I'm aware of. There's been a seismic shift in retail. Even brick-and-mortar tends to be more click-and-mortar, at this point in time, in response to the dynamic where these major e-commerce players have come in and really transformed the retail environment," Partyka reflects.
The country is now the "number three or four market" for Gerber, Partyka says, before moving to emphasise how baby food remains locally "a relatively under-developed category".
Partyka says: "If you think of China, there are 20m babies, versus the US, which is 4m babies. The birth cohort in China has expanded dramatically with the relaxation of the one-child policy, so it's gone from 16.5m to nearly 20m. When I look at the size of the business today and the growth rates we're seeing, they're a number of years ahead of us where we're going to see hyperbolic growth because the category is developing rather rapidly."
It is easy for a food-industry executive to talk up China and its prospects but it remains a challenging place in which to do business. Baby food is among the most challenging, with Beijing regularly introducing or revising legislation that governs the sector. It is in this context that Partyka points to the benefit of being part of Nestle.
"The Chinese regulatory environment is that government is trying to give consumers more confidence in the local food supply. It's been very volatile. If you don't have a partnership with the government to understand long-term what they're trying to accomplish and what the approach is going to be, you can get tied up in the volatility in the environment. But, I think being a big company like Nestle, we really leverage our group, in that case, to develop those relationships and give us direction in terms of where regulation is going into the future."
However, according to Partyka, the principal lesson from Alibaba's Gateway conference was the importance of agility. "Being in a forum with small to mid-size business, it realised to me how quickly we have to move. We have to become a lot more nimble as an organisation to compete in the environment in the future," he admits.
In a market like China, where consumers, after the safety scandals that have rocked the infant formula and baby food markets in recent years, can be even more wary than elsewhere, the size of the Gerber brand does, Partyka says, give the business "credibility … scale is still to our advantage in China because the consumer is looking for confidence that these are the highest quality products in the world".
Nevertheless, Partyka adds: "At the same time, I'll tell you what, these smaller, more nimble players are also putting together nice business models and they're being very effective in the market. Where I see the smaller companies make inroads, they tend to be European and American companies."
As a newborn soon becomes infant, toddler and child, so Gerber will have to ensure its corporate strategy continues to evolve in order to prosper at home and abroad.