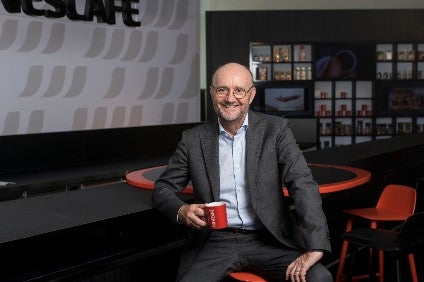 Much of Europe presents a challenging place to do business, even for a company the size of Nestlé. Liz Newmark talks to Marco Settembri, the head of Nestlé's business in the region, about the food giant's strategy.
From Iceland in the north west, down south-east across Europe and the Mediterranean to Sudan in north Africa, and on out to the easternmost parts of Russia, Nestlé's EMENA division is a vast territory – and one presenting myriad challenges and opportunities for the world's largest food maker.
EMENA – or Europe, Middle East and north Africa – accounted for just over 29% of Nestlé's sales and a little more than 23% of the Swiss giant's "trading operating profit" in 2018.
The division, one of Nestlé's three geographic "zones" (the others are the Americas and a combined Asia, Oceania and Africa), was created at the start of 2015 when the KitKat and Maggi owner put its businesses in the Maghreb, the Middle East, its north-east Africa unit, Turkey and Israel into existing European arm.
The move, Nestlé said at the time, was to ensure its zones "have the necessary balance between the emerging and developed market trends, as well as the different socio-economic consumer dynamics".
And Zone EMENA does have different dynamics, with low-growth and deflationary markets in the west and (relatively) faster-growing markets further south east – some of which have marked macro and geopolitical challenges.
At the head of Nestlé's Zone EMENA is Macro Settembri. A three-decade company veteran, Settembri joined the business in his native Italy in 1987, rising through the ranks to head the global Nestlé Waters business in 2013 before moving, at the start of 2017, to lead the EMENA geographic zone.
That year, Nestlé started to revamp its operations across EMENA, moves Settembri says have delivered improved efficiencies and performance.
At Nestlé's 2017 investor day in September of that year, Settembri outlined the "low volume growth environment" in the EMENA region, pointing to how volumes had not risen more than 1% a year this decade. He also described the landscape as one in which "local players are winning".
During 2017, Nestlé moved to establish seven regionally-managed businesses (food, confectionery, dairy, nutrition – which takes in products like infant formula and supplements – foodservice arm Nestlé Professional, pet care and coffee), to try to build on its category positions while keeping market focus, Settembri explains.
"Historically, Nestlé is a very strong local organisation and we want to maintain this local presence and proximity to customers. Working together as one team across many markets combines the best of category focus and local consumer and market competence with aligned decision-making," he tells just-food. "It's always a question of evolution. In Europe especially we are living a period with no population growth and no inflation and to win against local players and be efficient you have to revise the way of working."
Multinationals often wrestle with wanting to realise the benefits of getting closer to the consumer – but without losing the benefits of having scale. Settembri says Nestlé's efforts in his region are paying off. "Our results in 2018 and a strong first quarter of 2019 demonstrate that this approach delivers – we see increasing market shares in the entire zone," he says. "We are growing significantly in infant nutrition and pet care, but also in confectionery and food in the last six months."
In 2018, the EMENA business saw sales rise 2.6% when measured by Nestlé's metric of "real internal growth", which focuses on volume and mix, stripping out the impact of price and of M&A. That 2.6% increase was the highest Nestlé had achieved in EMENA since the division was formed in 2015.
However, on an organic basis – so including price – sales rose 1.9%, down on the 2.3% booked in 2017. Nestlé pointed to pressure on price, citing "deflationary trends [that] continued to affect the food and retail sectors across most markets in western Europe".
In the first quarter of this year – Nestlé's second-quarter and half-year results are out on this coming Friday (26 July) – the Nespresso owner saw its "real internal growth" in EMENA accelerate to 3.1%, with organic growth ticking up to 2.1%. But the company admitted its pricing fell 1%.
Analysts pressed Nestlé's management on the deflation the group was seeing in Europe, with CEO Mark Schneider reflecting: "Yes, it has been a low-growth and somewhat deflationary environment. I think from a cautionary perspective, it's important to approach it on that basis going forward.
"A lot of work goes on behind the scenes to streamline our European operations, avoid unnecessary duplication, pool resources when it comes to the more category-led and category-driven approach across Europe."
Schneider added: "The macro environment is one that we cannot change, so we work from these rather sombre assumptions. If something changes for the better, that's fantastic. I think the way to get pricing here is through differentiation and premiumisation. All the more the importance of a vibrant R&D function and short-cycle innovation and constantly keeping categories exciting to the consumers and to the retail trade."
Sitting down with just-food at event in Lille in northern France, Settembri agrees there are opportunities for growth for Nestlé in western Europe through premiumisation and "better segmentation of our portfolio".
KitKat is one example of Nestlé's efforts on premiumisation – now available in many luxury varieties such as KitKat Dark 70, KitKat Senses, the Green Tea Matcha that made its debut in Japan and the pink chocolate KitKat Ruby – Settembri describes the latter as having "a new chocolate texture" and insisted it "has had great success".
With minimal inflation across the EMENA zone – and deflation in the west of the region – Settembri moves to underline how "increasing the price is almost impossible", making product mix and premiumisation more important.
He cites Nestlé's deal with Starbucks, struck in 2018 and through which the company has launched coffee capsules marketed under the US coffee-chain's brand. "We put together Nespresso and Starbucks capabilities [the licensing deal includes Starbucks-branded capsules for Nespresso machines], creating a mixed factor allowing you to sell more and to have a good product."
The recent results of Nestlé in the region show that the company is able to grow in a deflationary environment, Settembri insists, thanks to premiumisation and to the company's offer of an enhanced product mix. Prices can only go up if there is a clear simultaneous increase in quality – hence the push to premiumise.
Some Nestlé watchers argue the company's record on premiumisation is patchy but one area in which the company has been seen to have had is success on pet food – seen as a reason by some in the market as to why Settembri, who was CEO of the group's Purina PetCare Europe unit from 2007 to 2013, was given the reins to EMENA as a whole.
Assessing Nestlé's entire strategy on mix and price, Settembri says: "If one day we do go back to inflation, we could do price increases that are healthy for everyone. But now our balance between the mix and the price is 80/20."
Weighing up Nestlé's overall growth strategy in the EMENA region, Settembri points to "digital innovations" and to "emerging markets potential" as two other levers.
On the rise of the digital sphere, Settembri says: "We want to engage with the consumers wherever we are and give not only a product but also a service. We need to understand what the consumer of today and tomorrow will want. To stay relevant to consumers, customers and society as a whole, we had to make strategic moves towards digital-by-design propositions and include new technologies."
According to Settembri, e-commerce is an opportunity throughout the EMENA region, even in north Africa where food and beverage e-commerce is at an early stage. "There is much potential for the future," he adds, explaining online sales are already growing quickly – off a very small base, of course – in the Middle East, north Africa and further north in Russia.
Within EMENA, the markets of the middle East and north Africa are growing faster than those further north and west, even if they can be far less stable. Nonetheless, for Nestlé, these parts of EMENA represent key emerging markets.
Reflecting on north Africa, Settembri acknowledges trade remains fragmented with a predominance of traditional trade but he explains how "with the rise of the middle class, modern trade outlets are gaining shares driven by supermarkets and hard discounters".
Egypt, with a population of 97 million and relatively stable economy, is a particular target. Morocco (a 35 million population) is seen as a promising market as well. Settembri cites infant nutrition as a strong category in north Africa, where there is more population growth and more babies than in Europe.
He adds: "In addition to our popular brands such as Nido [milk powder], Maggi and Nescafé, there are opportunities [in Africa] for premium brands like Nescafé Dolce Gusto, Nespresso and the Nestlé Purina PetCare portfolio."
One notable geopolitical headache is set to emerge – but hundreds of miles further north.
For Settembri and Nestlé, preparing for Brexit, currently set for 31 October, it is "not really a question of taking precautions; we need to know the scenarios", adding: "We still don't know what will happen and when."
Nestlé has a strong local presence in the UK and is not planning to relocate its factories due to Brexit, Settembri says, while insisting food should be central to any post-Brexit trade negotiations. "There are many discussions about cars and energy, but food is the most important sector. Food has a limited shelf-life. We are not selling cars that can sit for two months in a warehouse. Free circulation and frictionless trade is very important."
He adds: "For business and consumers, Brexit is not a very good idea. I fully respect the citizens' decision to take a different view, but Europe will pay the price – and the US, Russia and China will reap the benefits of the lack of efficiency and competitiveness caused by this separation."