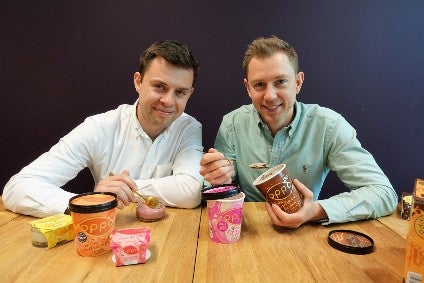 The UK's Oppo Brothers is among a group of entrepreneurial start-ups seeking to shake up the indulgent ice-cream category with low-calorie variants just as the conventional market for iced treats becomes more fragmented. Simon Harvey speaks with co-founder Harry Thuillier.
With sales of conventional ice cream said to be on the decline as consumers become more health conscious, London-based Oppo Brothers has piled up a band of followers across Europe for its low-calorie tubs and sticks.
Since brothers Harry and Charlie Thuillier founded the business in 2014, inspired by a trip to Brazil, demand for its low-sugar and low-fat ice cream has risen to the extent that sales are expected to reach around GBP5m (US$6.5m) in the current financial year, and as much as 40% growth beyond. Oppo Brothers has a small presence in healthy cheesecakes, too, and plans to launch plant-based ice cream as interest in alternatives to dairy grows.
Waitrose was the first UK supermarket to put the brand on its shelves during the company's founding year, and Sainsbury's has followed suit, with another major listing imminent. Oppo Brothers has also attracted backing in the form of entrepreneur and billionaire Dr. Hans-Peter Wild, the owner of the Capri-Sun drinks brand.
The business is poised to enter new markets too, adding to existing territories that include Germany, France, the UAE and Singapore.
Harry serves as managing director, overseeing marketing, finance and HR, while Charlie directs the sales and product side. Oppo Brothers employs 16 people with 120 years of FMCG experience between them.
How well do you really know your competitors?
Access the most comprehensive Company Profiles on the market, powered by GlobalData. Save hours of research. Gain competitive edge.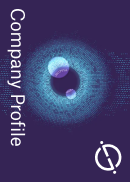 Company Profile – free sample
Thank you!
Your download email will arrive shortly
Not ready to buy yet? Download a free sample
We are confident about the unique quality of our Company Profiles. However, we want you to make the most beneficial decision for your business, so we offer a free sample that you can download by submitting the below form
By GlobalData
just-food: Where did the idea to set up Oppo Brothers come from?
Harry Thuillier: We started the company before there was much in the way of healthy indulgence; now there's much more of it. In 2011/12, we were thinking the food industry was in some ways broken because you've got the fruit and veg aisle, and then you've got packaged foods, which weren't so good for you. Charlie thought 'Let's pick the most difficult and luxurious indulgent product – ice cream', [a] lethal combination of fat and sugar that makes ice cream taste great but also has a tendency to pile on the pounds, so we got into the kitchen and researched the chemical structure of ice cream for two or three years and a thousand recipes.
Waitrose then took a punt on us with 117 stores in 2014 and we are in talks with another major UK retailer this year. Our biggest customer is Albert Heijn in the Netherlands and we are also in Kaufland in Germany.
We've seen healthy ice cream has grown about 61% in the UK over the last year but the overall category has declined 5%, so healthy is arresting that decline and growing massively. What's great is that we've seen from Nielsen data that we've got the highest spend per visit and the highest frequency of purchase and the highest volume consumed.
The challenge for us is still convincing people that a lower-calorie and lower-sugar ice cream can taste every bit as good as the regular stuff because there are a few, let's say, quickly-launched products, that don't seem to deliver.
just-food: How do you keep the sugar and fat content down?
"The challenge for us is still convincing people that a lower-calorie and lower-sugar ice cream can taste as good as the regular stuff"
Harry Thuillier: We use erythritol and stevia. Erythritol is a sugar alcohol, which is a bit of a misnomer because it's neither sugar or alcohol but it's commonly found in grapes and melons, and it tastes about half as sweet as sugar and has no effect on your blood sugar levels, so your body doesn't treat it as a sugar. And stevia is about three hundred times as sweet as sugar, and you use a very tiny amount of that because if you use too much you end up with a very clean flavour which isn't really what we want. We use a very small amount of grape juice as well, which is basically sugar, just to round it off. We also use skimmed milk rather than full fat, and coconut oil.
just-food: You promote the protein component in your ice cream, too.
Harry Thuillier: Yes. If I'm honest, I would quite like to take that off the pack because milk is a source of protein as well. When people navigate this category they see a calorie number and then they will see protein and think: 'OK, that's my permission to indulge.' That being said, there is more protein as a percentage of calories in Oppo than there is in regular ice cream.
just-food: How do you see the UK and European markets for ice cream panning out over the next year?
Harry Thuillier: Ice cream is always going to be there but I think added sugar is already going the way of salt and is gradually being reduced in food. I think it will be treated someday like tobacco. Manufacturers realise, like us, that they can use substitutes with no compromise on taste at all.
It's a little bit like with the whole of FMCG. Start-ups were responsible for about 65% of the FMCG growth last year and the big guys are sometimes looking to the start-ups to create that close contact with the shopper, the consumer, which drives innovation. And there is probably going to be more fragmentation, more start-ups and I think the market's going to go more toward slightly healthier.
That's certainly where the growth has come from in ice cream. As long as there's no compromise on taste, that is the crucial thing with every food category really, but certainly ice cream because you don't see it as being essential calories, you don't see it as part of your nutrition, you see it as being something you have as a treat.
just-food: What are your plans in the plant-based segment?
Harry Thuillier: We've got our plant-based products coming out in March. We've got a small UK launch and then we are launching in the Netherlands. We've been working on that for the best part of three years because we really just wanted to make sure we weren't going to compromise on taste. It's two products we are launching initially (500-ml tubs), and I think that they are every bit as good as the regular dairy line. We've just been making sure we get the flavour right. We have a base but we've replaced it with coconut and rice to get the similar experience you should get with milk.
just-food: What is the biggest market for the business?
Harry Thuillier: The UK is the biggest but closely followed by the Netherlands and Germany. They [Netherlands] seem to be quite aligned with UK tastes. We've also had a good relationship with Albert Heijn there, they've supported us in some ways and we are in 800/900 stores. We've got about two-thirds of our sales in the UK but it's an expanding amount coming from Europe now.
just-food: Are you launching into any new markets this year?
Harry Thuillier: Yes, we are launching in Austria in March and we are launching in more retailers in France.
just-food: Is Europe your key target market or are you looking further afield?
"Asia is on our radar but, right now, we are quite busy in Europe and we need to focus on making things work here first"
Harry Thuillier: I'll let the sorts of Breyers and Halo Top deal with the States, I certainly don't have any appetite to go over there anytime soon because we think it's competitive here and it's another level there. I think Asia is up for grabs at the moment. I think there's plenty to go after in Europe. We want to keep fairly focused, we've got our tier-one and tier-two markets and Asia is not part of that. Singapore was an inbound request that we are supporting with FairPrice. I think we appeal more to European tastes – I'm not saying we don't appeal to Asian tastes. Asia is on our radar but, right now, we are quite busy in Europe and we need to focus on making things work here first and then move further afield after that.
just-food: How have your sales fared in recent years?
Harry Thuillier: In 2016/2017, it was a quarter of a million [pounds], then it was about 600K the year after that, then we jumped to two-and-a-half million [2018/2019], and now we are on a run rate of just over GBP5m. We are looking at about 35/40% growth on that this financial year, which starts in April, so we'll be looking at around GBP7m or GBP8m this next year [2020/2021]. We actually had a fluke year of profitability in 2018 which wasn't really forecast but we hadn't actually forecast profitability until 2021, when we will be just past break even.
just-food: Are you and Charlie still the majority shareholders in the wake of the recent investment?
Harry Thuillier: No, we are not. We are about 20% each so he's [Dr. Hans-Peter Wild] got the majority position. We've really experienced the benefits of that, we were clearly a bit nervous about it but they've really ramped up the support. We've got a 100 other shareholders from Seedrs, the people that held on for dear life rather than sell their shares. They were very keen to stay in.
just-food: Where is your production?
Harry Thuillier: We are made in Belgium, which is going to be interesting with Brexit but, all things being said, I don't think it's going to be too difficult for us and we do have other relationships in the UK if the worst comes to the worst. I think now the decision has been made – and therefore we will disagree and commit, as we often say – I think there will be opportunities as part of it as well. I don't think we are going to be throwing away any good business in Europe. It's good to have the certainty after the election and a majority means there's going to be less debate and more action. I'm an optimist really.
We were made in the UK with Mackie's in Scotland but we moved to Belgium where we've been for about four years now. We've got another factory in the Netherlands as well who do our sticks, and they can do ice cream too. So we've got a bit of security with supply if anything happened with the factory in Belgium. And then we've got relationships with a couple more UK ones should we need to have it.
just-food: What's the future for the cheesecake business?
Harry Thuillier: At the moment we are looking at licensing it out because it's lower margin and also we came out with the cheesecakes at a time when healthy ice cream wasn't growing so fast and wasn't such a big opportunity. We've got a great factory for cheesecake, The Dessert Factory in Belgium. We are in talks with them about growing the business themselves and us simply licensing the brand but still being involved with the product development, and that's very likely to happen this year so that we can focus on ice cream.
It's the same product philosophy really [with cheesecake] which is maximum indulgence, minimum sugar, calories all made from natural sources, and that's the sort of guiding principle. They are doing well, they've actually got a listing starting this week in Booths up north, and they are in Sainsbury's, Waitrose and Ocado. Cheesecake is about 5% of the business.
just-food: Any plans for direct-to-consumer where ice cream might be a good fit?
Harry Thuillier: We are looking at that for sure. Customisable products is something we've been looking at for a little while. We are in Deliveroo, Amazon and Ocado. It's obviously difficult to send ice cream to individual consumers because you've got to have a lot of packaging in terms of the dry ice but it can be done. My background is that I used to work on a joint venture with Google, digital and direct-to-consumer stuff, so as soon as we can do that we will. It would be lovely to have a bit more control over the consumer experience.