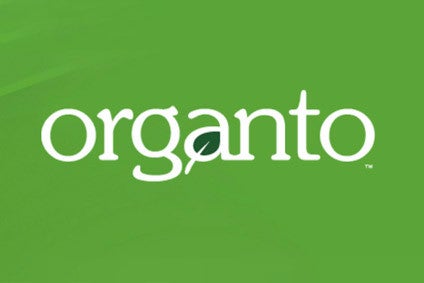 Organto Foods, a Canada-based fresh-cut organic produce specialist, has ambitious plans to develop its business into the world's leading organic produce brand. Katy Askew spoke to Peter Gianulis, president and CEO of the farm-to-fork produce group to find out how it intends to deliver.
Organto Foods wants to be "the leading, vertically-integrated branded organic fresh produce company in the world by 2018". For a business founded in 2015, that is quite some ambition. But president and CEO Peter Gianulis is confident of the group's ability to take advantage of what he believes to be a sizeable opportunity in the organic food sector.
Speaking to just-food on the group's plans, Gianulis suggests Organto is uniquely positioned to capitalise on growing demand for organic produce in Europe and North America. "There is a long-term consumer trend for fresh organic products. There is also a lack of consistent supply in the market by producers for organic products, specifically perishables," he says.
According to data provided by the company, the organic segment is growing five times faster conventional food sales. The organic fruit and vegetable segment has been growing at over 12-13% per annum and has reached close to US$15bn in the US.
Despite its size and growth potential, the industry remains highly fragmented. Organto intends to act as a consolidator in the sector and the company is looking at both growers and packers in its search for M&A targets. "We expect growth to come both organically and inorganically. We would look at acquisitions. It comes down to, one, the fit and, two, the price, if it makes sense for us financially," Gianulis reveals.
The company operates a vertically-integrated model. It owns farmland and greenhouses in Guatemala and Argentina and operates sales, importing and distribution offices in the US and Europe. The structure provides Organto with a greater degree of control over its products, bringing benefits that range from quality and waste reduction to lower costs, Gianulis says.
"By being vertically-integrated, we have more control over prices. Our overriding goal is to bring down prices in the organic produce industry and by being involved in multiple parts of the chain we are able to bring down that price. From a farming level the cost to produce an organic veg – and varies by vegetable – but it could be 20-35 cents a kilo more expensive. What that translates to the supermarket… [is] three euros or dollars [per kilo]. There is margin being taken along the way and the consumers are footing the bill for that excess price."
Lowering the differential between organic and conventional produce is central to Organto's strategy because the group expects that will raise consumption levels. "This is a business of scale. If we are able to increase demand for products by lowering the gap between organic and conventional pricing, consumers will respond by shifting more to organic products. This will increase demand, which will increase production, which will lead to lower prices," Gianulis explains. "We are also not looking at margin on every individual unit. We want to make margins but we are looking at the entire picture on a gross margin base across the entire vertical chain."
Organto is, therefore, able to address the "price shock" that deters consumers from opting for organic produce, Gianulis suggests. In this way, Organto is "getting the ball rolling" to stimulate demand and increase production. "By doing that it starts a cycle on the way down with prices and it doesn't affect our margins in the end because we are increasing volumes," he explains.
However, the strategy will take some time to gain traction, Gianulis concedes, and its effectiveness depends on your "time horizon".
"It is a longer-term goal, not a short-term goal," he says. "We are looking at three-to-five years and how our margins would be with increasing demand… We are not focused on margins in the short run in terms of maximising our margins. We are looking at our margins in the long term and we believe that by increasing consumer demand, increasing product acceptance, that it will actually positively impact our margins and get better gross margins through increased scale."
Increasing production in itself requires considerable investment and Gianulis says that the difference in yields between organic and conventional production – rather than the certification process itself – represents a considerable "bottleneck".
"We see it all the time. People that really want to do organic. they are fine for the first six months, but then they realise you have to do a level of crop rotation to ensure that the soil is healthy and that your managing pre-emptively for pests and any other type of plague that may come. What we are seeing from farmers is they want to go organic, then they hit some kind of plague or mould infestation, so they turn to the old playbook that they have been taught – which is an herbicide, or a pesticide or an insecticide that they apply because they fear they will lose their entire crops.
"I see the bottleneck as closing the difference in yields between organic and conventional, which accounts for almost the entire price differential at the supermarket. It is not that the materials you are using are different in price, it's not the application, it is that your yield is lower."
Organto tackles this on its farms, which are typically 50-100 hectares in size, by "understanding the environment" and being "proactive" and "pre-emptive" in its crop management, Gianulis says. "By rotating and being disciplined in how you approach farming you are able to address the differential in the yield between conventional versus organic. You can get to 80% yield."
Another way that Organto intends to strengthen consumer demand for organic products is through building a strong brand – something Gianulis believes is woefully lacking in the produce sector.
"I don't think we have any competitors trying to do what we are trying to do. Although we would welcome anyone in because the organic market needs all the help it can get," he suggests. "When you buy Brussels sprouts today you either buy them loose or in a bag with a tie. That is a terrible way to package your product. The amount of effort that has gone into growing that product, there is a lot of effort and care-taking that does go into it, I don't think people are doing themselves justice by throwing it into a cellophane bag."
Gianulis says the company is in the process of developing its brand, Organto, which will be unveiled late this year or early next year. "We are working on a series of designs. We are spending an inordinate amount of time on packaging and branding. We don't envision ourselves – nor do we want to be – part of a commodity-based business. It is not something that is attractive to us. We want to differentiate ourselves from the produce market and competitors."
As a packaged food maker, Organto intends to differentiate itself on two fronts: the quality of its products and the strength of its branding and packaging. "We want to be a consumer packaged company. It is going to take some time. We are moving towards our model to be a consumer branded company. The fact that we produce broccoli or mange tout or asparagus is coincidental. I don't want people to buy our asparagus thinking it is organic asparagus. I want people to buy Organto asparagus. That is our challenge and that is our goal."