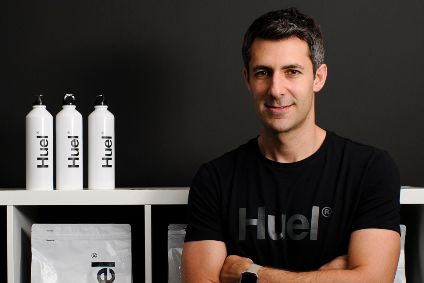 Andy Coyne speaks to James McMaster, CEO of UK-based meal replacement brand Huel, about where the direct-to-consumer business is heading.
Having spent two years at the helm of UK functional food brand Huel, James McMaster, is optimistic about the company's future prospects.
Set up in 2014 by entrepreneur Julian Hearn and former NHS dietician James Collier, and looking to tap into a meal replacement market formerly dominated by body-building and weight-loss brands, Huel is both a nutritional powdered food and the name of the company distributing the product – a portmanteau of human fuel.
The base product is a powder – to be mixed with water – made from ingredients such as oats, rice protein, pea protein, sunflower, flaxseed, and coconut. It is intended to provide all of the human body's nutritional needs.
The first Huel product began shipping in June 2015. A gluten-free version was launched in 2016, the same year Huel began selling to the rest of Europe. In 2017, it became available in the US.
More recently the business has expanded into ready-to-drink products, cereals and bars and may even consider adding expanding from selling only directly to the consumer by launching into the retail market.
McMaster, who joined in November 2017, sits atop a company that is targeting a valuation of US$1.25bn within three years. It was valued at GBP200m (US$242.4m) this time last year when there was talk of it selling a stake to an investment house or even of undertaking an IPO so that's quite an aggressive target.
But McMaster believes it is well possible for the GBP40m annual turnover business, based on its increasingly international, expanded product mix and the way it is surfing trends such as health and wellness, sustainability and veganism.
"Two years ago [when he joined] we were very UK-centric. We had just launched into the US the month before and we had a very small business in Germany. Now we are a global business selling in 80 countries," he says.
Last October, following a US$26m funding injection from equity investor Highland Europe, its first external investment, Huel launched in China. It rolled out its own dedicated website in the country and is also working in partnership with e-commerce giant JD.com, making the product available to the platform's 300 million users.
Expansion has also come through Huel's products. "We have a lot more products whereas then [2017] we were just focused on powder. We've launched bars and we've launched ready-to-drink products," McMaster says. "And when I joined the powder was just a vanilla base and now we've got a wide range of flavours."
The company's approach so far has been exclusively selling directly to the consumer. Products are shipped from warehouses in Europe and the US based on orders on the company's website.
A 'community' calling itself the Hueligans has sprung up and is said to number 250,000. Each new buyer gets a Huel T-shirt and staff members converse with the Hueligans on a regular basis. McMaster is convinced that has led to growth based on word of mouth. "We've got ten people in the US working on the customer experience," he says.
And the approach appears to have worked. Huel talks about year-on-year customer growth of more than 150%. It says the brand has sold more than 50 million meals since its launch. "I wonder how long it will be before we reach 100m?" McMaster muses.
For all Huel's growth, there is equally ambitious competition. On the back of more than $70m of funding, US-based Soylent, for example, has moved into international markets, branched out into other categories like snack bars.
McMaster believes Huel still has clear advantages over competing products. "There are a lot of things out there but not many that are nutritionally complete. Very few companies offer that," he says.
"We view our biggest competition as traditional food, cereal, ready meals and sandwiches"
Huel Powder is sold as a nutritionally complete food that is high in protein and fibre, low in sugar and salt, rich in phytonutrients and containing all 27 essential vitamins and minerals. "We view our biggest competition as as traditional food, cereal, ready meals and sandwiches," McMaster says.
McMaster has more than a decade's experience in the food industry. He started out in an executive role at UK indulgent pudding maker Gü in 2007, a far cry from products based on their nutritional make-up.
"I've always been into nutrition," he says. "After Gü I moved to [UK baby and toddler food business] Ella's Kitchen, which was focused on changing children's eating habits."
He worked at Ella's Kitchen until 2015 as COO and then co-managing director. In January 2015, he became CEO of Life Health Foods UK where he launched Up & Go breakfast drinks into the UK market.
"And then I met Julian [Hearn] when his business was less than two years old."
McMaster took up the CEO role at Huel in 2017 and has overseen supply chain developments and the broadening out of the product range but the D2C method of distributing products has remained the same.
That could be about to change as Huel is considering dipping its toe into retail waters.
"We've just started to look at the retail trade in the UK and US, with the bars and ready-to-drink products in mind. It's looking for the best approach," McMaster says. "With the ready-to-go drinks we are finding a new audience because they offer the ultimate in convenience. It's about giving people options to buy it in an environment that suits them."
But the mix-at-home powders remain Huel's best selling product and McMaster says the D2C approach has helped when it comes to its global ambitions.
"Being direct-to-consumer has meant we could launch faster internationally than FMCG companies as we didn't have to go out and get distribution deals etc," he says.
Huel now employs around 100 people and has moved into new headquarters in Tring, north of London. It has other UK offices in London and Birmingham and bases in Berlin, New York and Los Angeles.
Its manufacturing is done on a third-party basis. "We've got European and American supply chains. To make it ourselves would cost tens of millions," McMaster says.
"But we have a 'pilot plant' equipped at our headquarters in Tring to test things and do trials."
Those tests are likely to result in an even broader product portfolio. "In the long term, as a complete food we could do all sorts of things," McMaster says. "We are just at the very beginning now for complete meals."
McMaster's view is Huel's product offering fits in perfectly with current trends including health and wellness, veganism and people being time-poor.
"It could be people who work in hospitals or firefighters and they have no time," he says and points out the ready-to-drink range makes this even more the case. "We can now provide time-conscious consumers with quality nutrition when they might otherwise reach for an unfulfilling, unsustainable quick-fix," he says.
Other people are just making choices about eating well or on not having a negative impact on the environment, he adds.
"Plant-based is the biggest trend and we overlap with that as well. We tick quite a few boxes. We are super confident in out brand and the category.
"The energy drinks market is worth $100bn and it's a sugary product with no nutritional benefits."