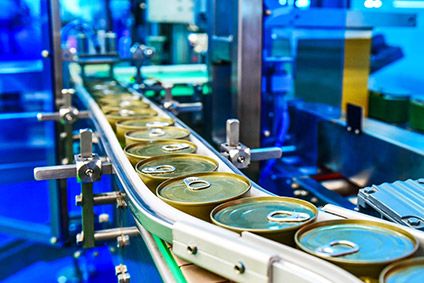 How should food and beverage companies work with artificial intelligence in their manufacturing supply chain? Dean Best speaks to Joe McNamara, director for global IT at Kraft Heinz about the US giant's applications so far – and the future uses for the technology.
just-food: AI is a nascent but fast-evolving area and food and beverage companies are wrestling with different solutions for their manufacturing footprint. How has Kraft Heinz used AI so far?
McNamara: I appreciate that perspective. I was going to say if you're talking with others in the industry in my space and they had been trying to tell you they're realising all the potential and reaping tremendous benefits out of AI that they may not have been entirely honest.
We've had a couple of quick wins with AI. Relative to tomato paste procurement, we're using AI to optimise the replenishment of our tomato paste, based on performance scores from certain suppliers [and] predictive analytics as to where the best quality of goods comes at what time of year from what suppliers. Based on the inventory levels and scores we get from them, we're able to optimise the quality that we receive in turn. The higher quality we receive, the less money we have to spend perhaps on expensive fillers to maintain the quality of a product.
Another opportunity is in condition-based maintenance. We put mounting plates on our production lines, measure for vibrations and have sensors that kick data to a third-party provider that can analyse and say whether a unit is potentially going to fail. We deploy that information to our maintenance tech and instead of having unplanned downtime – which would be extremely expensive for someone like us – we're able to fit it into a normal maintenance window, make the change and all systems are go after that.
just-food: How fully-formed are the AI solutions in place in both of those areas?
McNamara: From an AI perspective, it's all about generating the insight that you can take action on. I don't consider the potential to be fully realised yet because when AI delivers the insight it's not necessarily tied to automation as well. There's still human intervention, human interpretation. Once we reach the panacea of insight being tied into a solution that can automate and implement the correction without failure – without intervention, if you will – that's really where we'll see the maximum benefit. To that end, I don't believe AI is as evolved as it will be certainly in the next four or five years.
just-food: How does Kraft Heinz decide the areas of its manufacturing footprint on which to implement AI?
McNamara: It's a very pragmatic approach. We look at the size of the investment with the potential size of the pay-off. With the tremendous amount we spend on tomato procurement, given one of our largest offerings is ketchup, we know the limited AI investment we will require can have a tremendous pay-off for us at our scale. It's a pragmatic look at the potential loss associated with any inefficiency that we then use the technology to help us address.
just-food: Strategically, where do you think Kraft Heinz will look to increasingly use AI – and why?
McNamara: I hesitate to say where we use AI as the starting point because AI is most effective when it's based off of the right foundation and the correct foundational data sets. So if you have AI sitting on top of a stack that has flawed or inaccurate data, it's going to draw a flawed and inaccurate conclusion, which is just a waste of time and could be counterproductive.
The future is more around how we're actually leveraging AI to standardise and improve the quality of the foundation that the data relies on. We're speaking with some partners to potentially explore how we improve the accuracy of that data foundation. Once we have that foundation set that's when we can really get the most out of AI, generating insights that provide the biggest payback to the business.
And then, once the AI generates the insight, it's that longer-term opportunity about linking to automation, as well. So, once you have the foundation right, AI generating the insight, and then the insight generating an automated action to ensure efficiency, I think that's really what the golden goose is, if you will.
just-food: Can you expand what you mean by "data foundation"?
McNamara: They need to be made more digital. There are some factories, especially internationally, where you still have paper forms, tracking production metrics and the like. While the industry is relatively mature from an ERP [enterprise resource planning] or MES [manufacturing execution system] standpoint, those capabilities don't necessarily exist across the entire production process. In order to get insights out of data, you have to have the data. My challenge is making sure that the industry understands the data is being collected and it's being collected accurately.
just-food: Some working with AI along the food and beverage supply chain talk about the "farm to fork" opportunity of the technology. Where along the chain do you see Kraft Heinz using AI?
McNamara: The operational KPIs that we were prioritising against are OEE [overall equipment effectiveness] in yield and attainment. When I hear that sort of 'farm to fork' interest, there's a bit of marketing flash there, at least when I hear it. To me, it's still traceability at the end of the day and understanding what product is coming from where. We can't effectively do that without that data foundation being entirely accurate and providing the right basis for us to run some of these analytic solutions or advanced capabilities.
We really need to solve – as an industry, I would say – the descriptive analytics issues first, before we start getting into the advanced and predictive analytics. That's not to say we aren't trying the advanced and predictive analytics areas – we are because there is big payback in the near term – but, to really position ourselves best for long-term growth, we need to make sure that foundation is correct.
just-food: Will Kraft Heinz be focusing more on manufacturing efficiencies, rather than potentially using AI to help devise which products to launch to consumers?
McNamara: It's not one or the other but some of those up the supply chain are going to have bigger business benefits to us.
just-food: What initiatives are you working on now?
McNamara: We procure a lot of ingredients from a lot of suppliers, so the momentum that we've built from the [tomato paste] use case can be extended to other areas. We're starting to play around with that. We are absolutely using AI to help us identify and close gaps in the quality of the data. We just got back from a tour to Silicon Valley and MIT where we've got providers that say 'Give us a big data dump. We'll mine it for you, find some insights in it and give you recommendations based on the data that we see.' We see a lot of activity in that space, which we're just starting to poke into more but, again, that's tied to the broader objective of making sure our foundation is solid and accurate.
just-food: Which areas of data?
McNamara: You can think of any sort of foundational manufacturing data set that ties into OEE yield and attainment – planned downtime, unplanned downtime, loss etc. In some cases, it's exposing opportunities we don't even know or are aware of yet. That's sort of the magic of the solution, right? It tells us where there are problems in advance or letting us know where they are. We're also looking at some OCR [optical character recognition] capabilities, as well, especially in invoicing. There's a lot of applications in that space given the US$20bn worth of invoices we manage.
just-food: How has the analysis of the data using AI thrown up something you hadn't thought of already?
McNamara: In some of our European markets, we have a specification or a recipe that we use that turns into a formula for what we manufacture. What the data was in fact telling us is some of that spec data isn't necessarily normalised. Each line item wasn't necessarily uniform and distinct from each other, so we have multiple line items in that recipe of the same material but for different quantities. We could have summarised those and really got to the right normalised foundation from a database standpoint.
just-food: How is Kraft Heinz working with start-ups offering AI solutions?
McNamara: Mining our Historian or PLC-based [programmable logic controller] data to find out what sort of insights they can gather but also a tremendous amount of momentum in our space is making sure we instantiate an effective Big Data platform as well, so we can run advanced analytics off of the right foundation. We're in the process of ingesting a lot of our data and bringing them from the source systems into a common Hadoop platform, if you will, so we can extract insights accordingly.
just-food: What level of cost savings has Kraft Heinz accrued from using AI?
McNamara: I can't share numbers, I'm sorry.
just-food: Even if you don't want to put a figure on it, has Kraft Heinz generated savings?
McNamara: Without question [but] the intention isn't to find these pockets of quick wins. The intention is to establish the right-foundation long term so we can continue to achieve the vision of AI-delivered insights tied into automation to drive benefit to the organisation.
just-food: Often the elephant in the room in discussions on AI and automation is how the technology could impact human jobs. Could there be a danger staff could become redundant?
McNamara: Not that we're seeing in the immediate term. As part of the Silicon Valley tour, we did take a look at robotics. A lot of the challenge with robotics that we see in our industry is the robotics aren't advanced to really handle the complex picking and packing processes we have, not to mention the weights we deal with. We were very surprised to learn that robotic arms on, let's say a mass-market scale, really can't handle that much weight. When you see automation in car factories those are entirely customised and incredibly expensive. The economies of scale are nowhere close in our industry from that perspective.
And then, to get even more flashy, we've had some conversations around exoskeletons, which would sit on top of a human and would allow them to lift more weight. It could help with potentially even replacing some forklift activity as well – but that's really way out in the future.
just-food: In sum, then, there could be over time some impact on jobs but your take is it's not going to decimate the human workforce.
McNamara: I almost hesitate to speculate because that's such a sensitive topic. The business case isn't necessarily there for the type of work we do. It may get there eventually but it's not here now.
just-food: Looking ahead over the next three to five years, where do you see the biggest areas of opportunity in AI for Kraft Heinz? And what are the challenges that lay ahead?
McNamara: Once the foundation is set, the real exciting future in the next year or two is actually enabling the business users, with the tools and skill-sets, to have them mine and play with the data and generate their own AI-enabled solutions that can drive benefits that meet their business objectives. It's already well underway at Kraft Heinz but it's growing like wildfire. I think the self-service enablement of advanced analytics is very big.
What gives me pause is I'd be concerned the industry is lying to itself and suggesting the foundation is all clean and perfect and we just need to slap this whizz-bang into a line and we'll generate even more benefit. There's a sore need for investment on digitising the manufacturing component of the supply chain. Those that are pragmatic in how they implement and extract value from it will be the greatest winners long term.