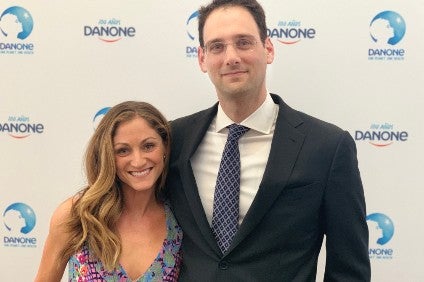 Yumble is a US direct-to-consumer firm selling meals for children that has received investment from Danone. Co-founders Joanna and David Parker talk to Dean Best about the prospects for the business, their optimism for direct-to-consumer and the backing from the French food giant.
The inspiration for Yumble, a US direct-to-consumer firm selling meals for children, came from what co-founder Joanna Parker describes as her "personal pain points" as a mother feeding three kids.
"It felt like I was spending so much time and energy trying to think of meals, come up with new recipes and try different things. And then half the time kids are kids. They would take the food, throw it on the floor and I felt like so much of my work was for nothing," she says. "I was feeling very frustrated."
Eyeing subscription meal-kit firms like Blue Apron and HelloFresh, Parker, a stay-at-home mum, posted a message on a Facebook group for mums in New York to see if other parents were facing similar problems. She offered to cook meals for children a week and deliver the dishes to homes. From that initial test covering ten families, Yumble is now a business with 20 staff, shipping prepared meals to what her husband and fellow co-founder David Parker says is "thousands of customers" in 30 states in the US.
"We're working very hard right now to get national. At the end of summer we're going to be all over the US," Mr Parker says.
The direct-to-consumer business model remains a small part of the overall US grocery market but it is growing – and is attracting the interest of some of the major names in the industry. Some already offer direct-to-consumer services, including Nestle with Nespresso, Unilever with the razor business Dollar Shave Club it acquired in 2016 (and now through Graze, the UK snacks firm snapped up earlier this year) and Kerry Group with meals-for-the-elderly arm Oakhouse Foods in the UK. Manufacturers are eyeing the area closely and some are testing out new ventures, such as Arla Foods, which started selling infant formula in the UK directly to consumers last year.
Yumble has attracted the interest of Danone, which invested in the New York-based business last autumn. "We have looked at many opportunities around childhood nutrition and are excited by the disruption Yumble brings sitting at the intersection of an emerging direct-to-consumer channel, offering fresh, healthy meals that kids love with a relatable brand for millennial parents," Laurent Marcel, the head of Danone investment vehicle Danone Manifesto Ventures, said at the time.
It is, though, early days for direct-to-consumer, with the long-term prospects for the fledgling business model up for debate. "The jury is still out on the subscription model when it comes to food. But niches have the most potential for success," San Francisco-based food sector consultant and analyst Victor Martino says. "I see [prepared meals for children] as having solid niche potential, particularly as the D2C segment is growing. But it all comes down to product quality, execution and the size of the potential market."
Mr Parker is a firm believer in the channel. "The kids niche is particularly good if you get it right," he tells just-food. "It's very tough to crack that code to be able to deliver a product that kids love and that parents are proud of. It's very tough but, if you do that, the retention opportunity is huge."
His wife concurs, pointing to the type of product Yumble is offering. "I always viewed it as a subscription model because serving your children healthy food is a constant problem. You have it so long as you have children in the home. The subscription was just an easy way for parents check it off of their list and not worry about it week to week."
Yumble's menu takes in products including a "multigrain" mac and cheese, chicken pops served on lollipops and a pepperoni pizza bagel. The company outsources its manufacturing and logistics, operating what Mr Parker calls a "capital efficient" business model.
"The strategy that we think is the right strategy here is to leverage the expertise of other manufacturers and other companies that are experts in the operational side so that we don't have to raise $100m to invest in a factory. We can raise a lot less and be able to develop a really fantastic product and really market it very well," he explains.
"We're actually trying to do more and more [co-manufacturing] because we're realising that some manufacturers that do a lot of our products are great but they're just not as efficient at being able to nail the recipe exactly the way that we want it so fast. And so if we're able to be able to leverage the experts who specialise in different types of configurations, who have the equipment to be able to do this at a high quality, like big volume, it's going to be easier."
Mr Parker says Yumble would "probably" look at further investment "in order to expand and really grow as fast as we would like to grow". Both he and his wife praise Danone's involvement so far and insist they have no concerns the multinational could use its investment in Yumble to work out how to launch its own service in the market.
"I've heard other founders express concerns when they were thinking about strategic investors in their earlier days. We think this is such a really great partnership – and we really do think it's a very specialised type of business that you really have to have the consumer insights that we're developing and getting. Danone has been a phenomenal partner in every aspect and very supportive of us and we're not concerned," Mr Parker says.
A specific way in which Danone has worked with Yumble is on the meal supplier's products. "We had an intern for about six months who really kind of dug very deep into our menu, made a lot of analyses and suggestions. We're in the process of revamping a lot of our menu items based on her findings," Mrs Parker says. "We're rolling out a new menu in the next couple of months. They gave us of limits on sodium levels, no added sugar in anything and sat fat is below a certain number."
There is, the Yumble co-founders assert, little competition in the direct-to-consumer channel – "it seems like companies want to focus on the grown-ups first, which is good for us," Mr Parker says – or, for that matter, in bricks-and-mortar retail, where the company is weighing up , even if it would present a different set of challenges.
"We've been asked by a bunch of retailers if we would sell through them and it's exciting," he says. "One of our investors is Jon Sebastiani in Sonoma Brands. They're experts at retail and obviously Danone is experts in retail. That is definitely on the horizon and we're actively exploring that distribution channel as well."
Mrs Parker adds: "We want to nail this one [direct-to-consumer] first."
The short term will also see Yumble focus on building distribution in its domestic market. Asked if international expansion is on Yumble's agenda, Mr Paker says "at some point" and adds: "One of the strategies that we have is to be able to develop this operational model that's flexible. So to be able to get national within months as opposed to years. Some other companies take years to be able to develop these facilities. Because we're partnering with the best-in-class food manufacturers to make our recipes to spec, we're able to actually go farther geographically, faster."
There is, for now, plenty on the Parkers' plate. The aim to be a national player in the US, the changes to recipes, further growth of the product range and offering a wider variety of subscriptions are projects Yumble is working on, while there are plans for marketing that includes a TV campaign.
"Right now it's week-to-week subscriptions. You can get six, 12 or 24 meals per week and you get the box the next week unless you skip or cancel. You can skip or cancel any time," Mr Parker says. "We're in the process of a few other types of subscriptions, including longer subscriptions, even a semester-long subscription because we see that some customers would like to be able to have, say, their school lunches covered, which would mean from a food subscription business that retention is astronomically higher than best-in-class. There's a lot of opportunity for retention for us."
The husband-and-wife team does not disclose Yumble's sales, nor comment on its profitability, but it's clear they are optimistic about the company's future.
"We're very excited about the business opportunity," Mrs Parker says. "It's not a subscription that's for a hobby or a luxury. Parents are really struggling."