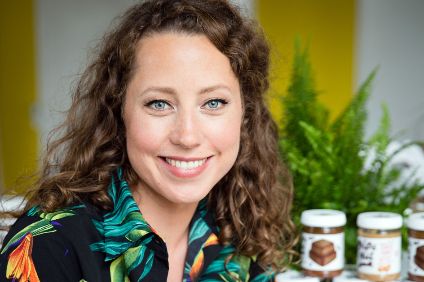 Fledgling UK nut-butter and nut milks supplier Pip & Nut has secured another wave of investment. Dean Best spoke to founder Pippa Murray about her plans for the business, which has major listings in its domestic market and has carved out footholds in a group of selected, overseas territories.
just-food: How did that fresh round investment come about?
Pippa Murray: We've had a number of new pieces of fairly big business. We've just launched into Tesco and we're just scaling through Sainsbury's as well. A lot of the investment is going towards making sure we can deliver upon that – invest in activating those listings as well as we can. We've also got quite a lot of innovation plans we're working on, so making sure we can have an exciting pipeline of products and execute upon those over the next couple of years. A lot of it is investing for the future and building our team as well. We've got quite a lot of work still to do. We're not in every store. In terms of headroom and the things we've got to work on, we're still at the early stages in my view.
just-food: What does investor and UK food entrepreneur Giles Brook bring?
Murray: Giles is brilliant when it comes to strategic and commercial expertise. Given his track-record of the companies he's worked within, he's one of those investors that has been there and done that and sympathetic to the journey of what it's like to scale a food and drink brand. It's a tough sector in which to achieve growth. What's key when you're looking at an investor and someone you're wanting to bring into the company is whether they have relevant experience in the sector, whether they understand what it's like to build a start-up brand and have a challenger mentality where, inevitably, things will go wrong – but go really right as well. They understand the slight scrappiness that comes with that.
just-food: What are the main things you want to achieve in the next 18 months?
Murray: We focus a lot on our core business, so nut butter, where is where we started. A lot will be marketing in order to grow brand awareness, which is still relatively low. It's getting fairly strong in London but outside of London it's still fairly weak. Innovation is also really key – anything that's nuts, that's kind of healthy, that has a better-for-you proposition that already exists in a category works within our product portfolio. We're looking at lots of different areas that we could potentially expand into and we've got some products we're hoping to get out sort of around April next year in a new category we're really excited about. Nuts is where it's all at basically, anything with nuts in it. I'd want the business to become the thought leader and innovator within nut butter, as well as having a number of different products already out in other categories and establish our name in that multi-category world.
just-food: Where does the Pip & Nut brand rank in the UK nut butter category?
Murray: We're not in the top three but we're one of the fastest-growing brands. This year we're looking to grow just under 80%, which is faster than all of our competitors. There's some great brands in our category and it takes a while to get there from a sales perspective. But now, having launched into Tesco, now we're in every major retailer, we've got a great opportunity to maximise that, which is partly why the funding was so important to make sure we go after it properly. Now we've got distribution, make it work really hard.
just-food: Away from the supermarkets, how else are you looking to grow the business in the UK?
Murray: Online is really important to us. We've got a fairly young consumer. Our biggest consumer is the millennial, urbanised crowd. Our fastest-growing channels are our digital channels, so Amazon and Ocado are really important to us, as well as developing our own online platform. All the major mults also now have really great online resources. We've got a really large social-media following so how do we channel those people who are engaging with us online and push them towards our retailers where they can easily purchase. It's a nice loop to be able to develop more. It's still relatively early-stage.
just-food: You have an online shop. A number of brands are looking at direct-to-consumer. Why did you develop it and how much scope could there be for it in your sales mix?
Murray: It's a really small percentage of our business but it is something we're looking at working on. In the next few years it's going to become really important. Direct-to-consumer is great because you gather data. We initially launched it because when we first started out we didn't have any listings so it was a good way of saying to somebody up in Edinburgh they could find us online. Now it's more about being able to target people more cleverly and be able to – though with GDPR you've got to be careful – have access to data on understanding who your customer is. Right now, it's really rather under-developed. We're looking at how we can improve that and make our customer experience through that channel much more enjoyable.
just-food: Looking at the UK nut milks category, it's very competitive. There's some well-established brands. How can Pip & Nut stand apart and carve out a sustainable foothold in the category?
We have a rump of larger nut-milk players who are not perhaps not able to reach that younger consumer
Murray: That's a good question. It's definitely more and more competitive. We're all about making sure we offer a really natural product – and no stabilisers nor any kind of flavourings that you wouldn't recognise was really a key part of it. That's actually quite a difficult thing to do in a product like that. And it was about bringing a bit more of an exciting edge to the category – introducing new flavours and having a more lifestyle brand that appeals to that younger demographic. It's a similar dynamic that was happening in nut butter when we entered that. We have a rump of larger players who are not perhaps not able to reach that younger consumer as well through their brand positioning. We felt a similar story could be had in dairy alts.
The whole dairy alternatives sector is growing very quickly and so that helps in terms of being able to allow more brands to be able to compete within that space and ultimately raise the profile of almond milks and oat milks and make them more of a choice than a need to drink.
just-food: What listings do you have for the nut milks?
Murray: We launched them last summer. Our main retailer is Sainsbury's. We're in Holland & Barrett and online. They're still at a relatively stage and we're still building our listings at the moment.
just-food: What is the price positioning for the range?
Murray: At GBP1.99 (US$2.67). We were really conscious about making it an accessibly-priced product. Alpro would be sitting at around GBP1.60 for an almond milk, Rude Health would be around GBP2 and then other brands – something like a Plenish – would be at around GBP2.50. We felt being under that GBP2 threshold was really important.
just-food: Switching focus to international, what are other markets is the business in?
Murray: Our main markets are Netherlands, Norway and Ireland. Then we have some secondary tier markets like Cyprus and Iceland, which are much smaller and take quite a lot less management. We're in Jumbo, Deen and Plus in the Netherlands. We're in about 1,000 stores in the Netherlands. In Ireland, we've just gone into Tesco, Supervalu and then in Norway we're in Norgesgruppen. In each market, a lead supermarket we then hope to build upon.
We don't want to necessarily go into lots more countries at the moment. It's more important to make sure the current markets really work
We don't want to necessarily go into lots more countries at the moment. I think it's more important to make sure those markets really work, particularly somewhere like the Netherlands, which is a bigger market for peanut butter than the UK, so the opportunity is really big if you activate the brand in the right way. We're keeping our heads down and focusing that that really works, without taking on too much because it's still a relatively small team.
just-food: What complexity has opening international markets added to your business?
Murray: The challenge is it stretches your marketing budget a bit more because you have to be investing in that market, as well as bringing on account managers. The hardest thing about international is finding the right partners you want to work with. We spent a long time, particularly in the Netherlands and Norway, finding the right distributor who would help both sell-in the product to their retailers but know their market to activate the brand out there for us. If you've got the right partner who really understand what you're about as a brand and therefore knows how to sell your brand to retailers and consumers it makes your life a whole lot easier. It has added complexity and is one of the reasons why we've taken on some investment to be able to support those international markets properly.
just-food: Do you have any concerns about Brexit?
Murray: We make our almond milks abroad, as well as our peanut butter. Our almond butters are made in the UK. It has been a challenge for us as we were buying at one point all our products in euros. Now, with Brexit looming, there is some concern around whether tariffs will be put in place but at the moment it still feels like a fair way off before anyone is making any clear decisions or anything gets put down in writing.
At the moment the main thing is making sure we're are watching currency quite closely. Outside of that I know as much as you do. As a business it's natural that you have to think forwards and potentially make plans to potentially bring manufacturing to the UK if it's possible and things like that. It doesn't necessarily concern me but I am aware of it.
just-food: What percentage of Pip & Nut's annual turnover outside the UK?
Murray: A very low amount – under 10%.
just-food: What is the company's annual turnover?
Murray: I'd rather not say but, in terms of retail sales value, we're looking at around … our budget this year is around GBP9m.
just-food: Is the business profitable?
Murray: Not profitable at the moment but we're looking to break even this year. I have a lot of unfinished business still to do. I'm really enjoying running it and seeing how it's evolving. Business isn't done yet. Occasionally you get enquiries from a private-equity perspective but that's not something we're interested in at the moment.