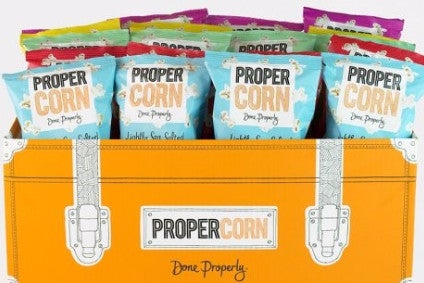 Less than three months after securing investment from the founders of the Innocent Drinks smoothies, UK popcorn maker Propercorn has added to its list of export markets and is also expanding its portfolio. As Propercorn prepares to enter its sixth year of operations, John Shepherd caught up with Propercorn co-founder Ryan Kohn to find out what the next moves ahead for the company might be.
Propercorn co-founders Ryan Kohn and Cassandra Stavrou had resisted many a tempting business proposal before agreeing earlier this year to investment from JamJar Investments, the vehicle of the founders of UK smoothie brand Innocent Drinks, and Piper Private Equity.
Kohn says the pair had been approached "pretty much on a weekly basis" over the past few years by investors eager for a large slice of Propercorn. However, Kohn says he and Stavrou wanted to keep control of the business. "We were not tempted because we are not like that. Some wanted more control with their investment, but we wanted to keep our equity and keep growing our business into a really wonderful worldwide brand," Kohn says.
But, Kohn explains, with the men behind Innocent, it was different. "We've had a really good relationship for quite a while now with the Innocent guys," says Kohn, pointing out the team behind Innocent first expressed an interest in Propercorn "quite a while ago".
Kohn adds: "They never have an appetite to take control of a business." The investment vehicle holds a 25% stake in Propercorn and sees "the value in trying to invest in really good management teams, which Propercorn has", Kohn says.
Under the terms of the deal with JamJar, one of Innocent's founders, Adam Balon, became chairman of Propercorn. "What that means in terms of the difference it makes to our business is there is now a continual focus on our strategy and what decisions need to be made strategically," Kohn says. "Having Adam there gives us more experience and focus."
However, Kohn admits there are likely to be "some tough times" ahead for Propercorn in a competitive market. "The market is challenging in as much as we are still growing and there are some big players who have entered the market," he says. "We still seem to be winning and growing, but we want to make sure that we keep gaining market share. It is a very competitive market we are in. There are a lot of great companies out there, but we are confident in our ability and confident in our product and especially so with our new-found investors."
Propercorn is on course to turn in sales of around GBP15m (US$18.6m) by the end of this year, some 12% of which is the result of international sales. Kohn says the company's goal is for total sales to be "north of GBP30m" by the end of January 2019. "The way we have been running our business is that we simply aim to grow. We are very ambitious. We want to start becoming a household name and be recognised not just in the UK but across Europe. So all of the money we do make we invest back into the business and into our relationships with our key customers."
Propercorn products are sold in around ten countries including the UK, Ireland, Switzerland, the Netherlands, Belgium, Germany and Denmark.
In October, Propercorn added Sweden and Norway to its roster under a deal with Sweden-based confectionery supplier Candyking. Kohn says Propercorn's Nordic push is enough "for now". "We would much rather be in fewer markets and do them properly and really build our brand," he says. "When we feel a market is secure then we can move onto the next one, that's our approach."
Product development is another strayegy Propercorn is following to grow its business. In September, the company launched a half-popped corn snack Crunch Corn.
"One of the reasons we took on the JamJar investment was to really get behind Crunch Corn," Kohn says. "It is a genuine innovation in that it is only made in one place in the world [the US] and we have the exclusive rights for the whole of Europe. It's texture is a bit like a nut, but is nut-free and gluten-free. We now want to solidify that product in the market, while keep winning the popcorn battle and then start focusing on further building our international trade."
Propercorn does not modify its products for international markets, other than the packaging for different languages, but Kohn says that could change in future. "One thing we will consider is whether to introduce country-specific flavours. If there is a really popular flavour in a country, we should think about whether we use and develop that, because there are so many different tastes and cultures. It would be naive to think that what works in the UK can work everywhere."
In terms of product development, the company holds quarterly meetings of its product focus team and forums to look specifically at flavours and innovations in products, but Kohn says Propercorn "won't innovate for the sake of it, unless we genuinely believe that something will be the best in its category or be the best it could be".
"That's why Crunch Corn was interesting for us, because it was completely different and really added some innovation to the nuts category even though it's not a nut. It allows us to play in some slightly different sectors."
In terms of the potential market for new products, Kohn says there is "plenty of headroom in the UK alone". "The crisps market has a penetration in the UK of over 90% while popcorn sits at around 45% – so there is room for us to grow". "On frequency of purchase too, popcorn is still only about a quarter that of crisps," he adds.
Meanwhile, Kohn says Propercorn is continuing work to shed the image of popcorn as being a snack that is largely the preserve of cinema goers. "There is nothing wrong with that, but this is an area where we are really trying to change people's eating habits," says Kohn. "When we launched our brand we were very conscious of trying to make it a snack that was available on the high street, so we launched in the single-serve bags and made sure we got them into lots of quick foodservice places."
Kohn says that has "helped change the perception of popcorn from being something that you have at the cinema or take home and eat in front of the television" but he admits there is still work to do. "Popcorn is so well entrenched in the cinema world that people only think of popcorn as a snack when they go to the cinema."
Nonetheless, Propercorn is trying to expand its presence in cinemas. "At the moment we are in more of the sort of art-house cinemas, where even if they already sell other popcorn, it is nice they can also offer our product as a premium option."
Among the issues the UK food industry is wrestling with at the moment is the country's decision to leave the EU. For companies the size of Propercorn, Brexit could have a profound impact. Kohn says as a business Propercorn wanted the UK to stay in the EU but he is now looking forward.
"We were in the remain campaign as a business," Kohn says. "For example, a weak pound means our customers abroad potentially pushing us on prices. Raw materials will affect us to a certain extent because we do source certain products from the continent. But with things like corn you are paying in advance, so for the next year at least we've already been locked in on our price, but with a weakened pound that might change. But it is what it is, so let's make the best of it. We are now looking for guidance from the government as to what's next and how to make the best of the situation. Of course there are going to be some tensions, but we have to listen to what the country said and I am now focused on taking the next steps forward."