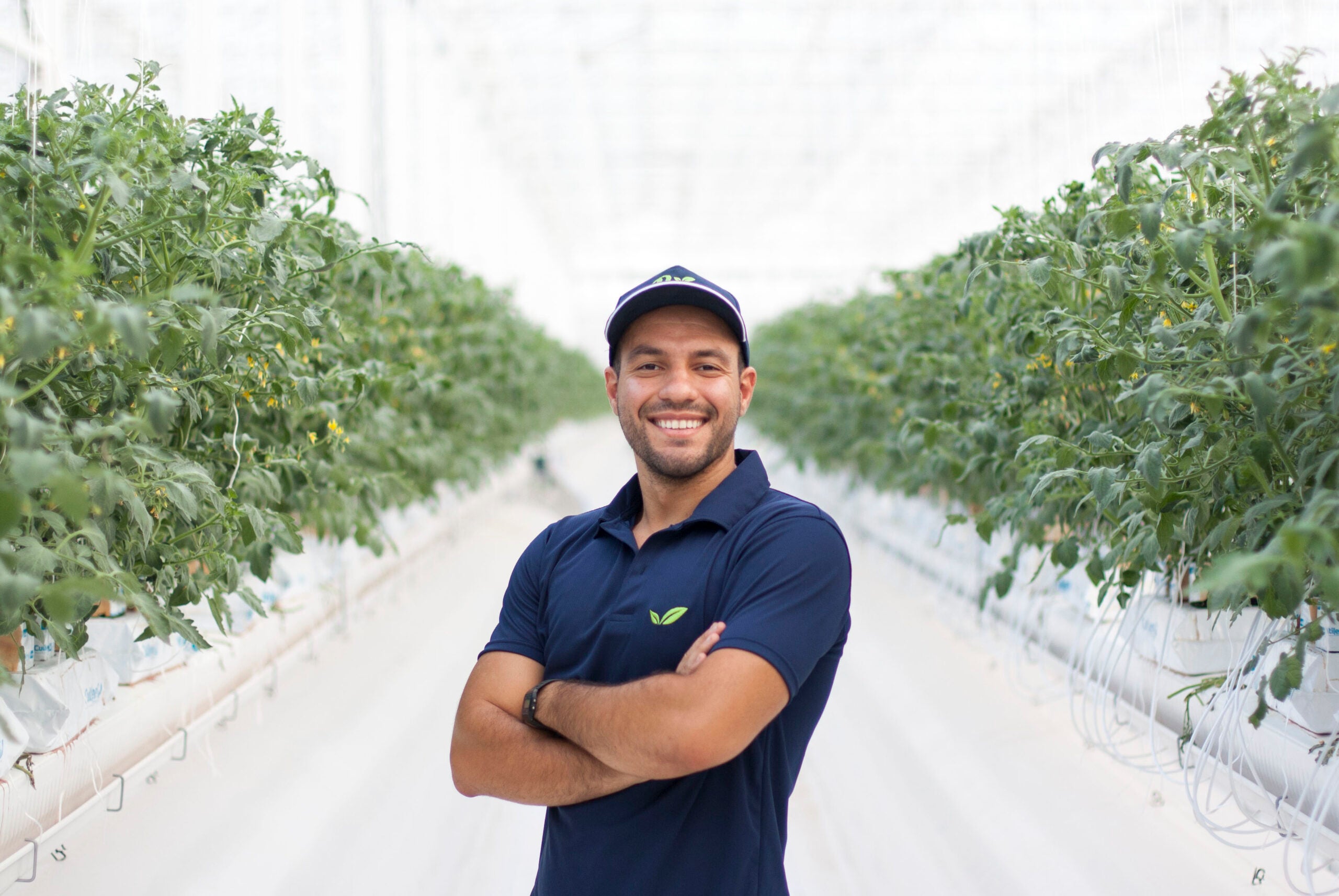 Pure Harvest in Abu Dhabi has ambitious plans to become a regional powerhouse across the Middle East of fruits and vegetables grown in a controlled, indoor environment, as the emirate seeks to reduce reliance on food imports.
Five years since the business was founded in 2016, Pure Harvest has a third facility about to come on stream in the United Arab Emirates, and two more in the pipeline in Saudi Arabia and Kuwait.
But cultivating crops in high-tech greenhouses requires huge funding and Pure Harvest is considering the option of turning to a special purpose acquisition company, or SPAC, a financing method currently being embraced by similar businesses around the world, including AeroFarms in New Jersey and Infarm in Berlin.
Pure Harvest doesn't grow its range of tomatoes (36 different varieties) and strawberries in vertically-stacked indoor units, which tend to use expensive LED artificial lighting, because the company's locations have an abundance of natural sunlight. Its main challenge is to control temperatures that can reach in excess of 50 degrees celsius to make the environment conducive to cultivate fresh produce in a region that imports around 80% of its food.
A year ago, the company secured a multi-stage Series A investment of US$100m from Kuwait-based asset manager Wafra International Investment Company to fund expansion across the six-member Gulf Cooperation Council and to procure climate and humidity-controlling technology.
And shortly after its founding in 2017, Pure Harvest won $4.5m in seed funding for its pilot plant, adding to the $1m the business received the same year for the purchase of land and technology, and for pre-development financing.
Nonetheless, Majed Halawi, the company's vice president for growth, declined to provide more details on the funding to date for Pure Harvest, which was established by chief executive Sky Kurtz, Robert Kupstas and Mahmoud Adi, with employees having the opportunity to hold shares in the business, too.
Halawi says Pure Harvest has had to give up a stake in return for investment, with the largest holding now in the hands of institutional investors, although the founders remain "significant shareholders".
"We raised capital from investors with the promise of growth and a certain valuation and they backed us to be able to grow very rapidly," Halawi says. "The first round of funding was friends and family, and then as we grew, we got more and more institutional investors. However, as we grow, there are other pools of capital that are non-dilutive like loans. There are multiple different funding routes that we are considering, and a SPAC is one of them."
Speaking to Just Food, Halawi discusses some of the other key talking points around the future development of Pure Harvest.
Just Food: How has Covid-19 changed the environment and what sort of backing is the UAE government giving to the sector?
Halawi: What Covid emphasised was the fragility of the global food supply chain, especially in import-dependent regions such as ours. There's definitely been a wake-up call for a lot of parties, and not just government, all the stakeholders – supermarkets, distributors, consumers, traders and growers.
The UAE government is very focused on this – they've gone as far as creating a ministry on future food security. There is significant backing from the government in terms of a policy and strategy. They've also set up an investment office – they've invested in us for instance – they are also backing localisation and R&D efforts. There is a discourse on how we can further liberate this market and how can we further grow the market.
Just Food: What plans does Pure Harvest have outside tomatoes and strawberries?
Halawi: We will be planting leafy greens in the coming weeks so we are just finishing off our leafy greens farm. And then we are in the process of designing and building a new farm that will be growing tomatoes, capsicums, cucumbers, strawberries, blackberries, raspberries and leafy greens.
Our strategy for leafy greens was very much market-driven. We can grow spinach, rocket, large head lettuce, a new variety of leafy greens called teenagers, which are mid-sized. We did a very intensive analysis of the market and we understood that the biggest opportunity for us was in small formats, baby leaf and small heads of lettuce.
We didn't find that herbs would be as lucrative as growing rocket and spinach, which is very novel to be grown in a high-tech environment, especially in this part of the world as there's no local production of these crops.
The herbs market, save for a few special herbs like basil, those can be very lucrative and profitable, however the market is very small. Most of the herb consumption is parsley and coriander, which are very cheap and they can be mass-produced. They are not that interesting for us to compete in.
Just Food: What are the plans for the other farms?
Halawi: We have two, or technically three, farms in the UAE. One was a small-scale pilot farm, which we are now just putting into strawberry production, one that is a commercial-scale farm in tomato production and the third is the leafy green farm.
We are building a farm in Saudi Arabia that is expected to be completed in the third quarter – so August or September – and one in Kuwait that is in the pipeline to be completed in quarter one of next year.
We believe that we can have a couple of other footprints within Saudi Arabia. Our ambitions are quite regional, and to some extent global. We follow the concept of local for local, essentially, we look for building facilities close to large metropolitan areas. The ambition is that we become a cross-regional, multi-cross producer of fruits and vegetables available all year round.
Just Food: Why did Pure Harvest first choose to grow tomatoes?
Halawi: There's a myriad of reasons tomatoes are the best crop to start off with. There's an abundance of history and knowledge in tomato production. Tomatoes have been grown in high-tech and glass greenhouses for years and years, so we were not really taking on much risk in understanding the crop and how well the crop performs. We are working more on climate management and control.
Because of that knowledge and history, it is also a benchmark of how good you are as a farm and a grower. Tomatoes are a highly-consumed crop after onions and potatoes.
And the price point is very linearly dependent to the quality level, you have a very wide range of prices in tomatoes from low cost, low-quality products to super, very high quality, and very expensive. So if you can show you can go up the quality curve you are rewarded linearly.
Just Food: Can these crops be competitive with regular field-grown crops?
Halawi: Absolutely. We compete with the regular farmed products and we beat them on the shelf. I believe vertical farmed crops are unable to compete. Where we compete and where we position ourselves is that we are this local, very high-quality product that is at a discounted price to what comes in from Europe and outside of the market.
We are definitely price-competitive and we've been very pleasantly surprised by the amount of latent demand that exists here and we believe that is the same thesis for the market in other parts of the world that are very import-dependent.
A lot of households traditionally would not go and buy things that are imported and they are high quality and super expensive. So you have to settle for lower quality stuff. We are now offering a solution in the mid-range where a lot of people are trading up because the price premium is very marginal, compared to the quality benefit that you are getting.
We do beat the quality level of goods coming in from the outside, our sweetness levels are even higher.
Just Food: How is Pure Harvest different to vertical farming set-ups?
Halawi: What we find in this market in the Middle East is it doesn't make any sense to be growing using vertical farms because, for one, the consumer is very price-conscious, so you need to be able to compete with your traditional farms and imports etc, and secondly, we have such an abundance of natural light here where, we have nearly twice the amount of light intensity than you find in Europe, so why would you even consider closing that off and using artificial lighting?
We do use LED lights. However, that is not our primary source of light for the crops. We use it for control and steering. For instance, in our strawberry farm, we have LED lights installed but only to supplement the natural light. We have a lot of similarities to a vertical farm in terms of climate management, however, our operating strategy and our set up of the greenhouses and the facilities is different. We find we have a more efficient set-up.
The reason why a lot of vertical farms are growing herbs and microgreens and salad crops is because these are very low light-intensity crops. We are not bounded by that.
Just Food: What are the plans and priorities for Pure Harvest moving forward?
Halawi: Our focus for 2021 is to execute the projects at hand, getting those up and running, and then building out the pipeline for 2022 in terms of securing projects and future growth. But it's also securing capital and fundraising for future growth.
We have started talking to partners in other markets like south-east Asia where we are engaging quite heavily given the proximity and similarity in climate and market dynamics. We are also fundraising a significant amount of capital to be able to grow a lot more aggressively than we have done so far.
Our CEO has publicly stated we are talking to the SPAC market, which is a vehicle now becoming a bit of a trend in going public. We are doubling down on our thesis, on our business model and growing more aggressively, getting smarter and wiser, building more capabilities in-house and setting up strategic partnerships.