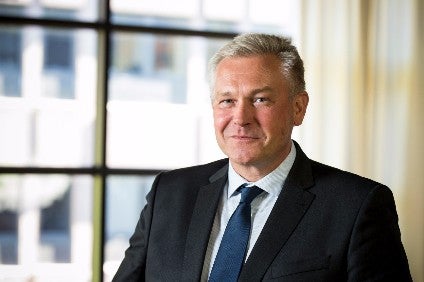 Finland-based Raisio has had a challenging couple of years but, under recently-installed CEO Pekka Kuusniemi, the company has a new strategy for growth. Dean Best found out more.
"Raisio is at the beginning of the new." It is a statement Pekka Kuusniemi, the president and CEO and of the Finland-based food manufacturer, has made a number of times in 2018, as he embarks on reshaping the operations of the Benecol owner – and, he hopes, its performance.
Kuusniemi joined Raisio in November 2017, succeeding Matti Rihko, who had resigned in the January of that year after leading the business for more than a decade.
In the interim, Jarmo Puputti, who had been the managing director of Raisio's agribusiness arm, had been given the CEO role. Puputti had been in the running for the top job on a permanent basis but Raisio plumped for Kuusniemi, who had been the president and CEO of Finland-based bathroom and kitchen supplier Oras Group.
Matti Perkonoja, the chairman of Raisio's board, announcing Kuusniemi's appointment, said Kuusniemi "brings with him substantial leadership experience of an international group and of consumer product sales and marketing. His key task at Raisio will be to promote profitable growth in line with the group's strategy in Finland and abroad".
For his part, Kuusniemi described Raisio as "a valued brand house with a lot of growth potential" and added: "My strong international experience in business and brand development is a good foundation for leading Raisio's growth story."
Kuusniemi took the helm at a business that had seen its sales and underlying profitability come under pressure, with net sales and comparable EBIT down in 2016 (and, ultimately, 2017, too).
The Finn appeared to act quickly, with Raisio offloading its confectionery business, announcing a deal just before Christmas last year.
The writing had seemed to be on the wall for Raisio's presence in confectionery when, in May 2017 under interim CEO Puputti, the company reiterated its focus on "plant-based, healthy and responsible branded products".
Kuusniemi took up the baton six months later. "I joined Raisio at the beginning of November last year, and we started preparations to divest the confectionery business, which I felt that could not be part of Raisio, a future Raisio, while our focus should be in healthy foods," Kuusniemi tells just-food this week from Raisio's HQ in south-west Finland.
During spring this year, the company made three more moves to reshape its business. The business combined two units – Benecol and healthy snacks – to create a "healthy foods" division and it announced a deal to sell its cattle-feed arm (a transaction sealed in November), another measure to focus on healthy foods. Kuusniemi, meanwhile, set up a new corporate vision of "health, heart and Earth".
"I strongly felt that Raisio was operating as a pure holding company. There were four business areas, or units, which all had their own culture. There were no, let's say, joint targets for Raisio's personnel. There were no values available and the whole purpose of Raisio was, in my opinion, somewhat non-existent," Kuusniemi says. "That's why I felt that there was a burning need to fix these things first in order to gain long-term profitability and growth potential."
Raisio has not necessarily found it smooth going in 2018. In April, the company cut its forecast for annual sales after a decline in first-quarter revenues (from continuing operations). And, in December, Raisio lowered its forecast for its 2018 operating profit, pointing to "exceptionally strong changes" in the cost of raw materials.
The company sees its net sales from continuing operations reaching EUR230m (US$263.8m) in 2018 and expects "comparable EBIT for continuing operations" to be 11% of net sales.
Earlier this month, however, Kuusniemi put down a marker, setting sales and comparable EBIT targets for 2021 but, more importantly, announcing a strategy through which he hopes Raisio will hit those goals.
Based on Raisio's continuing operations in 2018, the company is aiming to reach net sales of EUR260m in 2021 and "comparable EBIT" of EUR32m the same year.
The financial targets are part of a new strategy Raisio has drawn up to cover the period from 2019-2021. During that period, Raisio is targeting net sales growth of "higher than 4%" on average each year on an organic basis. It also wants to see comparable EBIT of "higher than 10% of net sales".
Underpinning the strategy are three "key targets", Kuusniemi says. "The first is we are going to make oat-based, value-added products another strong international pillar for Raisio's business. Benecol is already there, very international and a strong pillar for Raisio but we definitely need another one on top of that. Oats is enjoying a strong tailwind. We are masters of oat, from the Finnish perspective, and we are able to capitalise with our value-added, oat-based products also internationally.
"Target number two is we are going to work with fewer, but stronger brands. Our focus is on the international Benecol and Elovena brands. Elovena is the Finnish oat icon, which we are going to internationalise.
"And, third, we are going to make future Raisio a strongly values-led company whose long-term success is enabled by skilled and committed personnel. So these are the three main drivers for our healthy growth strategy for the next three years."
From 1 January, Raisio will be reporting on the performance of its business through two divisions – healthy foods and healthy ingredients. Healthy foods comprises Raisio's stable of consumer-facing brands, including Benecol and Elovena. Healthy ingredients is a business-to-business unit, selling fish feeds, plant stanol ester and grain ingredients. Some 60% of Raisio's sales come from its healthy foods division.
In Benecol, Raisio has a brand sold in almost 30 markets. Under Benecol, the company markets a range of "cholesterol-lowering" products. At present, it is the largest part of Raisio's healthy foods business. Around 30% of the net sales from Raisio's healthy foods division are generated from the sale of Benecol products in the UK, Ireland and Belgium.
Kuusniemi has two aims for Benecol – to take it into new markets and build penetration in existing markets, which involves working with the healthcare sector.
"Two-thirds of loyal Benecol users use Benecol on a daily base because they have got a recommendation from their healthcare professional," Kuusniemi says. "We have established a healthcare professionals organisation in all markets. That's a long-term investment. It's a lot of footwork and meetings to convince healthcare professionals there is also another alternative for their patients to lower their cholesterol levels. We will focus more on that in the future because the impact from a recommendation from a healthcare professional is completely different than campaigning with the trade. That's the main idea with Benecol, and that's how we gain new loyal consumers to Benecol.
"We have also defined we are entering new markets with Benecol, either on our own or then with strategic partnerships."
While Raisio looks to build – but largely consolidate – its Benecol business, it has bolder plans with the, at present, smaller Elovena brand.
Over the course of the 2019-2021 period, Raisio is targeting net sales growth of "higher than 4%" on average on an organic basis each year. Kuusniemi says a "rough rule of thumb" is two-thirds of that growth will come from its plans for "value-added oat products", at the centre of which will be the Elovena brand.
Elovena is sold only in Finland, with products such as breakfast cereal and snacks, but Raisio is looking to take the brand into new markets, although Kuusniemi is coy about exactly where. He does say the company expects to launch Elovena internationally in 2020.
"We have started the introduction and launch process through international markets now. We are preparing the concept, how are we going to launch, and in which market we are going to launch. But it's, of course, easy to guess that we go into those markets where we already have a strong position through Benecol."
In August, Raisio launched another product under the Elovena brand – Elovena Muru Oat Mince – as an alternative to meat. "When we know how big the minced meat market is compared to the plant-based protein market, the potential is huge," Kuusniemi asserts. "The different kind of applications of Muru give us lots of room for growth. Of course, everything has to be prepared very carefully. The products have to be better than the competition. But we believe we have them, so therefore the starting point is very promising."
As well as organic growth, does M&A have a place Raisio's new strategy? Raisio has been a seller of assets, rather than a buyer, in recent years but Kuusniemi says the business is "actively looking" for targets.
"We have an extremely strong balance sheet and, being a cash-rich company, these are questions arising almost daily," Kuusniemi says. "We have set clear criteria for acquisitions and partnerships. They must add value to Raisio, with, for instance, new markets in Europe, new customer base, new healthy food innovations or categories, and/or new customer segments. Raisio has been rather active in the M&A field in the past but none of those acquisitions is left in the portfolio any more. That's why I want to be very careful in where I use the shareholders' money.
He adds: "It is easier to do acquisitions and integrate companies from the northern part of Europe and when it comes to the potential cross-selling of our current portfolio through acquired companies. The focus is clearly on the northern European territory."
Pressed on which categories Raisio could target, Kuusniemi says: "Everything that fits into Raisio's purpose – food for health, heart and earth. If you think what our purpose is, you can already exclude a number of M&A targets but you can also see which could have a strategic fit."
As we move into 2019, when asked to call out the headwinds facing the business, Kuusniemi, unsurprisingly for a European business, cites Brexit. "How Brexit will end up is, of course, a concern for, I believe, all of us. That's probably the biggest macro thing. In general, I'm happy to say that we do have a very good tailwind in regard to all our product areas," he says.
"An uncontrolled result, a hard Brexit, would be very negative for all stakeholders. I believe everybody is sharing the same opinion. We are prepared as well as we can be. On the other hand it is very difficult to prepare when you don't know to which kind of set-up you should prepare."
Could Raisio look to buy businesses in the UK to bolster its presence within the market post-Brexit? "Not before we know what will be the outcome or resolution of Brexit," Kuusniemi says. "But who knows? If there is a functional relationship between European Union and UK, then we do not see any interest in having a bigger foothold in the UK."