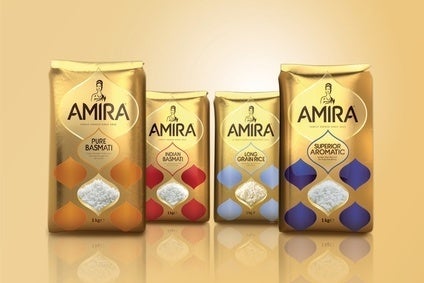 Rice supplier Amira Nature Foods is aiming to grow the global presence of its Amira brand from the group's stronghold in the Indian market. Amira believes it can capitalise on the "white space" represented by branded basmati rice – as well as diversifying into other food categories. Katy Askew spoke to Tobias Strerath, Amira business development director, to learn more.
UAE-based Amira Nature Foods makes 40% of its total revenues in India, the group's single largest market. The company generates sales through industrial, third-party and branded revenue streams.
Internationally, Amira sells rice in over 40 markets, supplying retailers with private-label products. This third-party business, launched in 1978, provides Amira with low-risk market access. And rice is the flagship product in Amira's portfolio, although its range does include spices and snacks.
However, Amira is undergoing something of a strategic evolution. The group has ambitions to develop its international footprint by growing the branded rice category globally. Premium and speciality branded products will provide the foundation for future expansion, business development director Tobias Strerath tells just-food.
The company launched the Amira brand in 2008 and, since then, it has expanded quickly moving into over 25 countries around the world, he says. "We are trying to build Amira into a global food brand. We started really launching the branded business in 2006-8. In 2006 the business was, what US$50-50m? Now we [generate] over half a billion dollars.
"At the moment our biggest markets are India and also the Middle East. We are looking at the US as our next big step for investment. We have already launched the Amira brand in the US. We are selling in four divisions in Costco, we have distribution in Wegmans and we are now launching with about 3,500 independent stores in the New York area."
Elsewhere, the company has targeted growth in Europe. In the UK, Amira operates a sales office and has won listings at the country's largest retailers, including Tesco, Asda, Morrisons and Waitrose.
The company also hopes to expand onto the Continent. Last year, Amira acquired German peer Basmati Rice for an undisclosed sum. Strerath, formerly CEO of the German firm, says the acquisition provides Amira with an "excellent" base to expand in continental Europe.
"In Europe we have a fantastic platform of 26 countries, all connected, very easy in terms of supply chain. Through the recent acquisition of the German company we already have a great situation in Germany, where it is very easy to access France and other European countries."
The acquisition of Basmati Rice provided Amira with customer relationships in Germany's retail sector. "It is fairly difficult as an outside company without any connections. If you have a good brand, [you] try to get a footprint into the German market. It is difficult. It takes time. Amira doesn't want to take a lot of time, so we thought the best idea was to acquire a company in Germany who has an existing distribution network… You have a great platform and are able to use these connections towards your brand building strategy. It is like an entry ticket."
The deal was also beneficial for the German business, which has some "aggressive" expansion targets, Strerath continues. "The German business, when it was acquired, had not invested in branding. Following the acquisition, I am able to invest in branding, I am able to expand my team in order to free up capacity and free up time to venture into the different distribution channels. In Germany you don't have only retail, you have foodservice, which is huge, you have industrial sales which are huge. Foodservice is great for brands as well… this is something that the German company did not have time to concentrate on. It has brought additional resources."
Amira plans to launch its own brand in Germany early next year. "We are launching Amira Organic in Germany in the beginning of 2015, which will be the first line to be launched under the Amira brand. We are going with organic because that is where we see the market going. We are seeing a shift right now, a lot of consumers are much more aware of the health issues. We have trends that we are following with the vegan and vegetarian side. We are seeing a lot of growth there."
The company is launching its organic offering in order to initially establish the brand and provide a good point of difference. Strerath says he expects Amira will then expand its product line up in the market. "It is always nice to have a product that sort of opens the door to the market. Then once you have a brand somewhat established you can start launching the additional lines, like the Gold line for instance, or the spices or the snacks."
Strerath says the US and Europe offer Amira plenty of space to grow. "So far there is only limited retail presence within the Amira group. Of course, you have a fantastic retail presence in India, you have a good retail presence in the UK. And you have Germany with almost every retailer we have. The retail presence is our focus. This is how you successfully build your brand within retail because that is what connects people to your brand."
Rice sales are largely dominated by private label. In order to establish a premium brand, the company is also focused on delivering messages around quality, provenance and the "Amira story", which consists of "100 years of tradition, 100 years of expertise" in rice, Strerath explains.
"We are trying to refocus the consumer on the brand. Because when you talk about brands you talk about emotions. There is no emotion in private label. We want to do what companies have done in the past when building brands… focus on the consumer, educate the consumer, uplift the category."
While Amira is sold at somewhat of a price premium, Strerath says the amount of rice consumers purchase means it is "easy to absorb". The challenge will be to convince consumers to make initial switch to a higher-priced product. This can be achieved "by focusing on the authenticity, by focusing on where the product is coming from, by focusing on the purity which is very important," he argues.
"A lot of products today that are sold at a very low price are blended. They are not pure…. We pride ourselves in saying our product is 100% pure, it is never blended. But of course the product is going to be at the end more expensive than a product that is blended."
Amira could well look to more M&A to expand into new geographies. "I believe that is definitely a possibility. But at the moment we don't have anything to discuss."
As the company does so, it is not tied to a category focus because it is also working to extend the Amira brand into additional sectors, Strerath reveals.
"We have recently developed an organic chocolate line… As you can see Amira is venturing into new areas as well. We would like to position ourselves as a global food company. Not just a commodities business, like rice or spices. Food is something that connects people. It is part of the organic evolution we have."