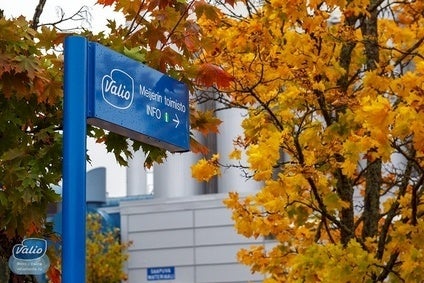 Valio is facing some significant challenges at present. The firm is grappling with the closure of the Russian border as well as the decline in industrial markets for dairy ingredients. As a result, Valio has been forced to cut costs and reduce its headcount. However, the company is also working to identify new growth avenues, such as its lactose-free technology. Katy Askew spoke to Kari Finska, SVP of Russia and eastern markets for Valio, to find out more.
Russia implemented a ban on the import of various agricultural products in response to sanctions introduced over the crisis in Ukraine this summer including on dairy products. Finnish dairy processor Valio found itself among the chief casualties of the trade restrictions and the company is still struggling with the fallout.
The move from Moscow led export revenues generated in Valio's largest overseas market to implode, regional chief Kari Finska tells just-food. "For Valio, the Russian ban is a big issue. [Prior to the introduction of trade restrictions] almost one-fifth of our business was generated in Russia and almost half of our exports were in Russia. This ban took place overnight. It was a very big change. It was so sudden. We had no time to prepare for anything."
As an immediate response, Valio was forced to cut jobs. The company axed a number of workers across four of its production sites and has entered into talks with staff to reduce its workforce at head office.
Profitability tumbled as Valio was forced to divert raw milk into lower-value industrial ingredients rather than the high-margin consumer products that would have been destined for the Russian market. "We changed production from those products which were exported to Russia. We started to make butter and skimmed milk powder," Finska says.
But the industrial market for dairy commodities was itself in decline. "Our business in Russia was in very good shape. The market had already been declining for these industrial products. When the information about this Russian ban came, it became even weaker. For us, it is not a challenge to find other markets for the product, other than Russia, it is a challenge that the [industrial] market is weaker than the Russian market was."
Valio had been a significant force in the Russian dairy sector, with "very strong" consumer brands in the market that had taken "more than 100 years" to build, Finska explains. "We were the market leader in branded cheese and butter. We also have a very good growth base in fresh products like milks and yogurts. Our position in the Russian market was very strong and a strong consumer market position is always more profitable than industrial products. Margins have suffered," he observes.
While the Russian border remains closed to dairy products from the EU, Valio is working to maintain its presence and brand awareness in Russia. The group has been able to keep the Valio brand in front of Russian consumers because it has local sourcing for fresh products such as yoghurt. The company also has a local cheese packing operation near to Moscow.
"We are not totally away from the Russian market," Finska explains. "We can maintain our position – not so strongly – but we can maintain awareness of the Valio brand. We have plans to increase [local] production."
The company is also working to develop market access for lactose-free products, which are not included in the trade ban. "Export of lactose-free products is progressing. Currently we have exported one truckload of lactose-free products to Russia and it went through the customs. The local authorities are analysing data and when it is passed it will get to the local market. We will be able to export lactose-free fresh products to Russia."
Overall, lactose-free ingredients are a "big hope" for Valio, Finska reveals. The company believes there is strong potential for products manufactured using its lactose-free technology. "This is really our focus. In the lactose-free [area] we have two approaches. One is lactose-free ingredients, which are skimmed milk powder and whole milk powder. The other approach is we can licence our technology, how to make these lactose-free products. Dairy companies are quite often interested about the licencing of these technologies and other companies – other fields like chocolate or meat – they are more interested in the ingredient itself."
On consumer brands, Valio is firmly focused on its domestic market and neighbouring countries, such as Sweden, the Baltics, Denmark and – when it reopens – Russia. "We are growing consumer side very very strongly both in Russia and Sweden. But now there has been some drawback in the Russia side," Finska observes.
Valio's "small" scale means that a regional focus enables the group to command a market share that provides it with a competitive advantage where it operates, Finska says. "We focus on a few markets in the consumer business because we are so small. Dairy products are quite often low-margin and categories are highly competitive. To be able to earn money in those categories you must be effective. You have to have a high enough market share. So we can reach high enough market share when we concentrate on certain areas. We have a good position in our market in Finland and neighbouring countries."
The company hopes to strike a "balanced" level of growth between its B2B and B2C interests. "We try to balance growth between the consumer and the industrial side. We try to create as much added-value as possible… We want to build our reputation for quality and traceability so we can maximise our value for our clients in the market where we operate."
While Valio has a regional focus for its consumer business, it is looking further afield in its ingredients unit. The group recently confirmed plans to invest EUR70m (US$87m) to increase its production capacity for whey powder in order to tap into demand growth from markets such as China, where it is used primarily in infant and follow-on formula.
"There are several reasons for this investment. It is back up for if something goes wrong with Russia. It is also so we can further improve the quality of our whey products and make a wider variety of value added when products."
Through diversifying its product base and expanding its geographical footprint in ingredients, Valio believes it can at least partially offset the blow its Russian business has taken in the short term, while preparing for any future issues in the long term.