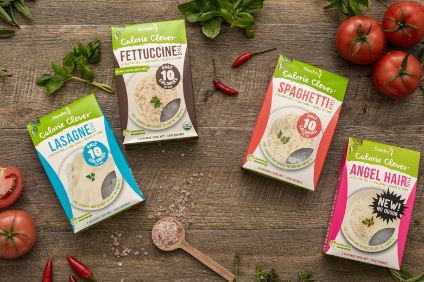 Slendier, a "healthy pasta substitute" from Australia, has become a brand available in 20 countries, touting its better-for-you credentials. The company's shelf-stable range noodles, rice and pasta, based on the Asian plant konjac. Andy Coyne speaks to MD and owner Erica Hughes to find out more about the business.
just-food: You didn't set up the company did you? How did you get involved?
Erica Hughes: That's right. The business has been going since 2007/8. I purchased the brand and business 18 months to two years ago.
just-food: What made you want to do that?
Erica Hughes: My background is in corporate life. I was a senior banking executive. About three years ago my partner was diagnosed with cancer and I took six or seven months off to care for him. Thankfully he has come through it but it was one of those life-changing events where you ask yourself what you want to do with your life and I decided corporate banking probably wasn't where my passions lay. Those were around food, health and wellness.
just-food: So what was your next step?
Erica Hughes: I looked around for opportunities and I came across the Slendier brand. The first thing we noticed was that people who ate Slendier as a replacement for rice and pasta lost weight and kept it off, without feeling hungry or like they were missing out. Then we saw it had broader appeal with people who were managing health-related issues, like diabetes, and those who required specialised eating plans – FODMAP, gluten-free or vegan. I felt the company had good bones, a good beginning. I thought I could turn it into something I wanted it to be.
just-food: So who had set it up?
Erica Hughes: A fellow and his Japanese wife started it. She had put him on a weight loss journey and she remembered the low-calorie noodles she had grown up with in Japan. The husband lost 20 kilos and they saw a business opportunity in it. When I started looking around they were looking to move on as I was looking to move in.
just-food: How do Slendier products help with weight loss?
"The steep learning curve was to do with logistics, suppliers, quality, safety procedures and warehousing and packaging"
Erica Hughes: The main ingredient is konjac, an Asian plant containing large amounts of a soluble fibre called glucomannan, which moves slowly through the digestive tract, leaving people feeling fuller for longer.
just-food: What was your first task after taking the business over?
Erica Hughes: Our emphasis since buying the business has been expanding into a variety of health foods. The Slendier philosophy is really healthy, tasty and convenient food which is quick and easy to prepare. We have moved towards a variety of health food products selling through Coles and Woolworths in Australia and listed in the major supermarkets in New Zealand and in independent stores in the two countries. And the products are now sold in 20 different countries.
just-food: Banking is very different from running a food business. You must have faced some challenges.
Erica Hughes: It has been a journey divided into two halves. The skills I acquired in my corporate career have been very handy and translatable to owning a small business start-up – proper cash flow management, budget management, leading a team of people and marketing and innovation. Those sort of things were skills I had on board. The steep learning curve was to do with logistics, suppliers around the world, quality and safety procedures and warehousing and packaging. I also needed to do a lot of work around strategy and creating a health and wellness company – food trends, health issues etc.
just-food: What sort of expert help did you get? Did you have any mentors?
Erica Hughes: I probably didn't have any at the beginning but I developed a network in that area very quickly. I developed good contacts, especially at the Food Innovation Centre at Monash University in Melbourne. For supply and logistics, I had to get out in the field to do my research. I did a lot of work in Asia for the bank and that was helpful.
just-food: What about product manufacture, presumably that was already in place?
"Over a 20-year period, people have almost forgotten how to eat"
Erica Hughes: Yes it was but we put it out to tender for the existing producers and new ones. I went out to the factories and selected the ones I wanted to work with. We now have manufacturers in Australia, Asia and Europe. The key focus is on the quality of products.
just-food: How did you go about getting listings in new markets?
Erica Hughes: We approached distributors and agents in various markets and attended major food fairs such as SIAL. In the UK we are in Morrisons and we have an online strategy, using Amazon in Europe and another online retailer in Australia.
just-food: I would imagine being a food company based in Australia with global ambitions involves a fair bit of travelling.
Erica Hughes: Yes, generally every year I spend six months in Australia and six months overseas. The bulk of that time is in Europe but it may be a month or so in Asia visiting suppliers and manufacturers.
just-food: Your products touch on a lot of trends. How do you prioritise which trends to target?
Erica Hughes: Health is the overarching dominant trend. Over a 20-year period, people have almost forgotten how to eat. The market is full of processed foods and people making lots of claims. People are very confused and looking for genuinely healthy food. The key trends are free-from – whether that is dairy or gluten – and the whole lifestyle thing – flexitarianism, meat-free Mondays. We are all cutting down the amount of meat we eat. No carbohydrates is a big trend – people looking at lighter, healthier options.
just-food: What about organic?
Erica Hughes: Organic was a trend five to six years ago but people are realising that not all organic products are good. They could be high in fat and sugar. It has waned in Australia.
just-food: What does the future hold for Slendier?
Erica Hughes: There will be a big emphasis on Europe and consolidating in the key markets. We are also looking toward the US and Canadian markets and to do more in the Middle East. And we are looking to extend the product range while keeping the same philosophy, perhaps into Asian-flavour ready meals or chilled.
just-food: Can you give us an idea of the company's sales growth?
Erica Hughes: Since we took over business sales are up 90% in core markets and up 230% in Australian supermarkets.