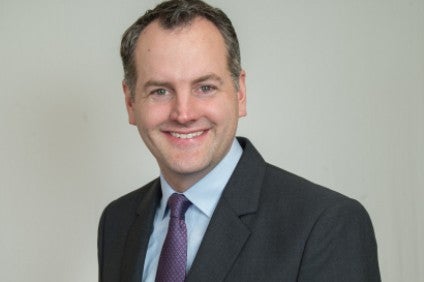 Pladis, the UK-based, international snacks arm of Turkey's Yildiz Holding, is looking to scale up quickly in North America, a market that accounts for just 6% of sales and where it is doing battle with some major competitors. Dean Best spoke to regional CEO Brian Blanchard to find out more about the plans the McVitie's and Godiva owner has for the market.
"We're an underdog and we're proud of that."
To hear Pladis, the multinational, UK-based snacks arm of Turkish conglomerate Yildiz Holding describe itself as an underdog may surprise at first but, when surveying the company's North American business, it is an apt description.
However, the Godiva chocolate and McVitie's biscuits owner has ambitious targets for its business in the continent, even as it does battle with some stiff competition.
"It's to no less than to double our business in the next three to five years. We're a US$250m business today and our ambition is to be a $500m business in that time-frame," Brian Blanchard, the managing director and CEO of Pladis' business in North America, says. "Within, let's call it, a ten-year horizon, our aspiration is to be a $1bn business within North America."
Pladis – formed in 2016 with annual revenues of north of US$5bn – generates around 6% of its sales in North America. Over the next three to five years, Pladis is expecting as much as a quarter of its sales growth to come from the continent.
As part of that push, Pladis, also home to brands such as Carr's crackers and Flipz chocolate-covered pretzels, is looking to grow its presence in Canada and the Caribbean. There is, Blanchard says, by way of example, "a significant amount of opportunity in both premium chocolate and in biscuits in Canada". It is also drawing up plans to build its fledgling presence in Mexico.
However, speaking to just-food, the thrust of Blanchard's expansion plans for Pladis' North American arm focuses on the US, where it has its regional headquarters and two plants.
"Unlike most of our CPG competitors, we a relatively small business in North America, a relatively low share," Blanchard says. "North America is the number one priority market within Pladis, in terms of our priority for growth. We're investing in marketing our brands, we're investing in our people, we're investing in our factories to grow our business and our capabilities. We want to expand market share, we want to expand distribution, we want to improve execution and build our brands."
While Blanchard says Pladis will keep an eye on businesses that could be up for sale or make acquisition targets – "you always have to be evaluating acquisition opportunities – it's foolish not to" – he underlines how the company's "primary focus" will be on trying to achieve those North American sales targets through organic growth.
"If we are to external development activity, it would need to be aligned very tightly with our core strategies – growth in premium chocolate, growth in premium biscuits and then in adjacent snack categories where we would be able to play in that premium tier. To the extent that there was a great opportunity that fit that profile, certainly we would look at it. If things fall outside that and/or the price isn't right, our main focus is going to be on organic."
That strategy of organic growth involves Pladis launching a range of McVitie's products tailored to US tastes, Blanchard says. McVitie's, a brand Yildiz Holding acquired as part of its acquisition of UK-based United Biscuits in 2014, is already on sale in the US, products imported from the Atlantic.
"We currently sell a range in the import aisles of select grocery retailers that's basically the exact same products and pack formats you buy in the UK. That's a relatively limited distribution," Blanchard says. "We're launching a new range of McVitie's items specifically designed for the US market. For example, there's a different standard of identity for chocolate in the US versus Britain, so we are having chocolate as per the US definition in the new range of McVitie's we're introducing for the US. We've changed the pack format to be more in-line with what the US consumers are looking for. The British tend to like the large, roll wraps, a lot of biscuits in there. For American consumers, this product tends to appeal to households with one or two people in it, a smaller number of biscuits per pack is a more appropriate packaging format. We'll be launching that range into what we would call the mainstream cookie aisle beginning in October of this year but then a more substantial way in January next year."
There is no doubting Pladis' ambition, aiming for a greater slice of the US biscuit market, a sector where there are some significant homegrown brands backed by some major names.
Blanchard emphasises how he sees McVitie's fighting it out in the "premium" end of the US biscuit category, away from the likes of Mondelez International's Oreo and more alongside Campbell Soup Co.'s Pepperidge Farm, Germany's Bahlsen and the still Mondelez-backed Lu and Tate's Bake Shop, which the snacks giant only acquired in May.
"Premium and mass-premium cookies have been the fast-growing segment of the cookie category for probably at least the last five years. They're really driving the category growth," Blanchard says. "In the latest year, you're seeing declines in the mass cookie segment, while the value segment has been stable. Premiumisation, not just in cookies but also in chocolate and in most snack categories, is a very strong trend in the US.
"The one thing that's nice about McVitie's is that product experience, whether it's a digestive-type product or whether it's a Hob Nob, really doesn't exist in the US. That texture profile, that taste profile, where it's not quite as a sweet as an Oreo or as a traditional American chocolate-chip cookie. The eat is quite satisfying.
"It's also about whether sources of differentiation we can bring. One of the advantages we have being a European brand is our product is naturally non-GMO. Here in the US, that is an emerging trend where consumers are interested in products that are not made with genetically-modified ingredients."
Another of the five major brands Pladis is pushing in North America – and another acquired by Yildiz, albeit back in 2007 – is Godiva chocolate.
Chocolate, however, is a challenging sector in the US, as exampled by Lindt & Sprungli's recent grumbles about the market and Nestle's decision to quit the business.
And it sounds as though the upmarket Godiva brand has had its challenges trying to gain a foothold the mainstream retail market in the US but Blanchard believes the brand is on the right track.
"Like in biscuits, the premium segment is on the rise," Blanchard says. "We have one of the strongest – if not the strongest brand within premium – in Godiva and what we've really cracked since the creation of Pladis is we have created a portfolio that is right the food-drug-mass consumer products retail market.
"Godiva has sort of dabbled in this on and off over the years but now we really have a focused range, the right price point, the right product configuration and we're making tremendous headway.
"Godiva has been growing strong double-digit growth in consumption this year, we're gaining share, we're outgrowing the category and our major competitors since January 1 of this year. After a period where the Godiva brand was struggling a bit in CPG retail, in the latest 52 weeks we're outgrowing the category as well. We have a tremendous brand and tonnes of opportunity because our share is still relatively low."
Blanchard also talks up the positions Turtles and Flipz have in the US chocolate market and adds: "We feel very good about growth opportunities for us in premium chocolate. We know it's a tough market and they are fierce competitors but we think with the right brands and investing in our brands and a great offering for our retail partners, we have a lot of growth runway ahead of us in that market."
Beyond Pladis' five core brands for the US, it is looking at launching or developing more of its own products. In May, the company announced plans to launch Why Nut, a product that first hit the market in the UK, in the US. Why Nut are "bite-sized snack balls" that Pladis also describes as a "natural source of protein".
The snacks will be initially launched at regional retailers in the New York metro area and on the West Coast, Blanchard says.
"Why Nut was a product initially introduced into the UK in the latter part of last year. We've now commercialised that for the US. Our first production of Why Nut is going to be in about two weeks," Blanchard says. "This is a health-and-wellness-oriented product – nut-based, real nuts and fruits, four simple ingredients – really targeted towards those consumers who want a really healthy and energising snack they can take on the go."
For a company with a product range centred on the more indulgent part of the market, Why Nut is a way for Pladis to try to appeal to consumers looking for healthier snacks, which, a little puzzlingly at least to British ears could, in the US, feature McVitie's.
"McVitie's is a good example. Here in the US, where McVitie's is not a well-defined or well-known, we have an opportunity to extend the portfolio into places that, in a market like the UK, they may not want to go. We have a lot of opportunity to shape that brand in potentially more wellness-oriented directions," Blanchard insists.
"And, then, as as we go to create new brands, the well-being space – or as we call it the 'Snacks 2.0' space – is a focus for new brand development for us."
Blanchard outlines a definition for what Pladis describes as Snacks 2.0 but is coy about the products that could be launched under that concept.
"It's all about understanding what the emerging trends are from a consumer standpoint both in the space of wellness and well-being, health etc. And what are the emerging consumer needs, how will they interact with snacks now and into the future? The whole idea of our Snacks 2.0 programme is to identify those emerging consumer needs that maybe aren't here today but will be here soon," Blanchard says.
"Why Nut was before we formalised this idea around Snacks 2.0 but is a prefect example of the types of items that would be in Snacks 2.0. I don't want to go into any of the details of things are not announced or soon-to-be-announced. That's just an example of the type of thing that would come out of the initiative."
And, intriguingly, Pladis has set up its own in-house incubator. Its "new ventures business unit" will not work with start-ups, instead developing products to be sold under existing brands like McVitie's but also add new brands to its range.
"Our new ventures unit allows us to focus our innovation pipeline on bigger and better NPD within McVitie's, Cake, and brands such as Flipz and Why Nut? Alongside that, the new ventures BU will function as an incubator that enables us to create and grow new brands that are not part of our core business units, and to get these innovations from concept to market much more quickly," Blanchard says.
"The new ventures business unit is an incubator for trialling and growing new brands for the US, UK and Ireland markets. It is supported by our global and regional capabilities so it can be agile and deliver products to market quickly."
For an underdog, Pladis' North American arm is aiming to do more than just nibble at the ankles of its bigger rivals in the region.