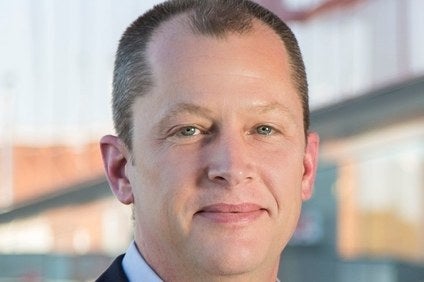 In the first Sustainability Watch of 2015, Dave Stangis, vice president of public affairs and CSR at Campbell Soup Co., speaks with Ben Cooper about the company's approach to sustainability and the recognition it has brought.
Even if it doesn't always ring true, one of the most commonly expressed sentiments heard at awards ceremonies from those receiving plaudits and prizes is that glory and recognition are all very well but it is the work itself that really matters.
Last week, Campbell Soup Co. was included among the Global 100 Most Sustainable Corporations in the World by Corporate Knights for the third year in a row. This is by no means an isolated accolade in the sustainability field for the New Jersey-based food group which has been listed on the Dow Jones Sustainability Index for the last five years.
While Dave Stangis, vice president of public affairs and CSR at Campbell, says the company is "proud" of being recognised in this way, such acknowledgements have an arguably more important practical purpose. He sees them as "critically important" to the company but also "strategically important".
"I think that Campbell has really been seen as one of the leaders in the food sector these last four or five years, based on some of these sustainability recognitions," Stangis tells just-food.
"Not only are these things tools for me to help drive improved disclosure and improved programmatic sustainability strategies across the company, they're really great for employee engagement and awareness. I'm not saying I'm interested in every single award out there, but the ones that I can use for tools for communication, engagement and strategy, I think they're critically important."
Ensuring there are ways "for every one of our employees to really get engaged in the strategy and feel in a real way that they're moving it forward" is one of the critical factors defining Campbell's approach to sustainability, Stangis continues.
The last four or five years have indeed been significant ones for Campbell in terms of sustainability. In 2010, the company unveiled its ten-year CSR Agenda, formulated across four core pillars covering environmental commitments, employee engagement, a commitment to provide its consumers with "nutrition and wellness choices", and a further commitment to "measurably improve the health of young people in our hometown communities".
The quantifiable goals supporting the four pillars include a commitment to reduce energy use by 35% and source 40% of the electricity it uses from renewable or alternative energy sources by 2020; recycle 95% of waste generated globally; deliver 100% of its global packaging from sustainable materials; reduce water use per pound of ingredient by 20%; and make "a positive impact in the lives of 100m youth through our volunteer, community and signature programmes".
Since 2010, water use per tonne of food produced has fallen from 9.06 cubic metres to 8.49 cubic metres. Solid waste recycled has risen from 75.6% to 83.2% since 2010. In 2013, the company reduced water use by 2.6% and greenhouse gas emissions by 4.4% per tonne of food produced.
While its environmental achievements are notable, it is clear from Campbell's sustainability reports and announcements that social initiatives are just as important to the company and it takes a rounded and holistic view of sustainability.
"I do believe the terminology can lead people in certain directions in the US and even at Campbell the word 'sustainability' primarily means the work we do on the environment," Stangis says. "There are people that pay attention to what we do on renewables because we're doing more on renewables than most people in our sector, but there's a different audience paying attention to what we're doing in the community."
However, Stangis stresses that Campbell's sustainability strategy is defined by its commitment to be "a leading corporate citizen", extending to both environmental and social impacts. "One of the things that I wanted to do when I came to Campbell in 2008 was to take the community affairs platform that companies have all over the world and turn it into one that was not only strategic but value-add and measurable," Stangis says.
Arguably Campbell's commitment to human sustainability is epitomised by the inclusion among its four main sustainability pillars of the specific commitment around improving the health of young people. "We took a public commitment to measurably improve the health of young people and that's driven a lot of activity and a lot of conversation and a lot of interest in and outside the company."
Among the many initiatives, Stangis points to the company's attempts to increase access points to healthier food options, not least in Campbell's hometown of Camden, New Jersey. With so much of the population reliant on corner stores rather than major supermarkets for food, access to healthier food options is often restricted. Stangis says Campbell has "worked with corner markets to ramp up healthier products".
In its 2014 Corporate Social Responsibility Report, the company also provides a detailed account of its own sales of better-for-you products. The percentage of sales from products with limited negative nutrients has risen from 57% in 2010 to 62% in 2013. The proportion of sales from products that promote positive nutrition has remained more or less constant at around 35%, while the percentage of sales from healthy products rose from 31% in 2010 to 34% in 2013.
Stangis points out the work on providing "healthy choices" has been "going on for decades", and the growth in such products may have been more pronounced before 2010. However, given that some of these metrics appear to have plateaued in recent years, one might wonder whether an optimal balance between mainstream and healthier options has been reached. Stangis does not view it in those terms.
"The product portfolio evolves continuously," he says. "We have new acquisitions and new launches. I think that Campbell will evolve as our consumers evolve to provide choices, whether those are healthy, indulgent, flavourful, time of day, and you're going to see the product portfolio really reflect the consumers. I don't know that there's a right or wrong, other than being right or wrong for the consumer."
Indeed, Stangis points out that adopting an approach which "makes sense to the consumer" has been one of the defining precepts of Campbell's sustainability strategy.