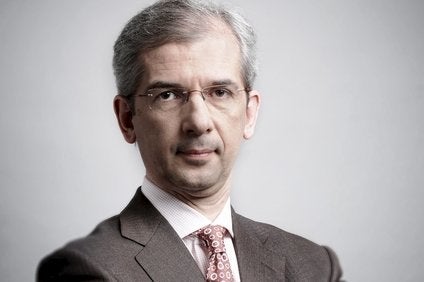 Large publicly-owned multinationals, such as Unilever and PepsiCo, are widely praised for showing leadership in corporate sustainability. In this month's Sustainability Watch, Roberto Ciati, sustainability director at Italian pasta, sauces and baked goods group Barilla, discusses how private, family ownership can inform a progressive approach to sustainability.
The question of whether private or public ownership offers the optimal environment for a coherent and effective approach to corporate sustainability has been much discussed.
At the World Economic Forum in January, PepsiCo CEO Indra Nooyi railed at the short-term horizons of the investment community, suggesting it inhibited companies from taking a truly long-term view. Private equity groups, on the other hand, have often been criticised for looking only as far as their exit strategy.
With revenues of EUR3.5bn (US$4.46bn), Italian family-owned pasta, sauces and baked goods group Barilla is dwarfed by the likes of Nestle and PepsiCo. However, as a branded company operating from some 30 production sites and across 100 countries, it faces many of the same sustainability challenges as the global giants. And, like progressive publicly-owned multinationals, it has placed a sustainable growth ethos at the core of its business strategy.
Roberto Ciati, Barilla's sustainability director, stresses the link between family ownership, and the retained association with Barilla's heritage which that represents, and the company's 'Good for you, good for the planet' sustainability strategy, launched last year.
"The company's central strategy, combining growth and sustainability, is clearly linked to a vision of the Barilla family, which the management has translated into operational plans," Ciati tells just-food.
If short-termism is the enemy, as Nooyi posits, private ownership may offer advantages with regard to sustainability, and Barilla stresses how it takes a long-term view of business development.
Moreover, Ciati believes its approach to sustainability can be charted back to its historic emphasis on quality. "Being a family-owned company has helped to shape the roots and historical evolution of what 'quality' means for Barilla," he says. The defining aspects of quality have evolved over the years, Ciati continues, from providing good-tasting food made from high-quality ingredients to incorporating factors such as the environmental and human impacts in sourcing raw materials and nutritional information. Today, these factors represent "the other fundamental base of our way of doing business", Ciati insists.
As well as launching the 'Good for you, good for the planet' strategy, Barilla also opted last year to report on sustainability at the same time as publishing its annual financial report, another decision that suggests a progressive approach to corporate sustainability.
Another facet of the strategy which arguably places it among the progressives is the integration of human and environmental factors, represented most vividly by its 'Double Pyramid' concept, which places a pyramid representing products' nutritional value alongside an inverted pyramid denoting environmental impact.
Of course, a sustainability strategy requires more than a pleasing graphic and Ciati stresses the Double Pyramid "is a real operational framework, not a mere a theoretical model".
He continues: "On the one hand, we plan yearly actions to reduce salt, fat, saturated fats and adding wholegrain and fibres to existing products; on the other, we launch new products taking into account a set of nutritional guidelines derived from international standards. Secondly, the Double Pyramid is also a lifestyle model, highlighting combinations of a very broad variety of food products, suggesting quantity and frequency for a balanced diet."
Barilla has a raft of sustainability targets for 2020, one of which is to double the volume of products at the base of the Double Pyramid. Around 90% of the company's products are in the lower part of the environmental pyramid, and Barilla has pledged that 100% of its products will be at the bottom of the environmental pyramid by 2020. It has also committed to reduce its CO2 emissions and water use per ton of finished product, from its own production processes, by 30% against a 2010 baseline.
Proactive stakeholder engagement is a key element in the strategies of leading multinationals, and is also a "key pillar" for Barilla, says Ciati. "Listening to different points of views, ideas and criticism is very useful to improve our sustainability path. We believe that only by combining different cultures, experiences and expectations we can build a more robust strategy."
He stresses the company's current approach to stakeholder engagement owes much to how it has engaged with suppliers and consumers over the generations. Since its foundation as a small shop in Parma in 1877, the Barilla family has "maintained strong ties with stakeholders in the local territory," Ciati says, "ensuring trusting relationships by delivering quality products throughout the decades". He adds: "The Barilla family is still based in Parma and is proud of its local agricultural roots. These factors help in the stakeholder engagement process."
Community investment and corporate philanthropy also feature prominently in the Barilla sustainability strategy. "Social commitment is an important component of our way of doing business," Ciati says, citing Barilla's charitable intervention after the earthquake in Emilia Romagna in 2012 and its "strong relationships" with food banks such as Banco Alimentare in Italy and Feeding America in US.
With regard to corporate philanthropy, private companies are in a markedly different position from their publicly-traded counterparts. The latter are custodians of shareholders' investments. There may be scope for some philanthropy for reputational advancement but in general community investment needs to be strongly allied and integrated with the business interest. In some ways, this has fostered a more coherent and credible concept of corporate sustainability, represented by ideas such as Nestle's Creating Shared Value.
A private family-owned company, however, can adopt a freer approach to corporate giving, Ciati says. "Being a family-owned company often allows for a more flexible approach to corporate philanthropy."
A greater emphasis on philanthropy could therefore be said to be something of a throwback to a bygone era, that of the philanthropic entrepreneurs who founded the companies that have evolved into the global giants of today.
Does a family-owned company retain more of that ethos by dint of its ownership structure? Quite possibly it does. It is interesting to note that when asked about Barilla's approach to corporate philanthropy, Ciati draws on the words of Pietro Barilla, the father of the company's present owners who died in 1993 and whose ideals "still inspire the family and the company".
Pietro Barilla said: "A company is not only represented by its performance, its good management, or its standing in the economic world. A company needs a central pillar of moral values that brings together the best everyone has to offer: righteousness, a sense of responsibility, a sense of duty, respect for others. All of this constitutes the main pillar, the one that represents the company's real assets."
Terms such as "duty" and "righteousness" do not appear in the modern lexicon of corporate sustainability, and this quote also speaks to a certain moral subjectivity which would be more difficult for the CEO of a public company to espouse on behalf of a diverse ownership.
A private company may be more free to reflect its own morality but there is no reason why it cannot at the same time embody ideas such as creating shared value. Indeed, Barilla's current owners would argue that Pietro Barilla's ideals, even if his words seem old-fashioned, speak to the broader interpretation of value which is central to the most forward-thinking sustainability strategies.