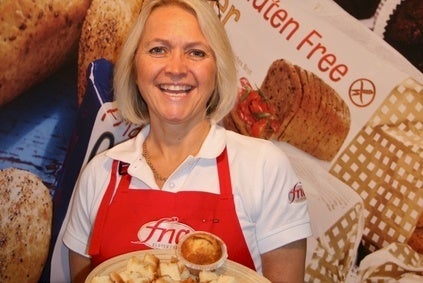 Scandinavian free-from firm Fria entered Ireland last month, its 11th European market since it launched in 1996, another example of the growth in demand for gluten-, lactose- and dairy-free products. just-food's Hannah Abdulla caught up with Fria CEO Jeanine Holmgren about the latest trends in the sector and how innovation is a key factor to staying ahead in this sector.
just-food: Tell me about Fria, how did it come about?
Holmgren: Fria was founded in 1996 by Lena and Gunnar Adås. It's still family-owned, although Lena and Gunnar are no longer on the operational side of Fria. Our range comprises 29 products. All breads, buns, muffins and cakes are free from gluten, milk and lactose and are baked in a dedicated gluten-free and dairy-free environment. Our headquarters are in Västra Frölunda in Gothenburg where we employ 40 people. We have a presence in Sweden, Norway, Denmark, Finland, The Netherlands, Belgium, Germany, Ireland, Italy, Switzerland the United Kingdom. In 2012 we posted an annual turnover of SEK83.5m (US$12m) and in 2013, this increased to SEK97.5m.
just-food: Do you think people now know enough about gluten-free and why the sector exists?
Holmgren: Coeliac disease is often overlooked due to a lack of knowledge and education and the complexity of the symptoms. It's essential for us to carry out research and development across the globe to gain the latest knowledge and communicate this further. We strive to educate and inform consumers and medical professionals: doctors, nurses and dieticians on gluten-free.
just-food: What are consumers' key requirements for free-from food – and are they being met?
Holmgren: The demand for and availability of free-from products is growing, which is good, as it raises awareness and raises the bar on quality both in taste and texture. At Fria we listen to our consumers and have subsequently extended our range to include two varieties of pizza free from gluten, milk and lactose, one of which is vegan.
just-food: Do you find consumer requirements for gluten-free vary from one market to the next?
Holmgren: The trend that's the same across Europe is a consumer's desire to find quality gluten-free bakery products that are good in taste and texture as well as having a high nutritional value. Products should be as close to normal bread as possible, both in look and taste. Tastes vary slightly from country to country, for instance in Italy, our white mini baguette rolls and apple muffins are very popular, whilst in the UK our two most popular products are the cinnamon buns and the Kladdkaka (Swedish for chocolate brownie cake). The Fiber, an unsweetened fibre rich loaf and the Grova, a brown sliced loaf enriched with linseeds and caraway seeds are very popular in the UK.
just-food: In what ways has the gluten-free sector developed since you first started out?
Holmgren: When we started in 1996, the gluten-free bakery products on offer were scarce in supermarkets in Sweden and were mostly available in pharmacies. We're now in all major supermarkets in Sweden and widely available in Norway, Denmark and Finland in the freezer section. If you travel to Belgium and The Netherlands a variety of Fria breads can be found in both supermarket chains and health food stores. In Italy, you'll find the biggest variety of gluten-free breads including us, in pharmacies. Our products are widely available online and though a number of independent stores in the UK and Ireland. We have seen an increase in people who don't have coeliac disease who choose to eat our products for diet reasons or simply because they like the taste.
just-food: What trends do you see emerging in the sector as a whole?
Holmgren: Our products are freshly baked, frozen, shipped and stored in display freezers. They are sold frozen which means the bread stays fresh much longer than bread that's sold fresh and is often already close to its sell-by date by the time the consumer buys it. In the Nordic countries, gluten-free consumers go straight to the supermarket freezer section for their bakery products. In some other countries this may not be the norm, however, we believe the trend is changing. In discussion with consumers in our new markets, the frozen element appeals to them because they can defrost at their convenience and cut down on waste and many say they store their gluten free breads in the freezer anyway.
just-food: What would you say are the biggest challenges facing you today?
Holmgren: As a any small and medium-sized business our main challenge is that we're competing against larger companies with bigger resources, but then again we can work on a more personal level as a comparatively small family-owned company. The fast growing increase in demand for coeliac and food allergy friendly food is a good thing for us and our competitors, as far as I'm concerned. It raises awareness which is a good thing for the sector as a whole.
just-food: There are more mainstream firms entering and the category. Does that pose a threat to your business?
Holmgren: I think it's good for the whole free-from sector that major brands as well as smaller independent brands enter into free-from, as it offers more suitable food choices for coeliacs and people with food allergies. The bigger the awareness, the bigger the consumer demand is for quality products.
just-food: Private label is also growing in the free-from sector. Given Fria's offering is branded, is the growth of private label offerings in this sector a problem for your business? Do you see opportunities in supplying private-label?
Holmgren: Private label is a sign the big chains are interested and see a business opportunity in gluten free. I don't see this as a big threat to our business. We will continue our work with Fria as the company who cares about coeliacs and producing healthy free from food under our own brand.
just-food: What's next for Fria? Where do you see the firm in the near future?
Holmgren: Our main aim is to make Fria available to the widest number of consumers. The more seminars we attend, professional links we forge and research we engage in, the more knowledge of coeliac disease will increase. The supply and demand for free-from products has grown enormously in recent years and it's our mission to provide the best range possible for those with coeliac disease or food intolerances. We are working on breaking in to a number of markets, but this is not something we can discuss at present.