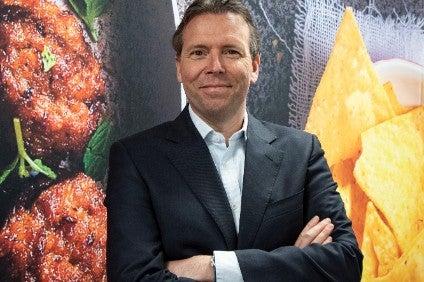 With more than a year gone by since Vivera committed to a plant-based future, the Dutch firm has set a notable target to triple sales as it seeks to build on its self-proclaimed status as the third-largest meat-alternative player in Europe.
Vivera has the capacity to hit that sales target, judging by the current 25-30% annual growth rates revealed by CEO Willem van Weede in an interview with just-food, and with a portfolio taking in plant-derived alternatives to beef, pork, poultry and fish. The company's products number in the region of 400 to 500 SKUs.
The branded and private-label supplier is a predominately retail-centric business but it is planning to make inroads in the out-of-home market, with an imminent agreement with a "significant" quick-service restaurant chain likely to increase the channel's proportion of sales from an existing circa 10%. Eventually, van Weede says, foodservice will outpace the retail market.
Vivera, founded in 1990, said goodbye to its Encko meat business in the summer of last year, when it sold the operations to the Netherlands' Van Loon Group to pursue a new strategy centred on the remaining plant-based segment. Meat-alternative products are expected to bring in EUR85m (US$103.3m) to the company's coffers in 2020 and around EUR100m next year, beyond which it is aiming for a turnover in the region of EUR250-300m by 2025.
"And that's purely based on a European strategy with some export activities but with a strong European focus," van Weede says.
For the time being, Vivera plans to solidify its presence in Europe, currently numbering around 25-plus countries, the largest of which are the UK, Germany and the Netherlands. But there's an outlier in the current set-up, Brazil, where the CEO says the company formed a distribution agreement around a year ago with meat giant BRF.
"Our branded presence is growing at a very high pace, with the UK the prime market for us," van Weede tells just-food. "We are proud to be the second player to branded in the UK, we are the market leader in the Netherlands, and we are one of the fastest-growing bigger brands in the German market. We feel it's very wise to focus on these bigger markets and make sure that we have a very strong connection with consumers."
Standing in the way of Vivera's ambitions is competition as more start-ups enter the category and established food manufacturers seek to grab a share of the plant-based market, but van Weede believes there's room for everybody with no risk of over-saturation as it stands.
That assumption is based on the general trend currently in play, where some consumers are opting for an entirely meat-free diet while a larger proportion is trying to reduce their animal-protein consumption, both amplified by health concerns during the pandemic. And then there are the environmental issues around land and water usage, and greenhouse-gas emissions from rearing cattle.
At an investor event this week, van Weede said "the youngest generation is translating the concerns about these topics and their awareness into actual behaviour. It's incredible how many programmes on Netflix, or in newspapers and radio programmes there are about this category. There's so much awareness on what it does for us. And there's a snowball effect with items also going vegan and being very advert."
In the interview with just-food, he continues on the theme. "I still think there's a lot of space for growth in the market, which is probably around 2-3% of total meat. Meat is stagnant or declining. If meat-free continues to grow with the pace we have, plant-based could be one-third or half of the meat consumption and offering.
"Our focus should be: what is the growth potential? How can we collectively as an industry make sure that that offering is so attractive that there's a variety of brands to choose from, different flavours, tastes and products?"
Nevertheless, when pressed on the issue of market saturation, potentially leading to consolidation through M&A, the CEO admitted "that will definitely happen in the coming years".
"It starts on the market side: how much can consumers digest and what's the width of offering that makes sense for consumers and retailers?" he adds.
As environmental concerns around meat consumption and the perceived solution by embracing alternative proteins abound, some observers have suggested the growing appetite for plant-based diets could eventually lead to stress on resources in terms of cultivating base ingredients such as soy and pea.
However, van Weede is "100% convinced" that will not be the case in a view delivered with passion.
"The efficiency of plant-based protein deliverance is so much higher, so much bigger. And, apart from the health impact and the environmental impact on CO2 emissions, water usage and land usage related to livestock and dairy, the impact of 100% conversion from animal to plant-based protein is immense. It's not superficial, it's not even comparable. It's probably one of the biggest positive impacts you can have on the environment," he stresses.
"For red meat, the comparison is something like one to ten, for the whiter meat source it's one to four … If we all start growing soy, pea, plant-based ingredients for this food you don't need to feed cows, you don't need to deforest the Amazon. We are occupying land five or six times the surface we need because we are feeding ourselves on animal protein."
There are also widespread murmurings around the perceived health benefits of plant-based meat, with some critics arguing there are brands on the market that are over-processed and high in salt and fat.
The Vivera CEO insists that is not so with the company's own products but concedes, indirectly, that improvements are there to be made across all brands and manufacturers. He also points out how people are quick to forget that, for any failings plant-based products might have, they are overshadowed by the harm on the planet and the impact on health from animal-based diets.
"There are three drivers for people to be part of this category and health is the most important one. Maybe others are animal welfare and the environment and they are extremely important, and it is values that brands like ours should understand and take a position on," van Weede counters. "Ourselves and others are making great progress."
He continues: "When we are talking about fats in products – non-saturated versus the saturated fats – many of the products, and definitely our own products, they have a much better health comparison. And then we talk about salt, which is also something where we have a very strong focus on, continuously reducing salt levels and getting the taste profiles which consumers prefer.
"But sometimes it's forgotten that many of the meat products have even much worse profiles than meat-alternatives. The answer in short is, yes, we should focus on it, yes there are areas for improvement, and that is being addressed with all the expertise and experience. There is progression, but as such, the category is already very healthy for people."
With health considerations front-and-centre of consumers' minds during the Covid pandemic, Vivera has seen increased appetite for plant-based alternatives to meat but van Weede said it is difficult to quantify exactly how much of that additional demand has been driven by the crisis. However, the category was already expanding before the disease emerged and will continue to do so, he says. Generally speaking, alternatives to white meat such as chicken are "growing a little bit faster than other animal substitutes".
He adds: "We are extremely lucky we are in this business because it is strongly growing but it's very difficult to read how much growth is driven by Covid and how much is just the change of consciousness. We are also convinced when we speak with consumers that the Covid crisis makes people very aware of their health, which drives them to healthy alternatives like plant-based food instead of meat. And it makes people conscious of the dangers of the animal food chain."
Vivera is taking a punt on alternatives to sausages, where it already has a number of products on the market and a category where Weede sees a "lot of opportunity" whether it be fresh or pre-cooked. It has a new sausage product in the pipeline, along with a follow-up to the company's meat-free steaks. The rest of its portfolio consists of plant-based kebabs, bacon, mince, burgers and fish fillets.
So what are the challenges ahead for Vivera, the largest animal-free manufacturer in the Netherlands?
"We need to continue pushing in a very mainstream segment and being 30-40% of the market in, say, ten to 15 years," was van Weede's response. "A lot of innovation is needed for that, along with very strong cooperation with retailers, making sure that we continue having a wide range of product offerings, and communicating with consumers."
It is also seeing growth in the private-label part of the business, but van Weede is adamant the "market is primarily a brand-driven market" that is steps ahead of own label.
"We have been quite selective in what we do with private label, which is significant but we are not being explicit on how much it is. It is partnerships that we value as long-term partners. Private label will grow – it might be a little bit behind in some cases but eventually the value of the category and the growth in the category is going to be from the branded players."
Vivera has the resources to beef up capacity to meet rising demand if necessary, while it also has the financial backing of Netherlands-based private-equity firm Gilde, which, according to the CEO, is a "majority" shareholder in the business.
Its Encko plant is sitting idle and can be brought on-stream to add to Vivera's three manufacturing sites in Holten, Rijssen and Vriezeveen. The Holten facility is earmarked for a EUR30m investment over the next three years to raise output from 17 million kilos per annum to 45 million by 2025, the company revealed in September.
The future generally looks bright, not only for Vivera but for other manufacturers in the plant-protein space too. The underlying growth dynamics are there, with the health implications from Covid-19 largely expected to give an added boost to the category going forward. Key for Vivera, is whether the company can continue to stand its own in an ever-expanding market to achieve its sales target.