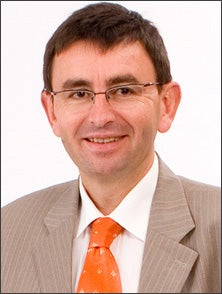 After a turbulent 18 months in France's poultry industry, the future is looking brighter for some in the sector. LDC, France's largest poultry processor is one of the most upbeat. This week, the company revealed plans to buy smaller rival Groupe Arrivé and forecast a successful 12 months for the business. In this month's just-food interview, LDC chief executive Denis Lambert outlines his grounds for optimism.
With raw material costs volatile and consumer demand fluctuating, France's poultry sector has been a tough place in which to operate over the last 12 to 18 months.
French consumers, faced with the economic downturn and rising food prices, started to switch to own-label products and cut down on eating out.
The poultry sector was among the categories most affected by rising prices. French government stats published last autumn showed that prices had jumped 12.5% in a year as processors battled higher feed costs.
Inevitably, consumption fell and poultry firms took a hit. Poultry group Doux closed two of its French sites with the less of 640 jobs. And one look at the numbers posted in the second half of 2008 by the likes of processors LDC and Duc suggested that profits there were also being impacted.
However, for some, the future is now looking brighter. A recovery in poultry consumption in France, boosted by robust demand over Christmas and the New Year, has given some in the sector grounds for optimism. And, among the most upbeat, is LDC, France's largest poultry processor.
This week, LDC issued its annual results for the 2008/09 fiscal year. LDC saw its profits tumble during the first half of its fiscal year but said on Wednesday (27 May) that a recovery in consumption had led to a "significant improvement" in earnings in the second half of the year. Turnover climbed 6.5% as LDC's sales volumes in France improved during the second half.
Looking to the year ahead, LDC forecast a "successful" 12 months for the business, backed by "buoyant" consumption at home and abroad. A key reason for LDC's confidence emerged this week when it announced a deal to buy Groupe Arrivé, France's fourth-largest poultry firm. In March,  Arrivé started to seek investment to raise funds for the business and, although the deal remains subject to regulatory approval, LDC appears to have won the race. Denis Lambert, the chief executive of LDC, tells just-food that the acquisition of Arrivé means the group will boost its business in key product categories.
LDC moved for Arrivé for "the quality of its product mix", Lambert says, pointing to the firm's processed products, and the Fermier chicken brand, which carries the French government-backed "red label" signifying that the product has met stringent criteria. LDC's production footprint will also increase. "Indeed, we lack of production capacity for processed products at LDC," Lambert says.
The combined turnover of the enlarged group would stand at around EUR2.4bn (US$3.39bn), Lambert says. Doux, which is France's second-largest poultry group, has revenues of EUR1.7bn. Any deal that brings together two of the top five firms in a sector often leads to rationalisation but Lambert insists that the planned takeover would not lead to job cuts. "There will be no impact on employment as we want to develop the business," he maintains.
Founded in 1968, LDC has 31 production sites in France. Domestic poultry sales still account for over 60% of LDC's turnover but, upon announcing the Arrivé deal, LDC trumpeted the "change in dimension" that the acquisition would bring to the business.
Nevertheless, Lambert points to another deal, struck in 2001, that took LDC closer to its agricultural base. When asked if there had been a deal similar in size to the  Arrivé takeover in LDC's history, Lambert says simply: "Yes, in 2001, the takeover of the Huttepain group and EPC."
The acquisition of those businesses gave LDC a slew of assets further up the supply chain including poultry production, cereal collection and feed manufacturing. The upstream business makes up just over 9% of LDC's revenues and, while it remains crucial to the group's operations, another part of the business has nudged ahead in terms of turnover.
In the last decade, France's largest poultry firm has spread its wings into Spain and Poland. A series of deals since 1999 has created an international operation that now represents almost a tenth of the business.
Economic problems in Spain has also weighed on poultry consumption south of the Pyreenes, while one of LDC's sites in Poland was affected by fire. LDC's international sales fell 10.4% in its last fiscal year but the group has been busy revamping its operations outside France. The businesses tuned a profit during the second half of the year, swinging back from a loss during the first half.
Central to LDC's ambitions overseas is its continued expansion in Poland, where it is the largest poultry processor. Last year, LDC signed an agreement to buy Polish meat processor Tarczynski and Lambert says the deal should soon be wrapped up. "Tarczynski is a EUR65m revenue business and specialises in pork and poultry meats," Lambert explains. He adds that LDC is also looking at investing in a key production site in Poland. "There will be a modernisation of the factory at Roldrob for EUR6m – a poultry meat plant with a capacity of 10,000 tonnes."
It seems, however, that LDC and Lambert are taking international expansion step by step. "We want to control our external growth, and for the moment are looking only in Poland and Spain," Lambert insists.
The global poultry sector is going through a period of consolidation with this month's announcement of a planned merger between Brazil's Perdigao and Sadia the latest move. Lambert, however, says LDC's ambitions are strictly in Europe. "We are not in the same market. We are a specialist fresh products maker in Europe," he says.
Lambert and LDC already seem to have enough on their plate.