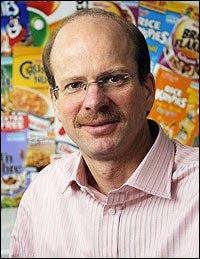 Kellogg is home to some of the UK's best-known food brands and perhaps because of that recognition the company often faces criticism from campaigners who see the food industry as part of the cause of the country's obesity crisis. For this month's just-food interview, Dean Best met with Kellogg UK managing director Greg Peterson on the day he announced significant reformulation plans from the cereal maker.
For a company that is home to one of the UK's most well-known brands, Kellogg attracts its fair share of criticism.
Kellogg may lead the country's cereals market and its products, including Corn Flakes, Special K and Frosties, may appear on breakfast tables up and down the land but, amid growing concern about rising obesity in the UK, particularly among children, the US food group often finds itself at the centre of claims that the food sector does not do enough to promote a healthy diet.
The company, among others, has been accused of lobbying to prevent the establishment of EU-wide traffic light nutrition labels, which campaigners claim consumers find easier to use than the industry-backed guideline daily amount, or GDA, labelling.
And, even on the day when Kellogg UK's managing director Greg Peterson announced the company's plans to cut the sugar in its Coco Pops range in the country and launch a healthier Coco Pops product, the move is damned with faint praise.
Consumer campaigners Which? admit the launch of Choc N' Roll is "good news" and say it is "encouraging" Kellogg is lowering the amount of sugar across the Coco Pops stable. However, its chief executive Peter Vicary-Smith adds that some of Kellogg's lines "remain high-sugar products" and urges the company to take "further efforts to reduce sugar and salt in their products, particularly those aimed at children".
Tam Fry of the National Obesity Forum tells the Press Association that "Kellogg's should have been doing this years ago. This message was first hammered home in 2002, which shows that companies are often dragged kicking and screaming by public opinion".
When just-food sits down with Peterson after Kellogg's plans are announced, the American seems unconcerned about the criticism that can be directed the cereal giant's way. Kellogg's latest moves to cut sugar and revamp its Coco Pops range are, he insists, driven by consumer demand and not a desire to placate campaigners. "We didn't do this to try and get to that aim. We did this because we trying to meet the needs of any folk that buy our cereal," Peterson says.
But what about the claims that Kellogg and its peers lobbied hard to stop the European Parliament voting for the imposition of traffic-light labels? Peterson laughs. "I laugh when you talked about companies setting the course for European regulation. There's not that kind of level of influence, not with all the different pressures that come to bear on these guys," he insists.
The Kellogg UK boss then sets out his case for GDAs. "GDAs give information to consumers to manage their own diet and their own life. Some stores carry the colour wheel, some carry GDAs. I shop in all of our different retailers but I remember when the colour wheels first came out in one of our retailers and full-fat and low-fat milk was a red and I thought: 'That's not helping me very much.' I looked at it and kind of thought well: 'This package has two reds, two yellows and a green. This one has three reds and one yellow. This one has got three reds and two greens. Is this one better than the one that's got two reds, two yellows and a green? This isn't helping me.' I'd rather have the information in front of me on the box and then be able to make the call about it."
Greg Peterson, managing director of Kellogg UK
Giving consumers information and letting them decide seems to be the central plank of Kellogg's approach to diet and nutrition. "I'm a parent as well and if you inform me about the choices I can make in my own home, I think that's a pretty good deal," Peterson insists.
Amid growing concern about rising obesity, the previous UK government had been accused in some quarters of an overbearing approach to diet and nutrition. Although ostensibly independent from government, the Food Standards Agency's moves into these areas over the last decade was, according to critics, symptomatic of what the tabloids call 'the nanny state'.
Three months into a new coalition government and the food policy landscape is changing, with plans to move diet and health policy (at least in England) back into the Department of Health and cuts to government support for Change4Life, the campaign set up with the support of industry, including Kellogg, to inform consumers about diet and exercise.
Despite those changes and the election of a Conservative-led coalition that critics believe will favour business over other stakeholders, Peterson suggests little will change.
"Government always has been and always will be worried about the health of the nation and the health of children," Peterson argues. "[The coalition] may mean there is somewhat less red tape, it might make it somewhat easier to have the right kind of discussions – but government is going to do what it thinks is best for the population."
And, Peterson argues, Kellogg will play its part in what he sees is a shared responsibility for following a healthy diet. "On Change4Life, Secretary of State Lansley said [the Government] is looking for companies to help pitch into the pot. I look at a company like The Kellogg Company and the best way we can help is by carrying messages on our boxes for example," Peterson says, picking a box of Choc N' Roll.
"A box of cereal is some of the most valuable real estate in store. It's a large panel. Most people eat breakfast with this thing sitting on their breakfast table, so it gets read. The opportunity to use the muscle of The Kellogg Company to be able to carry a Change 4 life message on our box is actually the best way that somebody like us can contribute. Anybody can write a cheque. Few people can get into as many homes as we do and spread the message."
Of course, spreading a message on the company's brands and not just on diet and exercise is critical for Peterson and Kellogg. The company has managed to protect its market share during the downturn, with a mix of advertising and NPD. In the US last week, Kellogg's senior management, reporting the group's second-quarter results, said the company had managed to gain market share in the UK despite "weakness" in the country's cereal category.
Peterson acknowledges that the UK cereal sector has had "a bit of a dip so far this year" although he quickly argues that "long-term trends certainly indicate that it'll be back in growth".
He points to Kellogg UK's strategy of increasing advertising during a recession, as well as introducing selected new products, including the recently-launched Krave, as why the company has enjoyed success despite the tough trading conditions.
And Peterson hopes Kellogg's plans to cut sugar and the launch of Choc N' Roll will continue to provide consumers with what they want.
"At heart we are a consumer-centric company. I grew up on the marketing side of the business and one of the things I learnt really early is, if you listen to your consumer, you aren't going to go too far wrong."