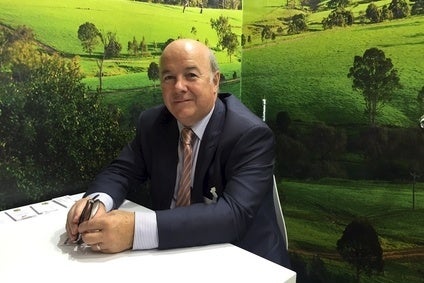 Bega Cheese has had a whirlwind couple of years. Seeking greater consolidation of the Australian dairy industry, it made a play for Warrnambool Cheese and Butter Factory in 2013, kicking off a takeover battle, in which Canada's Saputo emerged the victor. In a two-part interview, just-food catches up with Bega CEO Aidan Coleman, to find out why it gave up on the takeover dream and whether it is eyeing any other opportunities.
It was a year ago when Australian dairy group Bega Cheese sold its shares in fellow local player Warrnambool Cheese and Butter to Canadian dairy giant Saputo, after losing out in a takeover battle for the business spanning almost five months.
Bega sold an 18% stake in WCB, five months after it made a play to acquire the rest of WCB to achieve consolidation of the Australian dairy industry – something the company believed would benefit the domestic dairy industry.
After losing out to Saputo, does Bega still believe consolidation of the Australian dairy industry was possible?
Speaking to just-food earlier this month at this year's Gulfood trade expo in Dubai, Bega CEO Aidan Coleman said the company was still hopeful building a bigger domestic business could happen.
"We think there's always advantage in creating scale," starts Coleman. But he's not alien to the reality of the situation. "Now you've got a Canadian company there, a Japanese company [Kirin] there with Lion Dairies, a French company with Parmalat [and majority owner] Lactalis, a New Zealand company with Fonterra and then a couple of Australian companies. The ability to see significant consolidation may have passed now; however that doesn't mean there's not an opportunity to continue to grow in the market and we will continue to invest."
Bega quit the race for WCB in December, leaving Saputo and another Australian dairy group, the co-operative Murray Goulburn, to fight it out for the business. Selling its 18% stake for A$99m resulted in a healthy cash boost, enabling Bega to boast what Coleman described as a "very strong balance sheet".
"When the value perceived by somebody else is far greater than we perceive, then we are quite willing to take their value equation and turn it into cash for our business," he says.
Coleman insists Bega has not been burned by the experience; in fact, M&A is still likely to feature as part of the company's growth agenda in the near term. With Bega a listed business, Coleman cannot go into much detail he says Bega is "continually assessing investment opportunities," some which it seeks out itself, and others which come to it. But Coleman says Bega is not willing to chuck cash at whatever target comes riding into view.
"Post the Warrnambool deal, there probably was a period – one that may still exist – where the owners of a lot of dairy assets thought they were worth a lot more than we could see value in," he explains.
"Bega is a company that has grown effectively over the years externally by buying good assets at good prices. We're not a company that's going to go and spend… you know we quite often buy at the bottom of the cycles hence the reason we maintain a strong balance sheet. There's no point paying 30x earnings on a company you're never going to get a return on – it doesn't make sense. Rather than paying somebody else for something you don't think is the right value, if you do it yourself, you know what the value equation is before you start."
The first half of Bega's current financial year has proved tough, despite a decent performance in the previous fiscal period when profits were up 17% at A$29.8m (US$27.7m). just-food met Coleman two weeks ahead of Bega's half-year numbers being published (which, announced last week, showed profits had tumbled year-on-year) and the chief executive is careful not to give too much away. However, he suggests the year is proving more challenging than the last with a fall in global dairy prices of about 45%.
"Naturally that has an impact on the total value chain," he says. His "strong preference" – given last year saw very high global dairy prices – is balance.
"You don't have the very high peak that we had last year, and don't have the troughs of this year – just somewhere that is consistent and balanced. A lot of the troughs are to do with people understanding what the global inventory balance is around the world, that's a major task; no one has a complete view of that – but if you end up with too much inventory in one country and none in another you'll end up with this pricing mechanism that goes out of whack, so if we can keep that balance you get steady growth across all of the value chain."
Higher milk costs and investment in supply did in fact hit Bega's first half profits, with net profit falling to A$6.1m as reported on 18 February. Prior to the numbers being public knowledge, Coleman seems happy in the way the company has performed in its domestic market. In Australia, he says, the Bega brand is the number one cheese brand.
However, the company is facing challenges domestically, he says. "You've only got around 2-3% growth there which is really driven by the population. You tend to have deflationary pricing at supermarket levels – where you might get volume growth, you don't necessarily get value growth or revenue growth. The challenge really is that you have a very strong retail sector with two particularly strong players there which can constrain a lot of effectiveness of processors and brand owners."
But strong retailers is something you get all over, he adds – including in Asia, a region in which Bega is looking to expand.
"The challenge is something more positive that you have to be able to work constructively with to grow categories and grow markets. So yes, turn it into a positive. We don't complain about it it is what it is."
Part two of the interview, in which Coleman tells us why Asia and the Middle East are instrumental to Bega's growth prospects, can be read here.