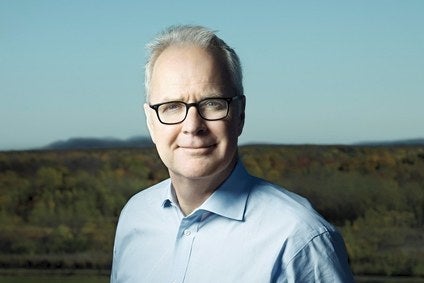 Few food companies, if any, have been as acquisitive as Canadian dairy co-operative Agropur in recent quarters. And the group's M&A activity appears to have picked up since CEO Robert Coallier joined the business in 2012. In part two of the latest just-food interview, Coallier explains the reasons behind Agropur's appetite.
Earlier this month, Agropur completed its largest-ever acquisition with the purchase of US cheese and dairy ingredients group Davisco Foods International. The transaction is set to boost the Canadian dairy co-op's turnover by more than half to C$5.8bn (US$5.34bn).
However, the deal was just the latest Agropur has announced. It came just days after the group swooped to buy the dairy and food distribution assets of fellow Canadian co-op Northumberland Dairy Cooperative. July also saw Agropur strike deals to buy four plants from – and supply a range of products to – Sobeys, one of Canada's largest retailers.
This flurry of deals meant that, in just eighteen months, Agropur sealed nine transactions. At the helm has been CEO Robert Coallier, the former executive of companies including Canadian dollar store chain Dollarama and brewing giant Molson Coors, who, after being on the Agropur board for two years, became chief executive in February 2012.
Agropur is a business that, in its 76 years, has expanded through acquisitions. Coallier notes the co-op has made over 130 since it was founded.
However, when he took the job, Coallier says he and senior management held a "strategic review" of the company's prospects for the following ten years. And they saw a business that would have to adapt to an industry evolving quickly.
"The dairy industry is changing very rapidly. It became very clear, listening to our members that the sustainability of our organisation was essential. To ensure that sustainability, we needed to remain a significant player. Organic growth can provide you part of the solution but not the entire solution. We decided to devote some specific resources to mergers and acquisitions," Coallier tells just-food.
The dairy industry is one seeing a wave of consolidation. A series of deals have been made in recent years in North America, Europe and Australasia as sales growth in mature markets slows and consumption in emerging economies, as incomes rise, grows rapidly. Dairy processors have turned to M&A to provide themselves with the scale to compete effectively in stagnant domestic markets – often markets where their retail customer base is consolidating – and to build businesses capable of supplying booming demand in regions like Asia and Latin America.
"The dairy industry is consolidating very quickly and in order to ensure that sustainability we have to participate in the consolidation of the industry," Coallier says.
Many of Agropur's recent deals have involved Canadian businesses, with the Sobeys and Northumberland Dairy transactions the two latest examples. The move for Davisco Foods International made Agropur one of the top five cheese and dairy ingredients groups in the US and handed it a potential platform for international growth, Coallier explains. However, the Agropur chief says it has been important for the co-operative to strengthen its domestic business.
"Our M&A strategy has not only been focused outside our Canadian business; we've announced a major transaction in Canada [the Sobeys deal] that made us a national organisation," Coallier says. "That will be incremental to our existing business and will be significant."
In recent quarters, Agropur has acquired a range of businesses from ice cream maker Coast Mountain Dairy, to own-label and ingredients supplier M. Larivée International to brie and camembert maker Fromagerie Damafro. A desire to expand different parts of Agropur's business or build its position in specific Canadian regions or add to its fledgling overseas interest have been behind the deals.
A target's top-line growth can sometimes be the deciding factor in an acquisition, with a buyer deciding that is more important than an immediate, positive boost to margins. For Agropur, Coallier says, while there can be exceptions, the company has looked for deals that have improved its margins.
"I'm sure you can point out an acquisition where it was not the case but it was done for very strategic reasons," Coallier reflects. "That being said, when you're talking a very meaningful acquisition, we would be very careful to not acquire a business that would have a dilutive effect on our margins. We want to grow profitability. We want to grow quality earnings."
M&A provides an obvious route to top-line growth. Agropur's annual sales have continued to rise in recent years, in part fuelled by its deal-making. However, there has been underlying growth and the co-op's most recent quarterly numbers for the period to 3 May, the second quarter of its current financial year, showed growth in underlying sales volumes. How does Coallier characterise the performance of its core business, once the impact of acquisitions is stripped away?
"The top-line growth is important, there's no doubt, but it's not the most important factor," Coallier insists. "We want to have profitable growth going forward. It's not growth for the sake of growing. We want to maintain and improve our profitability. There is a tremendous focus of ensuring our existing operations are delivering a satisfactory level of profitability and an improving level of profitability. Our organic profitability has improved a lot. We want to make sure organic growth comes from our existing operations in Canada."
As a co-operative, Agropur is, in the round, a less likely takeover target than some of its peers around the world. However, deals involving and between co-ops are made – just look at the inorganic growth of Arla Foods in Europe in recent years. Could Coallier envision Agropur being acquired?
"We want to participate in the consolidation of the industry. We don't want to be consolidated," he says. "Our members have been very, very clear. They want to ensure the sustainability, the longevity of our organisation. There is a commitment for profitable growth going forward. It would be very surprising if anything other than participating in the consolidation of the industry would happen to us."