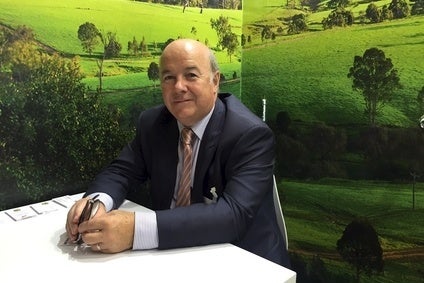 In part two of the just-food interview, Bega Cheese CEO Aidan Coleman discusses why Asia and the Middle East are two key target markets for the Australian dairy group.
In recent years, Australian dairy processor Bega Cheese has increasingly looked to up its presence abroad. No more so than now. Realising growth in Bega's domestic market is hard to achieve, as the company's recent half-year results have demonstrated.
Bega believes it can make inroads internationally. For one, CEO Aidan Coleman argues, people know the Bega brand. The company's annual revenues are around A$1.1bn (US$858.9m).The international contribution to that pot is around A$350m and, at present, Coleman tells just-food, Asia and the Middle East are the "core focus" for the business.
Taking the Middle East first – which is where we meet Coleman, at the Gulfood trade expo in Dubai – he says Bega has been in the region since the early 2000s with a presence in consumer goods, foodservice and industrial ingredients.
"Particularly in the GCC region, go into any supermarket [and] you'll find our ranging of Bega cheese is second to none really. I just had a competitor here [at the show] this morning marvelling at how good our distribution is. He was very complimentary, but it's hard work. We have a very good managing agent here who represents us very well in the region," Coleman says.
Bega's presence spans across the Gulf Cooperation Council countries – including Saudi Arabia, Bahrain and Kuwait – and moving on down to Egypt. The only real exceptions are Syria and Iran, given the ongoing political turbulence in those countries. Qatar, another member of the GCC bloc, is a big growth market, Coleman says as the country prepares for the football World Cup in 2022.
"We're not the sort of dairy company that provides dairy products to the masses," he asserts. "We're much more focused on the higher end of the dairy spectrum. Where you've got strong economies you'll find our products generally, but certainly in the GCC, Saudi and Gulf.
Bega is also increasingly looking to grow its presence in Asia. Again, it is not a new market for the company. The business has, Coleman points out, been in Japan for around 40 years with its cream cheese products. He describes Japan as a "very good market, a very stable market that doesn't represent the growth of other Asian markets".
Coleman adds: "Japan is a strong market where you've got a declining population but you've also got a faster declining domestic dairy industry so they are becoming increasingly dependent on internationally sourced dairy products."
In any discussion of Asia with a dairy company, one cannot overlook China. Bega has been exporting to China for over 14 years with milk powder, infant formula and cream cheese. Last September, the group signed a deal with Chinese retail group Chonqging General Trading for the supply of UHT milk – an agreement expected to deliver revenues of approximately A$100m over five years.
Coleman declines to divulge China's contribution to Bega's revenue over the past year but insists the company "is seeing good growth" there. "China has probably come back from the massive growth over the last few years, but its still growing at 7% or whatever it is – its all relative. In south-east Asia a lot of production is hinged to China, as many countries are. We're seeing good growth."
But of course, for many multinationals, China – a market many were almost banking on for growth – has not quite performed as expected in recent times. Nestle last month reported further sluggishness in the market. Unilever too has reported issues there.
It's not easy to "win in China", Coleman concedes. Perseverance and resilience, he says are the two key things when it comes to succeeding in this market.
"That and be prepared to be there for a long time," he explains. "It's not a market that you are going to do well out of [in] one to two years. The China market isn't just one market. That's one of the key things we've learned about it – you've got different sub-cultures within it, different regions that have different food requirements – you have to understand all those things and build up that knowledge over time."
To further complicate matters, China has suffered a spate of food scares across the country, one being the melamine contamination scandal of 2008, which saw six babies die and thousands fall ill after consuming tainted formula. Most of the scares have involved domestic companies and high-income shoppers have turned towards products from overseas, perceived to be of higher quality.
"When the melamine issue happened our sales went up because the concern about what was happening with domestic production meant a lot of consumers who could afford it went offshore and were buying international brands and products," Coleman says. However, he adds: "For us that is a benefit I'd rather not incur – you don't want to see people dying as a result of some food scandal."
To gain consumer trust takes time, Coleman reflects. "It's about building brands and reputations and those sink in over time with consumers and regulatory authorities in China. I think in China, post some of the food scandals they had they've increasingly tightened up on their regulatory processes which we fully accept – it's how it should be. Companies such as ours that are responsible and well structured, we don't see that as an insurmountable object. I think it's there to cut out people that are trying to make a fast dollar on the way through."
With a growing population and increasing restrictions on its own ability to grow food, China, at least in the near term, will remain a key focus for Bega, as it is for a number of Australian businesses, keen to benefit from their country's relative proximity to the market. Coleman seems confident China's recent economic slowdown will not hit Bega too hard and insists the trick is to zero in on clearly defined target markets.
"For us its not about Australia being the food bowl for Asia or China; it's about focusing on very specific categories and doing exceptionally well on those categories, and we see those as having a lot of growth.
"We run our business on several business platforms – one of which is infant nutrition or nutritionals. China is a large market for us and a massive growth market because of the growth of consumption of nutritionals, in particular in imported products into China. Also, foodservice – the hotel and tourism industry in China is growing very quickly – we supply a lot of products into foodservice. So we're getting growth where some companies might not be getting growth, but it's because we focus on specific niches."
In November, Australia and China announced a free trade agreement between the two countries.
Coleman says the deal is not a "magical mechanism to increase profitability" but sees it as positive as it "levels the playing field…particularly with New Zealand and Australia in terms of dairy products".
"There's a high regard for Australian dairy products and for our brands in China so we will see that grow as a result of that levelling and balancing of import structures."