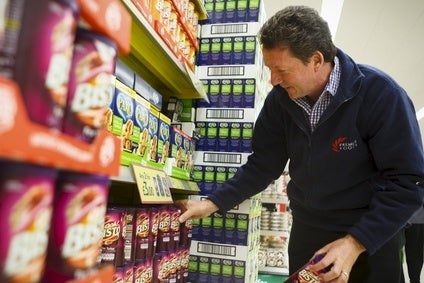 Premier Foods plc has strengthened its financial position and is building profitability through a focus on cost reduction. However, the UK company is finding the going tougher as it looks to accelerate its sales growth. Chief executive Gavin Darby spoke to just-food about how Premier is adapting to the changing landscape in UK grocery retail.
Premier Foods plc has made strides in its efforts to build a stronger financial foundation. The Bisto-to-Ambrosia food manufacturer has recapitalised its balance sheet while stripping costs from the business in order to create an organisational structure that is fit for purpose.
The result has been a steady improvement in Premier's trading profit. In its most recent financial update, the group booked a 2.1% rise in first-half profitability and reaffirmed its full-year profit outlook.
However, Premier also revealed it has struggled to generate top-line momentum this year. In the first six months, underlying sales have dropped 6.1% while so-called "power brand" sales were down 4.1% in the period.
According to chief executive Gavin Darby, the decline is partly the result of a marketing and innovation pipeline that is weighted to the second half. Unseasonably warm weather also played a part, depressing sales in some of Premier's largest categories including soup and gravy.
Nevertheless, with Premier's five categories down around 5% it would also seem the group has fallen foul of some broader trends in UK grocery retail – namely the meteoric rise of the discounters.
The discount sector has been stealing share from conventional grocers in the UK consistently for a number of years. The latest figures from Kantar Worldpanel for the 12 weeks to 20 July reveal Aldi and Lidl booked another period of stellar sales growth, rising 32.2% and 19.5% respectively on the year.
With a laser-sharp focus on price and own label, Darby concedes the growing market share commanded by the hard discounters is "not great news" for branded manufacturers operating in the country.
With a smaller branded offering, Aldi and Lidl do not represent much of an opportunity for Premier to expand its higher-margin branded sales. However, Premier has identified an opportunity to grow its presence in the discount sector by bringing its second-tier brands to the high street discounters such as Poundland.
"The high street discounters are very keen to sell some types of brands the supermarkets don't sell, or the brands the big supermarkets think are very small. We have certainly been working with the high street discounters, branded discounters, on some of our tertiary brands and will continue to do that," Darby tells just-food.
"We have been using Paxo as a brand for a gravy product in that channel. We have been using Bird's as a brand for ready-to-eat custard in that channel. Those are both examples of brands that are well outside our top tier where we have been working with different and unique propositions just in that [discount] channel."
The increasing clout of the discount sector coupled with declining consumption patterns, lower inflation levels and growing competition due to weak consumer sentiment in the country has left conventional UK supermarkets taking an increasingly aggressive stance on pricing and promotions.
In spite of this environment of heightened price-sensitivity, Premier has taken action to evolve its promotional strategy. Premier has stepped back from less profitable promotions that, Darby argues, failed to deliver value for the company or its retail customers.
"When you analyse promotions, you find there are some promotions which are poor value in terms of profit for both the retailer and the brand owner. The ones they call the bad bads," Darby observes. "I promise you every single brand manufacturer, if they did the analysis properly, would find promotions that they are doing with retailers, some of which are actually destroying value for the retailer and for the brand."
According to the Premier chief executive, retailers themselves frequently recognise that this type of promotion fails to perform. Retailers are increasingly looking for better ways to deliver value to consumers, he asserts.
"I can think of at least two of the top retailers who are saying at the moment to their broad supply base that they want to do fewer, better promotions. … Our company has been relaunched and refinanced on the basis of driving category profit. If you can demonstrate to a buyer that a particular promotion is really a value destroyer and instead they should run an alternative that is value creative, then absolutely they will buy that."
The key is offering a viable alternative, which often takes the form of "more creative promotions", Darby says.
"I can think of some examples where instead of just offering something at half price we have sold it at a third off and then had a cooking sauce product partnered with a retailer's pasta or something like that. When you agree to do it that way with the retailer they make more money on the cooking sauce product than they would have done. By going a little less deep collectively the consumer gets a win by bundling together the cooking sauce and pasta. There are all kinds of examples of being a bit more creative, adding a bit more flair to promotional strategy."
Premier is redeploying the money it would have spent on unprofitable promotions in a bid to drive category growth, Darby says.
"If you take that money away from value-destroying promotions and either spend it on marketing or spend it on more of the value-crating promotions then net net you end up in a much better place. That is what we are doing… If you started out by saying you want to drive the overall profits of the category in the interests of both the retailer and the brand then that is the way we think."
Premier is working to tap into two other significant shifts in UK shopping behaviour – the growth of online and convenience channels.
"Online is really more of a marketing thing. We are making sure that our marketing budgets include working with the online retailers and that we save some marketing resources for communicating in partnership with the online offering. We are hiring people in sales who come from a more digital online sales background. That is really about resources and capability.
"I think convenience is about making sure that our production, our supply chain can produce products in smaller cases. An example is we are currently investing quite a bit of money in a new piece of kit in our Carlton, Barnsley, bakery, which produces [Mr] Kipling. That machine can produce the flat packs in various different case configurations. Small retailers don't want so much inventory.
"It is mostly about reconfiguring one's manufacturing to make sure one can serve smaller retailers with different case configurations for the brands so they fit with that channel. That is not something you do in a heartbeat, but it is something we are well on the way to doing."
A longer-term opportunity Premier has identified is expanding its operations overseas. Today, Premier's international sales account for less than 5% of group sales. However, Darby believes Premier can grow from that very small base and the group has made the initial steps to do so.
"It is a three-to-five year strategy. You don't create an international business overnight. Now we are in a … to start laying the foundations, putting teams of people together carefully hiring them, to build the foundations of an international business. Who knows where it will lead. It is less than 5% today. I'm not committing us to [specific targets] but there are quite a few companies where 15-20% of their sales are in international. I haven't set a public goal but there is a lot to shoot for."
The company has developed a shortlist of high-priority markets, including the US, China, Ireland and Australasia, Darby adds. "Particularly we have chosen the US for Sharwood's, Australasia for Mr Kipling and Cadbury, and China initially for Ambrosia but we have got some other [brand opportunities here] and obviously Ireland as well. We are moving from a model of sporadic export to a model of focusing on a short-list of high-priority destinations."
In spite of recent wobbles, Darby remains confident Premier can grow its sales – both within the UK and further afield. There is clearly much to play for.
Click here for part one of our interview with Darby, in which he discusses how Premier is investing in its brands, while managing its balance sheet.