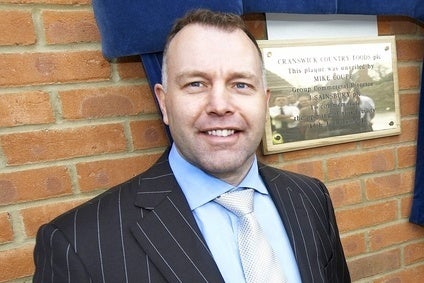 UK pork processor Cranswick processes one-quarter of pigs reared in the country – and the company has ambitions to increase its throughput further still. As we heard in part one of the just-food interview, Cranswick is driving domestic growth through a focus on innovation. It also has an eye on overseas expansion with strong export growth helping to propel sales gains. Chief executive Adam Couch spoke to just-food about Cranswick's drive to raise production levels and increase exports.
UK pork products supplier Cranswick saw sales grow 14% in fiscal 2013/14, with organic growth contributing 12% to the top line. While the bulk of the firm's revenue is derived from its domestic operations, where it has been able to win market share, the company's export operations accounted for a "growing contribution to revenues", Cranswick said in its full-year financial update, released on Monday (19 May).
Cranswick chief executive Adam Couch is upbeat about the group's overseas performance over the last 12 months.
"Our export growth has been very strong over the last year, it is up 12% year-on-year. That is exporting freshly frozen products, particularly to the Far East. At the moment we account for 50% of all the pig meat out of the UK exported into China. This is quite significant bearing in mind we are only 25% of the UK processing capabilities."
Key markets for Cranswick's export business include the US and China, as well as the Far East and western Africa, Couch says.
While Couch concedes exports remain a "relatively small" constituent of Cranswick's turnover in value terms, in volume terms the business is more consequential.
"Out of a GBP1bn (US$1.69bn) turnover about GBP50m – about 5% – would be exporting. But it is less about the percentage of value and more about volume. About a third of all our pork produced out of our two sites – one in Norfolk and one in Hull – is now exported. That is the equivalent of about 1,000 tonnes a week. It is a significant amount in volume terms, less so in value. But of course exported cuts aren't necessarily of interest to the western diet… Utilisation of the carcass is extremely important."
Much of Cranswick's export business consists of so-called "fifth-quarter materials", Couch says. "There is a whole array of products. What you are seeing now is fifth quarter materials – front feet, back feet, tails heads and bones. We are now creeping up into the more premium cuts – so shank meat, for instance, is also another key area where we are looking to develop product ranges. That makes up 40 trucks a week that we are now exporting."
Developing its export business will be a significant plank of Cranswick's strategy, Couch reveals. The company plans to both increase volumes and expand the range of products it sells abroad – moving international customers up the value chain to more expensive higher-margin items.
"The export market is a real key feature for us moving forward. It is one key area we are looking to grow. That is not just standard packages, we are looking to develop our premium ranges in the Far East in particular – both in bacon and basted products and other premium-end charcuterie products. It is very much in keeping with our heritage if you like, looking to develop premium, not just in the home market but further afield as well.
"We have a lot of interest from potential customers out in the Far East in particular. We have a lot of aspirations around premium cuts we are looking to develop. Certainly the Chinese, the requirements we are seeing at the moment is to more products at the premium end of the marketplace and to move to a more westernised eating style."
The company also recently secured an export licence that will enable it to start taking products into Japan. As Cranswick works to adjust the product mix profile of its international business, Japan is one it views as possessing significant potential for premium products. "We have a lot of hope and aspiration that we will be able to supply not just … frozen product but also premium bacon and ham products," Couch says.
As Cranswick invests in its international business, the group recognises the importance of having a more local presence to drive continued growth, Couch continues. "We have complemented this by opening an office in Shanghai, which will be manned from the end of September with a development manager and a team there to build on what are already strong relationships out in China and Hong Kong. But also to develop new product areas."
Cranswick's international growth is expected to be "primarily" organic. However, the company would consider acquisitions that would strengthen its international footprint, Couch suggests.
"It would be organic [growth] primarily. That is not to say we would ever rule out an acquisition abroad as such. We keep our mind open to opportunities and we are always keen to look at them. But primarily we are looking at organic growth as we stand at the moment."
One challenge to growing the export business is the relatively high price of pig meat in the UK. Last year, Couch says the company faced an "unprecedented" increase in pig prices.
"Prices have come slightly off those highs now but it is still a strong price. Relative to European levels, we are about GBP24-25 a pig more expensive," Couch observes.
The price premium paid for UK pig meat has been historically been a feature of the landscape for UK pork processors but the differential has been exasperated by growing demand for UK-sourced pork from the country's retailers.
The Cranswick chief executive says it has been a "challenge" trying to cover rising input costs over the last year and the company has worked to lower its cost base through the acquisition of its own pig herd.
"We have been able to meet it through efficiency measures within our operations as well as discussions with some of our customers. One of the big factors that has helped as well is acquiring our own pig herd."
Couch says Cranswick might increase the proportion of its own pigs it processes from current levels but increases in pig rearing must be viewed within the group's wider drive to grow volumes.
"I can see it increasing. Not exponentially. It is at about 20% so I could maybe anticipate it increasing to a 30% level. But we would never have any aspirations to make it much greater than that because overall we want to keep on increasing our throughput in any event. Long-term relationships with existing producers are going to be of equal importance as having our own herd. We haven't let any pigs go in order to make way for these. We are looking for it to complement our existing throughput."
The move will lower Cranswick's exposure to rising pork prices but, Couch says, the company will still be exposed to commodity volatility. "Seventy per cent of the cost of growing the pig is in the feed it consumes. You are therefore at the behest of worldwide commodity price hikes, as well as drops within the main constituents of the diet… But of course there are efficiencies that you can bring into the operation. That is one area that we have looked at – improving the efficiency and increasing the prolificy of the pigs we now have under our ownership. It is nice to see we are getting some successes with those, despite only owning the herd for the last 12 months."
While margins did come down a little year-on-year, putting efficiency at its core left Cranswick well-placed to manage rising input costs, Couch says.
"Our operating margin did decline on the year. We have had to take some of that pressure on the chin. Our efficiencies continue. The minute you stop thinking you can get greater efficiencies in the operations in which you control is the minute you really ought to give up. We are constantly challenging the management teams, who are absolutely excellent at finding efficiency savings.
"We are relatively well placed. That is not to say we can be complacent. We need to continue to drive the costs as low as we can and continue to invest in the operations to make the proposition relevant."
For details on how Cranswick is driving market share growth in the UK – its largest market – see part one of the just-food interview.