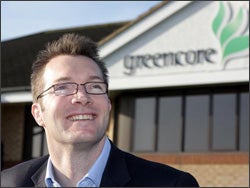 Greencore is a private-label giant with a business that spans from sandwiches to sauces and from pickles to puddings. However, with operations centred on convenience, the last year has been a tricky one for the Ireland-based group and its chief executive Patrick Coveney. In this month's just-food interview, Dean Best spoke with Coveney to find out how Greencore had navigated the downturn and what plans they have for the US – a fledgling but key market for the business.
As a business based on convenience foods, the last 12 months or so have proved challenging for Greencore.
The recession has seen more consumers, for instance, decide to shun their lunchtime trip to the nearest store and take a packed lunch to work instead. Demand for prepared foods like ready meals have also suffered as shoppers increasingly looked to save money by cooking from scratch.
Greencore, as the world's largest sandwich maker and manufacturer of products ranging from chilled prepared meals, fresh soups, cakes and desserts, has faced some of the toughest conditions it has seen in the convenience sector.
For Patrick Coveney, who had been CEO of Greencore for only six months when the collapse of Lehman Brothers signalled the start of the most turbulent economic conditions seen for decades, it was something of a baptism of fire.
"There's been a huge amount of personal learnings for me and learnings for our business, too. "I think we're in better shape today that we were 12 to 18 months ago. There's still a load of things we need to do but it's been good fun, too," Coveney (pictured) tells just-food after Greencore published its full-year results for fiscal 2009.
Coveney joined the Ireland-based private-label group in 2005 as its CFO. The Irishman moved to Greencore from McKinsey Ireland, where he was a managing partner and, after three years as the food manufacturer's finance chief, he took the top job in March 2008.
Greencore has looked to navigate the downturn through closing loss-making factories, offloading business and working more closely with its retail customers. Since reporting back in February that annual profits would be "in line" with the year before, Greencore has seen its results steadily improve. Yesterday (25 November), the company posted a 7.9% rise in underlying operating profit.
"We've had a pretty decent year in 2009 that has got better with each pasing quarter and we have been able to carry the momentum from that into the first three months of this year," Coveney said. "We're happy enough with how we're doing but we're on alert to see how stable the consumer environment remains."
There is some uncertainty over whether demand for convenience food in the UK is recovering. Greencore said back in August that it had started to see signs of recovery, although Asda said earlier this month that certain ready-meal categories were in "terminal decline".
Coveney acknowledged that it would be unwise to "turn one swallow into a summer" but he insisted there were signals that demand for ready meals was starting to recover in the UK. Looking one step back upstream, Coveney also said those ready-meal manufacturers left in the market had been able to increase production as others scaled back their presence or quit the sector.
"We have seen some capacity come out, particularly in ready meals and, to a lesser degree, in sandwiches and cakes. That environment has made it easier for people to run their facilities at greater capacity and earn slightly better return – particularly in ready meals," he explained.
"What is encouraging is that you are seeing probably a couple of quarters of pretty good industry growth in ready meals, which reflects the fact that consumers are coming into the category. Relative to where we were at this time last year, I feel a lot, lot better about the prospects for the industry."
Coveney adds: "But it is a brute of an industry and you have to reinvent yourself every single day. There have been some people who have fallen out and there will be some people under pressure in terms of leverage or strategic focus. More people will come out than get into the category but the guys who are in it and investing can do okay."
One way in which Greencore has looked to reinvent its business under Coveney's tenure came just weeks before the global economy went into meltdown. In April last year, the company made its first foray into the US with the acquisition of Home Made Brand Foods, a business that made prepared meals and salads, sandwiches and quiche to a customer base including regional retailers such as Ahold's Stop & Shop and Delhaize's Hannaford.
Greencore has publicly stated that it wanted to double its business across the Atlantic per year, a bold ambition given the weak consumer environment in the US this year.
However, when the group unveiled its full-year numbers, it said fourth-quarter sales in the US had jumped by 46% and that the contribution its business across the Atlantic makes to group operating profit almost doubled during the fiscal year.
Coveney said Greencore had managed to double the size of its US business after a year in the market but insisted the company wanted to repeat that growth on a "weighted" basis – rather than doubling every year.
"Over a five-year period, we'd like to get to a US$400-500m sales business. Given the starting point, which was US$40m-ish on a full-year basis, that requires a doubling of the business each year. We still have the same level of ambition for where we are trying to get to in the States."
Coveney, who crosses the Atlantic for a few days each month to oversee Greencore's business in the US, is coy about the company's plans for expansion – be it through acquisitions or in building greenfield sites, as the business has done in Cincinnati. However, he admits the group has looked "hard" at snapping up more US firms but it has yet to find the right "fit" for its plans.
And Greencore's plans for expansion comes as the company continues to try to get to grips with a market that has significant differences to the UK. "There is lots of seasonality, which is different to the UK. Then you've got merchandising learnings; what constitutes a category approach, how that differs by retailer, the role of brand versus non-brand," Coveney says.
"Huge operational learnings about managing shrink in a culture that absolutely abhors empty shelves and how you make that work with a very short-shelf life product. The impact of distribution on all that. A lot of stuff that just by being on the ground and operating that you start to absorb and learn. Our accumulated knowledge on what it takes to be successful in the US versus when we went there is night-and-day different."
And so, after 18 months at the helm of Greencore, Coveney, who has led the company through the downturn looks set to take the business on another challenging journey in the months ahead.